Microsoft Corporation's Most Popular Smartphone Is a Double-Edged Sword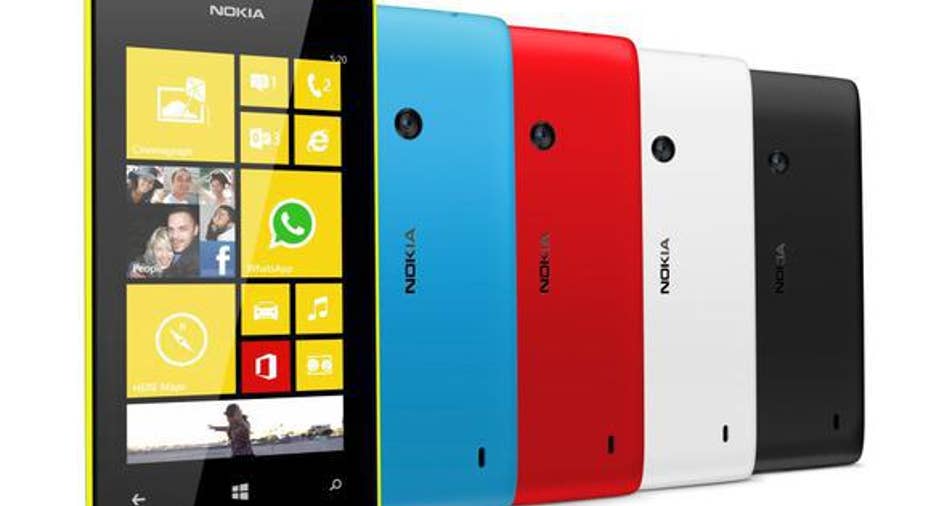 Microsoft 's Windows Phones account for less than 3% of smartphones worldwide, according to research company IDC. Within that market, the aging Lumia 520, which was launched in April 2013, is still the most popular device. The low-end handset still accounts for nearly 15% of the Windows Phone market, according to AdDuplex's November numbers. The second most popular device is the Lumia 535, which launched the following year and controls nearly 11% of the market.
The Lumia 520. Image source: Microsoft.
Meanwhile, Microsoft's mid-range and high-end Lumia devices remain far less popular, with single-digit shares of the market. How will this split between low-end and high-end devices influence Microsoft's mobile efforts in the future?
Why the Lumia 520 is so popularMicrosoft initially launched the Lumia 520 for $100, but slashed its price to $50 during its first holiday season. Reliable $50 smartphones weren't common two years ago, and the 520 proved popular in emerging markets like India.
The Lumia 520 helped Microsoft enter a niche market that iPhones and Android devices couldn't reach. Alphabet's Google only recently announced that it would work with OEMs to reduce the average price of their Android One devices from$100 to $50.
The Lumia 520's share of the Windows Phone market has fallen 10 percentage points from last November, but most of those users seem to have switched to the 535, which launched for about $140 in India. Today, the device costsless than $100 on Indian e-commerce site FlipKart.
A blessing and a curseThe popularity of Microsoft's low-end Windows Phones is a double-edged sword. On one hand, Microsoft can use these devices to expand its ecosystem in developing and emerging markets. As average incomes in those markets rise, those users might subscribe to more cloud-based services or buy pricier Windows 10 Mobile devices.
But on the other hand, the Lumia 520 isn't on Microsoft's list of devices that will receive the Windows 10 Mobile upgrade, which will tether more mobile users to its "One Windows" ecosystem. Yet other cheap handsets like the 535, 430, and 435 have been cleared to run the newest OS.
However, none of those devices meet the minimum requirements to runContinuum, the Windows 10 feature that converts a Windows 10 Mobile phone into a full desktop PC via a $99 Display Box. Instead, Continuum currently only works on the high-end Lumia 950 and 950 XL, which respectively cost $549 and $649.
Image source: Microsoft.
Continuum is arguably Windows 10 Mobile's most game-changing feature, and it could be attractive to emerging-market users looking for an all-in-one device to replace both their PCs and mobile devices. But many consumers might not even notice the feature, since the 950 and 950 XL face stiff competition from iPhones and high-end Android devices. If Microsoft's low-end devices continue outselling its high-end ones, a large portion of the Windows Phone market could completely overlook Windows 10's best feature.
Google, not Microsoft, will kill the 520Microsoft gained some early momentum with the 520 and its low-end successors, but its overall mobile market share hasn't actually improved. That's why Microsoft cut thousands of jobs from Nokia's former handset division and limited its smartphone launches to just six devices per year.
While that move cuts costs, it also leaves a smaller pool of low-end devices vulnerable to Google's cheaper Android One devices. Other low-cost Android devices like the SWIPE Konnect 3 and Kenxinda K528, which both cost less than $30, are already undercutting Microsoft's cheapest smartphones.
Google's rapid advance into this market could lure away lots of Windows Phone users with its larger ecosystem of mobile services and apps. If Microsoft loses the low-end market to Google before it releases Windows 10 Mobile on those devices, its entire mobile strategy could collapse.
Microsoft is running out of timeMicrosoft's best hope at a mobile comeback is to blur the lines between PCs and smartphones with Windows 10 features like universal apps and Continuum.
Unfortunately, the high-end devices that can run all of those features will struggle to gain ground against iOS and Android, while the more popular low-end devices will run into hardware bottlenecks and competition from cheaper Android devices. As a result, Microsoft could lose the low-end Windows Phone market to Android, which will cause its market share to evaporate.
The article Microsoft Corporation's Most Popular Smartphone Is a Double-Edged Sword originally appeared on Fool.com.
Leo Sun has no position in any stocks mentioned. The Motley Fool owns shares of and recommends Alphabet (A and C shares). Try any of our Foolish newsletter services free for 30 days. We Fools may not all hold the same opinions, but we all believe that considering a diverse range of insights makes us better investors. The Motley Fool has a disclosure policy.
Copyright 1995 - 2015 The Motley Fool, LLC. All rights reserved. The Motley Fool has a disclosure policy.