Microsoft Corporation Stock Drops As Cloud Demand Breaks $10 Billion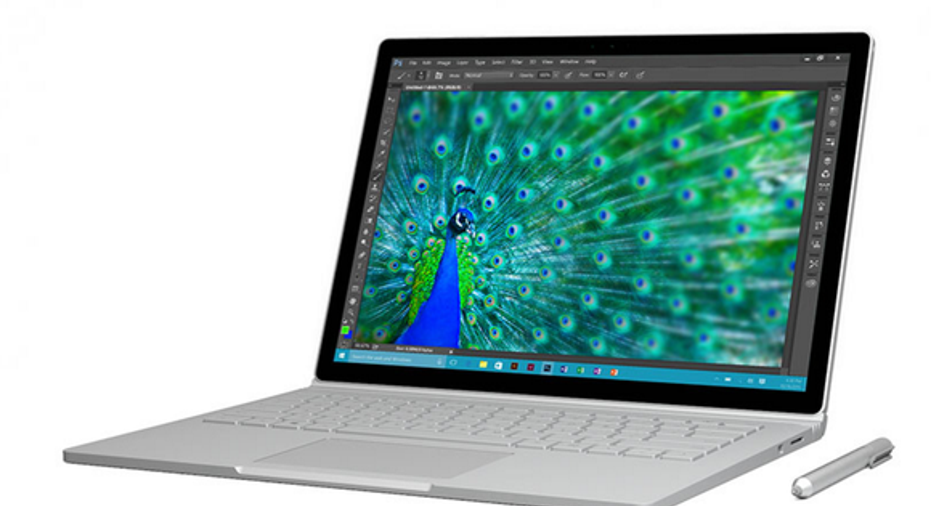 The Surface Book helped Microsoft's Surface revenue rise 61% on a constant currency basis. Image source: Microsoft.
Shares ofMicrosoft slid more than 3% in after-hours trading on Thursday following the release of its fiscal third-quarter earnings report. They continued their downward spiral on Friday, down more than 7% halfway through the trading session. The Windows makerearned an adjusted $0.62 per share. That was slightly worse than the $0.64 analysts had expected. It generated adjusted revenue of $22.1 billion, largely in line with analyst estimates.
Let's take a closer look at Microsoft's report.
Breaking above $10 billionMicrosoft's commercial cloud annualized revenue run rate exceeded $10 billion in its fiscal third quarter, up from over $9.4 billion in the second quarter. The figure represents the amount of annual revenue Microsoft's commercial cloud services -- including Office 365, Azure, and Dynamics CRM -- could generate if demand were maintained over the course of 12 months.
Microsoft's management has placed a great degree of emphasis on this figure, as it represents the company's ongoing transformation into a cloud computing giant. In Microsoft's fiscal year 2013, it stood at about $1 billion, but it has surged as demand for Microsoft's cloud services has increased. The company expects it to continue growing in the quarters to come and believes it could top $20 billion by its 2018 fiscal year. Microsoft is now more than halfway to its long-term target.
Commercial Office 365 saw its revenue rise 63% on an annual basis in constant currency and its seats rise 57%. Dynamics CRM Online seats more than doubled from the same quarter last year. Azure revenue grew 120% in constant currency, and Azure compute and Azure SQL database saw a more than 100% gain in usage.
Windows 10 is on more than 270 million devicesMicrosoft's latest operating system, Windows 10, made its debut last July. Since then, it's been installed on more than 270 million devices, including traditional PCs and Microsoft's Xbox One gaming console. Microsoft's Windows OEM revenue outperformed the broader PC market during the third quarter but still fell 2% on a constant currency basis. Microsoft attributed the outperformance to consumers opting for higher-cost, premium PCs. The market for commercial Windows computers contracted, with Windows OEM Pro revenue falling 11%. Microsoft attributed the decline to a shift in inventory levels.
Microsoft's search engine, Bing, achieved profitability for the first time last year, led by Windows 10. Bing powers Microsoft's digital personal assistant, Cortana, which is bundled directly into the Windows 10 taskbar. During its fiscal third quarter, Windows 10 continued to benefit Bing, as Microsoft's search advertising revenue excluding traffic acquisition costs rose 18% on a constant currency basis. In March, 35% of Microsoft's search revenue came from Windows 10-powered devices.
Windows 10 also includes a level of integration with Office 365, particularly its OneDrive storage. The number of Office 365 consumer accounts rose to 22.2 million during the third quarter, up from 20.6 million in the second quarter. In total, Office consumer revenue grew 6% on a constant currency basis.
Sales of Microsoft's hardware contracted, with its device revenue falling 9% on a constant currency basis. Most of this drop was driven by declining phone revenue (down 46% on a constant currency basis). In contrast, Surface-related revenue surged, up 61% on a constant currency basis, led by the Surface Pro 4 and Surface Book. Xbox console sales declined as Microsoft began to phase out the Xbox 360, but the number of active Xbox Live users rose 26% on an annual basis to 46 million.
Microsoft's third-quarter report wasn't particularly notable, and its relatively modest decline reflects that. The market may have punished Microsoft for disappointing earnings, but the company's steady transition toward the cloud continues unabated.
The article Microsoft Corporation Stock Drops As Cloud Demand Breaks $10 Billion originally appeared on Fool.com.
Sam Mattera has no position in any stocks mentioned. The Motley Fool owns shares of Microsoft. Try any of our Foolish newsletter services free for 30 days. We Fools may not all hold the same opinions, but we all believe that considering a diverse range of insights makes us better investors. The Motley Fool has a disclosure policy.
Copyright 1995 - 2016 The Motley Fool, LLC. All rights reserved. The Motley Fool has a disclosure policy.