Microsoft Corporation Launches a Dumbphone That Costs More Than a Smartphone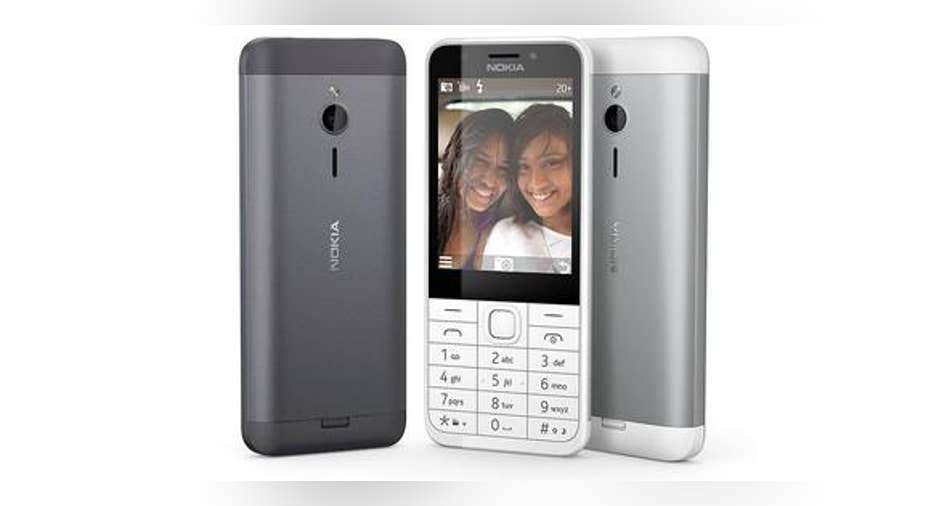 Many people often forget that Microsoft , through its acquisition of Nokia 's handset business, is now one of the largest feature phone makers in the world. Over the past year, Microsoft has focused on launching cheap feature phones like the refreshed Nokia 105, which costs just $20.
However, Microsoft recently shifted from that strategy by launching the Nokia 230, its priciest feature phone to date, for $55. That's just $15 less than its cheapest Lumia and pricier than Android devices like the SWIPE Konnect 3 and Kenxinda K528, which both cost less than $30. So, what does Microsoft hope to gain by launching a high-end feature phone that costs more than low-end smartphones?
The Nokia 230. Source: Microsoft.
"Dumbphones" aren't dead yetFeature phones are still used across large parts of the world because they have lower price tags, require lower monthly data fees, and can last for weeks on a single charge. Smartphones only started outselling feature phones worldwide in 2013. According to research firm eMarketer, only about a fifth of mobile users in India used smartphones last year, compared to two-thirds inAmerica. Pew Research Center estimates that across seven sub-Saharan African nations, 65% of people still use feature phones.
Microsoft highly values these markets, because Apple and Alphabet's Google, the two biggest players in smartphones, can't control the feature phone market. IDC claims that Microsoft actually generated more revenue from Nokia's feature phones ($765 million) than from Lumia devices ($754 million) in the third quarter of 2015.
Through the Nokia brand, Microsoft can launch scaled down versions of its apps, like Bing Search and MSN Weather, to tether more users in these markets to its ecosystem. Microsoft hopes that when these feature phone users upgrade to smartphones, they'll consider buying Windows 10 Mobile devices instead of iOS or Android ones, which would tether them to its "One Windows" ecosystem. That could help Microsoft boost its tiny 2.6% share of the global smartphone market.
Microsoft's tiered pricing strategyMicrosoft's feature phones cost between $20 to $55. The Lumia 430, Microsoft's cheapest smartphone, costs $70. However, the $55 Nokia 230 packs a decent punch for a feature phone. It comes with front and rear cameras, and each is supported with an LED flash. The 2-megapixel rear camera is comparable to Lumia 430's camera.
The Lumia 430. Source: Microsoft.
The Internet-enabled phone can download scaled-down apps like Bing Search, MSN Weather, and Opera Mini, and it supports microSD cards up to 32GB. Microsoft also replaced the colorful plastic cases of previous Nokia feature phones with black and white cases with a gray, sand-blasted aluminum back cover for both colors. The device will launch in India, Asia, and the Middle East in December, and go on sale in other markets in 2016.
The $30 to $50 "sweet spot"The Nokia 230 isn't cannibalizing Microsoft's own smartphones, but cheaper Android devices could steal customers away from both the Nokia 230 and the Lumia 430.
Google has been expanding into key markets like India with its "Android One" initiative, which attempts to reduce hardware and software fragmentation by getting OEMs to stick with similar specs and stock Android. However, Google encountered resistance in India because its original price target of $100 was considered too high. That's whyit relaunched several Android One phones with its partners this summer to target a "sweet spot" between $30 and $50.
Google's plan to drive down smartphone prices to the same price as feature phones could disrupt Microsoft's tiered pricing strategy and squeeze out pricier feature phones like the Nokia 230. If that happens, Microsoft must launch even cheaper feature phones and low-end Lumias to compete against Google, which offers users access to a bigger mobile ecosystem of apps and services.
Microsoft's murky mobile futureMicrosoft's mobile strategy of using Nokia-branded feature phones to capture first-time smartphone buyers sounds smart. But in reality, cheap smartphones are replacing feature phones too quickly for Microsoft's plan to pay off. Microsoft will also lose the right to use Nokia's brand for mobile phones at the end of 2016, which means that its current strategy isn't a sustainable long-term one.
Falling smartphone prices and data fees will likely render feature phones obsolete in the near future. As a result, Microsoft could be at a disadvantage again when customers in developing and emerging markets buy low-end Android devices instead of Windows 10 Mobile ones.
The article Microsoft Corporation Launches a Dumbphone That Costs More Than a Smartphone originally appeared on Fool.com.
Leo Sun has no position in any stocks mentioned. The Motley Fool owns shares of and recommends Alphabet (A shares), Alphabet (C shares), and Apple. Try any of our Foolish newsletter services free for 30 days. We Fools may not all hold the same opinions, but we all believe that considering a diverse range of insights makes us better investors. The Motley Fool has a disclosure policy.
Copyright 1995 - 2015 The Motley Fool, LLC. All rights reserved. The Motley Fool has a disclosure policy.