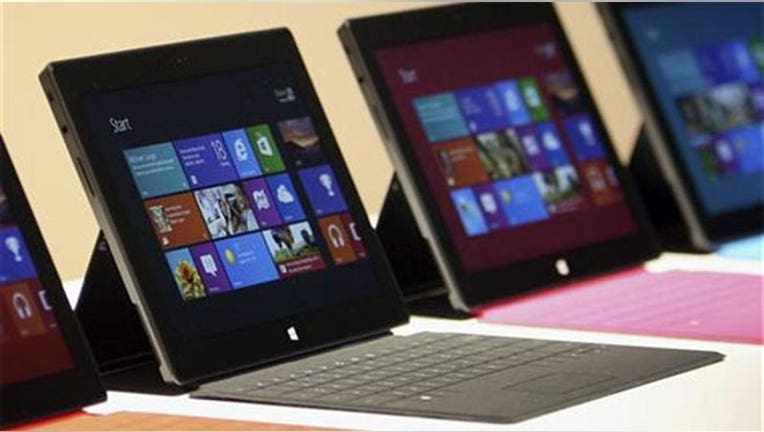 *Update includes NFL statement.
First, NFL announcers called them "iPads." When they finally called them by the correct name, the Microsoft Surface was malfunctioning on the sidelines of the AFC championship game as millions watched.
The Microsoft Surface tablets on the New England Patriots' sideline were disrupted during the game on Sunday night against the Denver Broncos.
CBS sideline reporter Evan Washburn said, "They're having some trouble with their Microsoft Surface tablets."
Washburn said the Patriots coaching staff were unable to show pictures of a defensive possession to their players.
"A lot of frustration that they didn't have them on that last possession," Washburn said.
Microsoft, which struck a $400 million deal with the NFL in 2013, blamed the problems on the network providing Internet and connectivity.
"Our team on the field has confirmed the issue was not related to the tablets themselves but rather an issue with the network. We worked with our partners who manage the network to ensure the issue was resolved quickly," a Microsoft spokesperson told Fox Business during the game.
When asked who provides and maintains the network, Microsoft did not immediately reply. Late Monday, the NFL provided the following statement to FOXBusiness.com:
"Near the end of the 1st quarter, we experienced an infrastructure issue on the Patriots sideline that impacted still photos for the coaching tablets. The issue was identified as a network cable malfunction and was resolved during the 2nd quarter.  The issue was not caused by the tablets or the software that runs on the tablets. We have experienced no issues with the tablets this season. Any issues were network related."
- Brian McCarthy, NFL Spokesperson
The Microsoft Surface has been a bright spot for the software giant in recent years but sales have begun to reverse course. In the first quarter of fiscal year 2016, Surface revenue fell to $672 million, which is less than the $908 million generated in the same quarter one year earlier.
Tablet sales are struggling across the board. Research firm IDC expects worldwide tablet shipments in 2015 to have dropped by 8.1% from 2014. Tablet shipments have declined for three straight quarter, according to IDC.