Michael Kors to shutter more stores, swings to loss in fiscal 4Q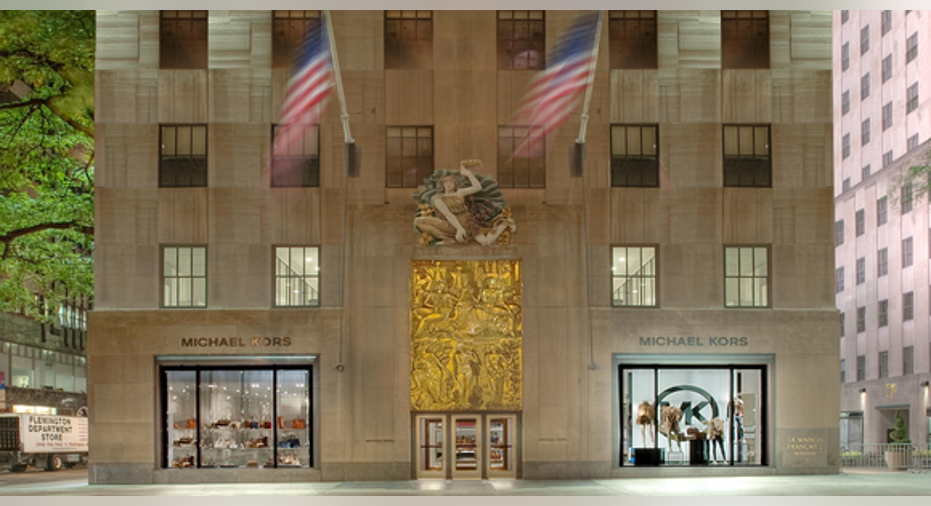 Luxury retailer Michal Kors said Wednesday it added more than 100 stores to the chopping block after closing out a "challenging" year in an overall difficult retail environment.
The company reported a more than 14% decline in same-store sales – a key measure of success for retailers – alongside an 11.2% drop in revenue to $1.06 billion in the first three months of the year. That compared to $1.20 billion in the year prior and $1.05 billion Wall Street expectations.
In an effort to right the ship, the company announced plans to shutter between 100 and 125 full-price stores in the next two years. Costs between $100 million and $125 million are expected to be associated with the closures, while Michael Kors anticipates ongoing annual cost savings of $60 million as a result.
"We acknowledge that we need to take further steps to elevate the level of fashion innovation in our accessories assortments and enhance our store experience in order to deepen consumer desire and demand for our products," the company's chairman and CEO, John Idol, said in a statement.
In addition, Michael Kors booked a $26.8 million loss in the first quarter, or 17 cents per share, compared with 90 cents the year before. Excluding non-cash impairment charges associated with underperforming retail stores, the company posted profits of 73 cents a share, topping analysts' 70-cent expectations.
Shares of the retailer hit a new 52-week low of $32.62, falling more than 9.5% on the session.
The company said it expects the next 12 months to be a "transition year" as it looks to boost innovation in its accessories segment, add to in-store experiences and trim its fleet of stores in a new, long-term strategic plan called Runway 2020. Idol said the first priority is on fashion innovation in the handbag and small leather good categories as well as women's wear, while focus also remains on optimizing the company's store fleet with renovations and modernization over the next 24 months and deepening loyalty on its e-commerce channels.
As it executes the turnaround strategy which puts more emphasis on full-price offerings and fewer periods of promotional activity, the company expects continued financial pressure in the coming year with fiscal 2018 total revenue forecasted to be about $4.25 billion alongside a high-single digit comparable sales decline. Earnings per share are seen in a range of $3.57 and $3.67.
"We believe in our retail fleet and think it'll be by far the majority of company revenues," Idol said on a conference call with analysts. "The key to success there revolves around product, the store environment, and creating excitement…we still have a considerable amount of doors worldwide that are profitable…the most important efforts are returning those stores to positive comp growth."
Michael Kors is not alone in its struggle to adapt to a quickly-evolving retail landscape. It ranks among once giants in the industry – including Macy's (NYSE:M), JCPenney (NYSE:JCP) and Sears (NYSE:SHL), traditional retailers that have, in the past, put an emphasis on the value of physical stores. Those names and a host of others including teen retailers like Abercrombie and Fitch (NYSE:ANF), Bebe and Wet Seal, have come under pressure in recent years amid the rise of off-price treasure hunting experiences – found in stores like TJX (NYSE:TJX) brands Marshalls, T.J. Maxx and Home Goods,  and online shopping sparked by e-commerce giant Amazon (NASDAQ:AMZN).
Still, others like Kors rival Coach (NYSE:COH) have found ways to make the transition a little less painful by scaling back promotions and department-store footprint. The company's first-quarter results proved that strategy is beginning to pay off as it posted a 5% rise in earnings and same-store sales. Coach is also in the process of acquiring struggling handbag maker Kate Spade (NYSE:KATE) in an effort to grow its market share and better compete in the difficult environment.