Mexico ETFs Gain Ground as Trump Goes on the Defensive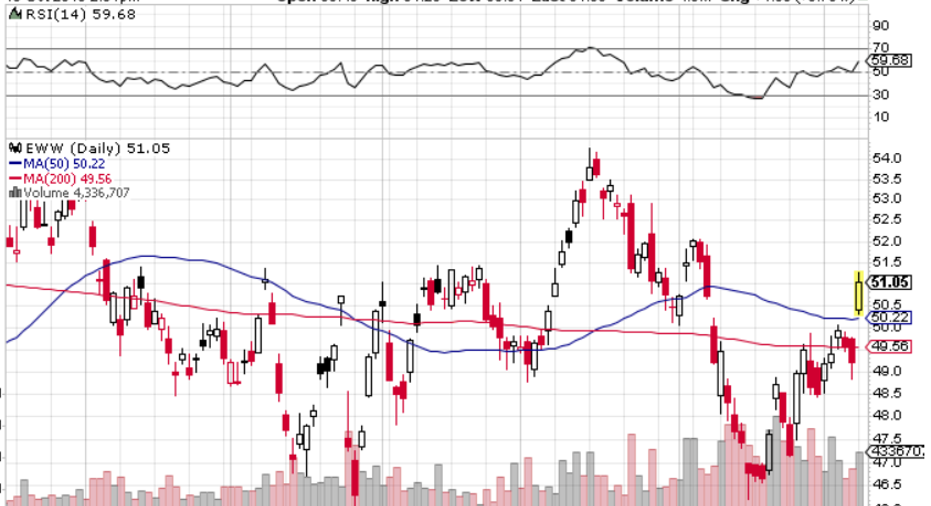 Mexico country-specific exchange traded funds are strengthening on Republican nominee Donald Trump's misfortunes as traders use Mexican assets as an election barometer to gauge the likelihood of a Democratic runner Hillary Clinton win.
On Monday, the iShares MSCI Mexico Capped ETF (NYSEArca: EWW), which holds broad range of companies in Mexico, jumped 3.8% and SPDR MSCI Mexico Quality Mix ETF (NYSEArca: QMEX), which tracks a more customized basket of Mexico stocks that were selected based on metrics like value, quality and low volatility, gained 3.0%. Both EWW and QMEX are now trading back above their 50- and 200-day simple moving averages.
Mexican assets rallied Monday, with the peso currency up 2.3% to a one-month high of 18.8608 per dollar earlier in the day, after Trump dismissed his vulgar comments on a leaked 2005 video as "locker room talk," Bloomberg reports.
Mexican markets, notably the peso, has acted as a barometer of investor anxiety over the November elections, weakening when Trump advanced in polls and strengthening when the Republican nominee lost ground.
Trump has questioned NAFTA and free trade, vowed to add tariffs on Mexican imports, pledged to deport millions of undocumented immigrants and wanted to build a border wall to keep out Mexican immigrants, adding to price volatility in the Mexican peso in recent months. The peso was one of the most undervalued emerging market currencies in recent weeks and has acted as a bellwether of developing market sentiment to the likelihood of a Trump presidential win.
SEE MORE: Emerging Market ETFs Win Clinton, Trump Debate
However, in the wake of the video in which he talks about groping women and seducing a married woman, Trump has lost momentum, with some Republican party members calling for the runner to quit the race.
"The market reaction has this takeaway that Trump's campaign is struggling," John Hardy, Saxo Bank's head of foreign-exchange strategy, told Bloomberg. "The market has seized upon this as trading the Mexican peso as some kind of financial market proxy for the political outcome of the election."
Since EWW and QMEX do not hedge currency risks, a strengthening peso currency would further bolster returns – an appreciating peso would translate to higher U.S. dollar-denominated returns.
Additionally, Mexican markets were supported by optimism that the Organization of Petroleum Exporting Countries and other large crude oil producers would limit production. Mexican assets have been weighed down by the plunge in oil prices, which raised concerns about the government finances and triggered negative outlook on the country's credit rating.
For more information on the Mexican markets, visit our Mexico category.
iShares MSCI Mexico Capped ETF
This article was provided by our partners at ETFTrends.