Merkel's weakness at home might not be fatal flaw abroad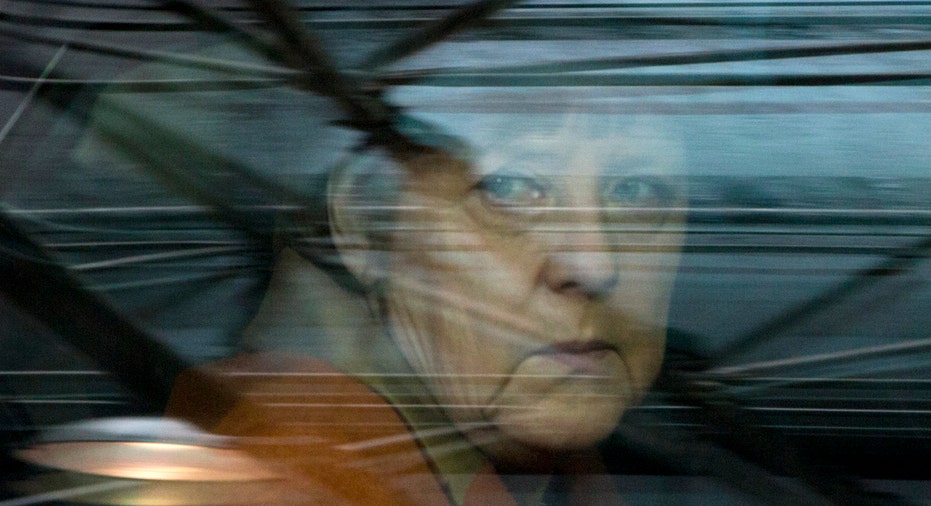 If Angela Merkel has shown the European Union one thing over the past dozen years, it is never to underestimate her political skills.
The German chancellor returns to the EU summit scene on Friday after missing the last one because she showed a rare domestic flaw by struggling to form a coalition. Even worse, she will be in Brussels still a mere caretaker chancellor when, for years now, she has been considered the caretaker of the EU as a whole.
Such is her reputation for rigorous reliability that rumors are running wild that Merkel has finally lost her touch.
But observers say don't count on it, stressing that reports of her demise are still out of place.
"We have grown used to seeing her so strong and solid. Now, for once that it is not that obvious, we immediately see unrest in Europe," Ghent University professor of European politics Hendrik Vos said. "It is an exaggeration."
Merkel herself has underscored that she is steadfast in her determination to lead Germany for another term and at first sight there are few options — In Merkel's Germany that translates to "Alternativlos," and in Europe, the choices beyond Merkel are very few too.
By all means, Germany is the EU's powerhouse, the biggest country with the biggest economy smack in the middle of the bloc's 28 member states, which will become 27 after Britain departs.
And since reunification in 1990, Germany has now fully emerged from its post-World War II diplomatic shell. Under Merkel, a more assertive Germany has often come to be seen as a blessing rather than a curse.
"In our European neighborhood there would be incomprehension and great concern, if the political forces in the biggest and economically strongest country in Europe of all places didn't fulfill their responsibility" and quickly sought to end the domestic impasse, German President Frank-Walter Steinmeier said.
And after all, protracted coalition crises are legion in the EU, where most EU governments are made up of several parties.
"The role of Germany will not change because the FDP (Liberals) refused to join the government," said Manfred Guellner, head of German polling institute Forsa.
Even if Merkel's problems left the door to EU leadership ajar, nobody is squeezing a foot in too hard to push her out — there is far too much respect for that. And Germany is far too indispensable.
French President Emmanuel Macron, the man with the momentum since his stunning election victory in May, is widely portrayed as putting Merkel in his shadow.
When Merkel was last at the summit, she was seen with Macron, and British Prime Minister Theresa May in between them, urgently lobbying the U.K. leader for progress on Brexit negotiations.
When Merkel missed last week's summit in Goteborg, Sweden, May and Macron held a private, wind-swept tete-a-tete along the shore, a symbolic illustration of how the mechanics of diplomacy can quickly change.
Perhaps it's only fitting that Macron will be a no-show at the summit Friday. As a Frenchman, Macron knows well enough nothing moves without a strong Germany on board.
Since its inception 60 years ago, France and Germany have moved in lockstep most of the time and none of the major reforms that have led to closer union and more prosperity among the member states have happened when there was a rift between them.
"The president has invested a lot in the relationship with Chancellor Merkel. She is popular in France. She is respected here. And you prefer to work with people you know," Richard Ferrand, who leads Macron's majority in France's lower house, told German weekly Die Zeit.
If Merkel has a moment of political weakness, this might be the right time. She was instrumental in steering the EU out of the financial crisis as a united bloc, even if relations with debt-laden Greece were stretched to breaking point.
The migration crisis which saw hundreds of thousands of people trek to the EU's heartland from Syria and north Africa has also abated. And the continental economies are finally looking up.
Still, Britain's imminent departure from the bloc is a cathartic moment for the EU and unity remains essential.
At the same time, Macron is driving the debate for more integration among the core nations on banking, monetary issues and finance, and harmonizing taxation. All things that make German commitment essential.
"In Europe, Macron needs allies and needs the Germans. Look at the euro currency reforms, he will need Merkel," Vos said.
It's where France and Germany, for all their common EU ideals, could come to clash.
After all, Merkel has made a career as the embodiment of political prudence while Macron seems to live by the dictum of French revolutionary Georges Danton: "Audacity, even more audacity, always audacity."
___
Associated Press writers Geir Moulson in Berlin, and Angela Charlton in Paris, contributed to this report.
___
This story has been corrected to show that the French revolutionary's first name is Georges, not George.