MercadoLibre Hopes for a Latin American Turnaround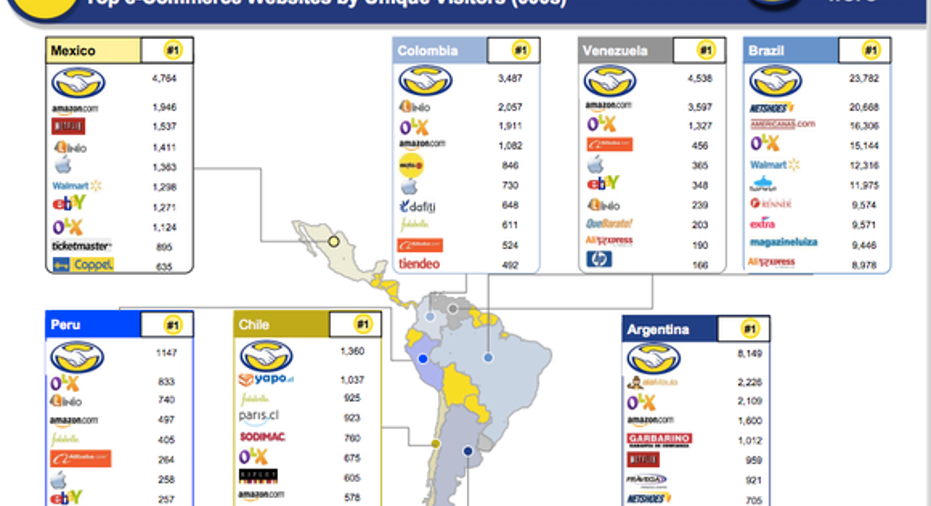 Image source: MercadoLibre.
Many Americans don't think much about the impact of e-commerce outside the U.S., but MercadoLibre has used the same general business model in Latin America that American counterpart eBay pioneered domestically to great success. Coming into Wednesday's first-quarter financial report, MercadoLibre investors are bracing for a substantial earnings drop compared to last year's quarter, but an uptick in economic conditions in Brazil and elsewhere in its home region could give the e-commerce company better results in the future. Let's take an early look at how MercadoLibre has done lately and what it's likely to say in its May 4 quarterly report.
Stats on MercadoLibre
| | |
| --- | --- |
| Analyst EPS Estimate | $0.54 |
| Change From Year-Ago EPS | (31%) |
| Revenue Estimate | $140.43 million |
| Change From Year-Ago Revenue | (5.2%) |
| Earnings Beats in Past 4 Quarters | 3 |
Data source: Yahoo! Finance.
What's next for MercadoLibre earnings?In recent months, investors have gotten more pessimistic about the prospects for MercadoLibre earnings. They've reduced their first-quarter projections by a penny per share, but they've made more dramatic cuts of more than $0.25 per share to their full-year 2016 and 2017 estimates. The stock has clawed back a lot of its lost ground, rising more than 30% since late January.
MercadoLibre's fourth-quarter report revealed some signs of life in the Latin American economy that boded well for the e-commerce retailer. Revenue grew at a 12% pace, doubling the growth that investors had expected to see, and net income climbed 14% to produce earnings that beat the consensus forecast by almost $0.20 per share. Gross merchandise volumes were up 12% to more than $2 billion, and registered users continued to flock to the service. Dramatic success for its MercadoPago payments service and its MercadoEnvios shipping and logistics business showed the value of integrating related services under a single corporate umbrella.
Indeed, it's the extent to which MercadoLibre has worked to provide a one-stop shop for just about any e-commerce service you can think of that has built its impressive competitive moat. In the U.S., eBay has to deal with online retail specialists that got a head start in providing a simple e-commerce experience to shoppers, and eBay's ability to move forward has been hampered in part by its auctioneering roots. By contrast, MercadoLibre's competition in the online retail space in Latin America is much weaker, and that has given the e-commerce giant a first-mover advantage that's much broader than what eBay ever had.
Still, one problem that MercadoLibre faces is that it has to deal with the political pressures involved with operating in Latin America. In particular, countries like Venezuela and Argentina have been extremely challenging to businesses in a wide variety of industries, and the economic systems in these countries don't provide as attractive an environment for MercadoLibre as you'd find in the U.S. or in other fully developed capitalist countries. Nevertheless, MercadoLibre has had substantial success in countries like Brazil, Peru, and even Colombia, which are more willing to embrace some of the opportunities that encouraging an entrepreneurial spirit can bring. By enabling ordinary people to sell their products on an e-commerce platform, MercadoLibre is positioning itself to be a facilitator for greater economic activity among the general public.
One sign of encouragement for MercadoLibre is that the strength of the U.S. dollar has started to diminish. Throughout 2015, the strong dollar had a dual impact on MercadoLibre, reducing the dollar-denominated value of its revenue and earnings and also reflecting the difficulty that its home-country economies have faced due to slumping commodities markets. As the dollar falls, commodity markets have recovered somewhat, and that could help MercadoLibre's customers to be in a better position to spend more on the site.
In the MercadoLibre report, watch closely to see how well the company is doing with all of its key initiatives. As long as the e-commerce giant keeps firing on all cylinders, MercadoLibre should be in a position to see growth in its sales and net income as well as its stock price in the long run.
The article MercadoLibre Hopes for a Latin American Turnaround originally appeared on Fool.com.
Dan Caplinger has no position in any stocks mentioned. The Motley Fool owns shares of and recommends eBay and MercadoLibre. Try any of our Foolish newsletter services free for 30 days. We Fools may not all hold the same opinions, but we all believe that considering a diverse range of insights makes us better investors. The Motley Fool has a disclosure policy.
Copyright 1995 - 2016 The Motley Fool, LLC. All rights reserved. The Motley Fool has a disclosure policy.