Mellanox Technologies, Ltd. Updates Investors on Intel Corp.'s Omni-Path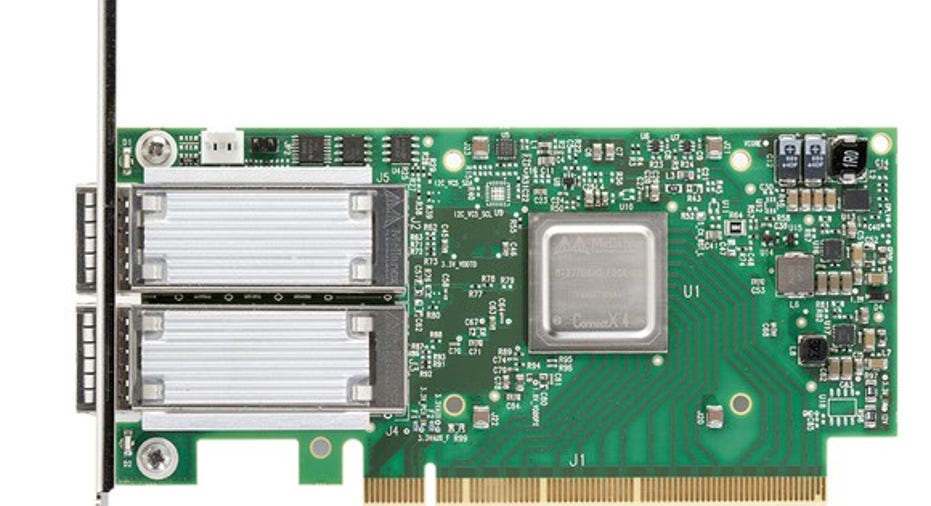 Image credit: Mellanox.
Perhaps one of the biggest risks that looms for data center connectivity specialist Mellanox is the threat of Intel's Omni-Path technology significantly eating into the former's Infiniband business.
Mellanox has done a good job keeping investors abreast about the competitive landscape vis--vis Omni-Path and Infiniband. On the company's late April earnings call, it provided investors with yet another helpful update. Let's take a look at what Mellanox had to say.
Intel's solution appears inferior to Mellanox's
Mellanox CEO Eyal Waldman told investors that the company "did not learn of any new Omni-Path installations" in the most recent quarter. Additionally, Waldman said that Mellanox was able to "conduct system-level performance tests comparing Mellanox's 100 gigabit per second EDR InfiniBand solutions with Intel's Omni-Path offerings."
Waldman claims that these tests showed the Mellanox solution delivering anywhere from 35% to 63% greater "application level performance."
Further, Waldman said that InfiniBand's edge over Omni-Path becomes more apparent "with scale."
"In some cases, Mellanox delivered higher system performance using only half of the servers needed by Omni-Path," Waldman stated.
Delays for Omni-Path
In addition to apparently inferior performance from Omni-Path, Waldman says that Mellanox keeps "seeing delays from Intel on the introduction of their Omni-Path products."
"So we don't know what's going on, from our perspective we expect Intel to be [in] production in [the second quarter]," Waldman told an analyst on the call.
The battle should begin soon
Although Mellanox has seemingly benefited from delays on Intel's part, and although Mellanox has made a compelling argument for why its InfiniBand solutions are superior to Intel's Omni-Path, it'll be important to see how things shake out in the market over the next couple of quarters.
If Mellanox is able to continue to grow its InfiniBand business even after Intel finally enters the market in real quantities, then this should serve to quell the fears around Mellanox' business. If Mellanox sees a sharp deceleration in revenue growth, then that'll be a "tell" that perhaps Omni-Path is a much more serious threat than Mellanox's CEO is making it out to be.
The generalist versus the specialist
Intel has made it clear that it wants to broaden its portfolio of data center products in a bid to grab more share of wallet in the server room beyond its CPUs. Intel's scale allows it to invest in building up a portfolio of different, "nice to have" technologies.
That said, companies like Mellanox tend to be more focused on doing far fewer things, but doing them really well. At least from a technological perspective, I can see Mellanox maintaining a solid lead over Intel when it comes to InfiniBand versus Omni-Path.
The real question, though, is whether Mellanox will be able to maintain enough of a technological edge to overcome some of the business advantages that Intel has. For example, since Intel provides the vast majority of server/cloud processors today, it can probably bundle in the various Omni-Path components for much lower cost than what Mellanox might be willing/able to sell them for.
Additionally, Intel has made it clear that it plans to integrate Omni-Path controllers onto future Xeon processors. This integration could significantly lower the cost of using Intel's solution over Mellanox's, so it will be very important for Mellanox to maintain a significant performance/technology lead relative to Intel in order for it to continue to grow its InfiniBand business.
The article Mellanox Technologies, Ltd. Updates Investors on Intel Corp.'s Omni-Path originally appeared on Fool.com.
Ashraf Eassa owns shares of Intel. The Motley Fool recommends Intel. Try any of our Foolish newsletter services free for 30 days. We Fools may not all hold the same opinions, but we all believe that considering a diverse range of insights makes us better investors. The Motley Fool has a disclosure policy.
Copyright 1995 - 2016 The Motley Fool, LLC. All rights reserved. The Motley Fool has a disclosure policy.