McDonald's vs. Shake Shack: the Incumbent's Identity Crisis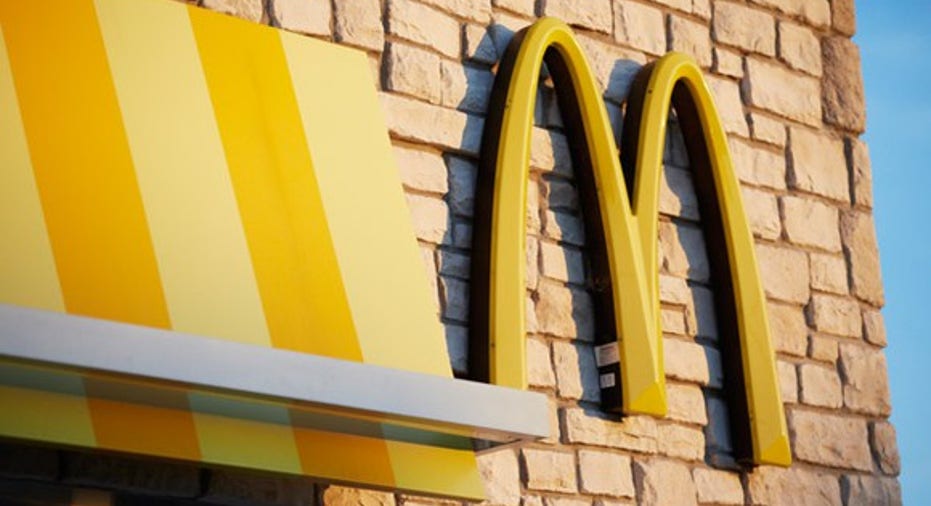 Image source: McDonald's.
McDonald's (NYSE: MCD) and Shake Shack (NYSE: SHAK) both recently released quarterly earnings that showed differing business results. While Shake Shack's size pales in comparison, it continues to win big in existing markets even though burger joints make up a crowded industry. McDonald's has recently started growing again in existing markets, but the overall business remains stagnant. Why the difference, and what can McDonald's do to fight back?
One business flat, another on the rise
The difference in the two businesses can first be seen from revenue results. During the last reported quarter, McDonald's revenue was down 4% and has fallen 2% so far on the year. Shake Shack, on the other hand, was up 37.2% during the last quarter and 39.7% so far this year.
Those figures may be unfair, as Shake Shack is a smaller, newer chain of 95 locations, compared with 36,000 McDonald's restaurants worldwide. However, even McDonald's is growing locations in markets such as Asia, Eastern Europe, and the Middle East, in addition to increasing sales in its established markets. Besides, Shake Shack is growing not just through new openings, but comparable sales as well.
Comparable sales for McDonald's notched their first uptick in two years during the third quarter of last year and have improved, with McDonald's introducing all-day breakfast and its new value menu McPick 2. Meanwhile, Shake Shack has been growing comparable sales at a much higher rate in its most mature markets, which is predominantly in the northeastern United States. Here is a breakdown for the past year.
| Quarter | McDonald's U.S. Comparable Sales | Shake Shack Comparable Sales |
| --- | --- | --- |
| Q2 2016 | 1.8% | 4.5% |
| Q1 2016 | 5.4% | 9.9% |
| Q4 2015 | 5.7% | 11% |
| Q3 2015 | 0.9% | 17.1% |
Chart data source: McDonald's and Shake Shack quarterly earnings.
Despite a market chock-full of burger joints, both companies have been able to grow sales at existing stores. McDonald's has been able to do it by getting back to cheap menu items, and Shake Shack has done it with its brand of higher quality "roadside-style" fast food. However, comparable sales are helping Shake Shack grow the overall business, but not McDonald's. Why is that the case?
The importance of image
McDonald's has been able to recapture some consumer interest by narrowing its focus down to serving the value niche, but further progress still needs to be made to get the overall business back to growth.
According to a recent survey, nearly 60% of respondents said they had fast-food brand loyalty. Of those, 23% said they were loyal to McDonald's. The reason? The top three responses were menu items, convenient location, and pricing.
The company keeps pushing "quality at a value," and that's obviously important. All customers want to get their money's worth. The aforementioned survey would suggest it is. ButMcDonald's needs to continue delivering more value with new cheap menu offerings to keep winning with consumers.
That leads to another point: simplifying the menu. McDonald's has a sprawling menu with no direction, toting a "value" section and a "premium" section. Yet the burger chain is not going to please everyone. With new low-cost options and cheap all-day breakfast working, the company should consolidate down to what's working best. Those surveyed said a simple menu with tried-and-true items was important to them.
That fact is evident in the struggling sales figures from a couple of years ago as the company tried to roll out higher-quality, and therefore pricier, menu options. As soon as McDonald's got back to its value slant, things started to improve. The same survey showed most respondents feeling fast-food quality is about the same as it was three years ago. If McDonald's can't sway opinions with better quality, it's best to focus on the cheap and fast menu and leave the high-quality goods to Shake Shack.
Shake Shack's success stems from a unique experience: a modern roadside burger stand, a local community gathering place, and higher-quality and pricier menu options. This, McDonald's is not. Rather than attempt to take on a new identity, the company needs to get back to its roots to continue to grow. That has started to happen, and growth has resumed.
What McDonald's needs to do
I believe McDonald's will see the greatest success by focusing on its "cheap food fast" slant. If the old king of fast food wants to fight fast-casual, though, it needs to readopt a strategy it once made use of with great success: investing in a new brand. McDonald's can't play in the fast-casual sandbox as is. It needs a surrogate.
McDonald's used to be the owner of fast-casual champion Chipotle Mexican Grill (NYSE: CMG), but it sold in 2006, when the chain had about 500 restaurants. Since then, Chipotle has grown to over 1,500 locations and has itself invested in a number of other newer fast-casual concepts.
If McDonald's wants to capture a broader audience, it needs to focus on fast and cheap food. Investing in another brand, as it has in the past, would be the best way to fight against burger upstart Shake Shack.
A secret billion-dollar stock opportunity The world's biggest tech company forgot to show you something, but a few Wall Street analysts and the Fool didn't miss a beat: There's a small company that's powering their brand-new gadgets and the coming revolution in technology. And we think its stock price has nearly unlimited room to run for early in-the-know investors! To be one of them, just click here.
Nicholas Rossolillo has no position in any stocks mentioned. The Motley Fool owns shares of and recommends Chipotle Mexican Grill. Try any of our Foolish newsletter services free for 30 days. We Fools may not all hold the same opinions, but we all believe that considering a diverse range of insights makes us better investors. The Motley Fool has a disclosure policy.