McDonald's Touts Tech Initiatives as All-Day Breakfast Cools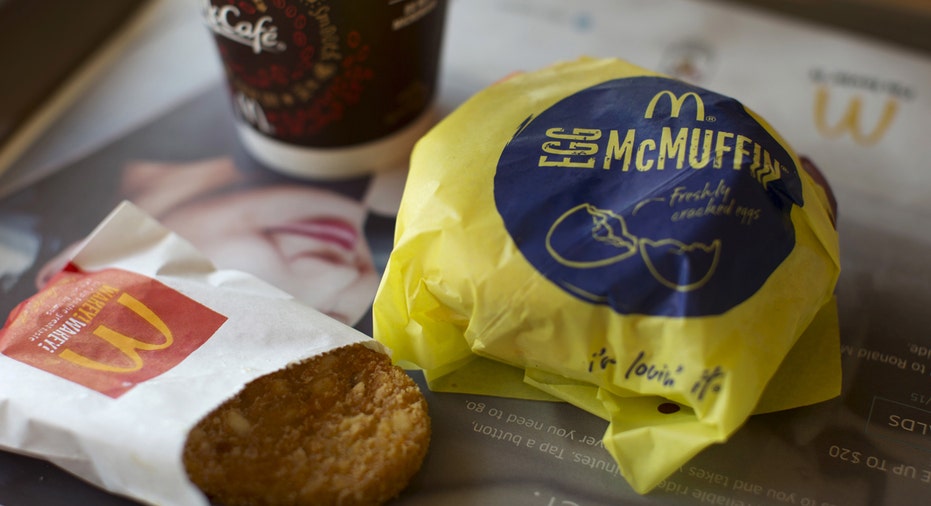 At McDonald's, all-day breakfast is a high bar to beat.
The world's biggest fast-food chain reported its first U.S. comparable-store sales decline in a year and a half on Monday, signaling the excitement about all-day pancakes and hash browns is evening out.
Sales at American stores open at least a year fell 1.3%, though slightly less than the 1.4% decline Wall Street anticipated. On a whole, global same-store sales increased for the sixth-straight quarter as they jumped 2.7% led by strength in the U.K., China, Japan and Latin American markets.
McDonald's (NYSE:MCD) all-day breakfast menu launched to much fanfare in October 2015 and helped drive an rush of customers to the Golden Arches, leading to a 5.7% leap in same-store sales during the year-ago period. Looking ahead to the current quarter, Easterbrook said he is "confident" in the company's ability to transition to a long-term turnaround approach, but also said he is acutely aware the newness of all-day breakfast, unusually warm winter weather and a calendar quirk from leap year, helped contribute to the strong first-quarter results in 2016.
"There's more we need to do to combat negative guest counts, and we're prepared to hit it harder in 2017," Easterbrook said on the company's earnings call Monday, noting more emphasis on modernizing the company's U.S. stores is underway, and more focus will center on its Experience of the Future technology imitative.
The McDonald's chief explained U.S. operations teams have been "deeply focused" on simplifying the customer experience while also working to enhance it as new menu items and store concepts are tested and rolled out.
Specifically, he pointed to in-store kiosks -- already in use in "trendsetting markets" -- that work in tandem with the chain's front-of-house staff. The idea is customers who want to take more time to study the menu, or make sure the details of a big order are correct would be able to do so at a self-service kiosk, while on-the-go consumers looking for a grab-and-go option can step up to the counter and be helped by a McDonald's staff member.
"As we invest in technology, get order ahead and pay-ahead capabilities through the app better defined this year…technology can do a lot of the heavy lifting, with service and service times better as a result," Easterbrook said.
Since the launch of the McDonald's mobile app in late 2015, Easterbrook said 18 million people have downloaded it and 11 million of those are registered users. Still, he acknowledged the company lags its competitors in this area and continues to test order-ahead, and curbside pickup options around the world.
Those digital enhancements, alongside new products or promotions and more of a focus on the chain's McCafe brand are some of the keys to reinvigorating U.S. same-store sales growth, according to UBS analysts Dennis Geiger and Lauren Silberman. Easterbrook said the chain's coffee brand will see aggressive value offerings including $1 any size coffee and stand-alone McCafe-branded stores to better compete against rivals like Starbucks (NYSE:SBUX) and Dunkin' Donuts (NASDAQ:DNKN).
"We remain confident in a favorable outlook, but at current valuation look for additional catalysts to support upside…what appears to be strengthening burger-category momentum could provide an additional tailwind despite the threat of lingering slower overall restaurant industry sales trends," they said.
Easterbook said the company is still "trying hard" to compete on value against a host of U.S. competitors, and said to expect to see a more competitive McDonald's on that front throughout 2017.
In the fourth quarter, McDonald's revenue fell 3% to $6.03 billion, notching the tenth-straight quarter of declines as the company sold restaurants to franchisees, part of its overall turnaround strategy that included all-day breakfast, a move to hormone-free chicken, and faster service. Meanwhile, the company's profits came in at $1.44 a share, up from $1.31 during the same period a year earlier and higher than Wall Street expectations.
Shares of the Oak Brook, Illinois-based chain fell as much as 1% on Monday to $121.25 a share.