McDonald's Testing 4 New Shamrock Shake Varieties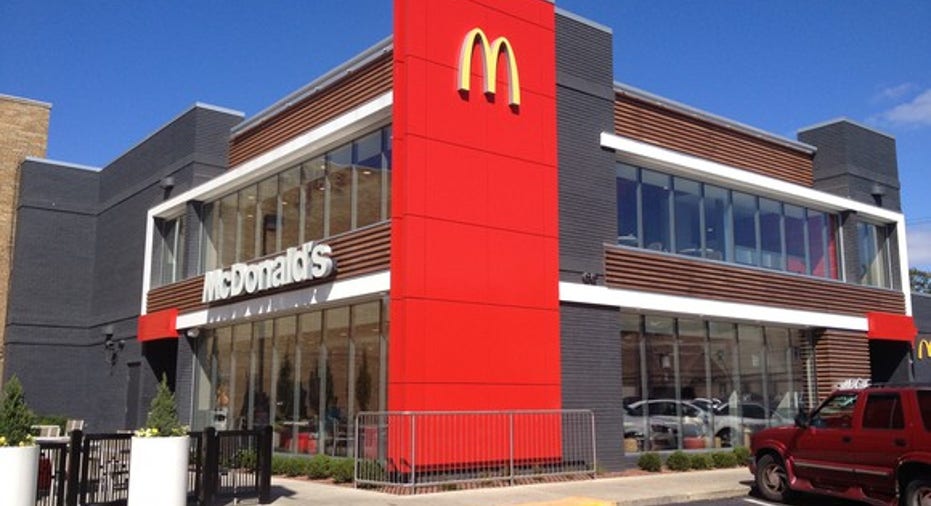 Instead of just bringing back the mint-flavored Shamrock Shake, a seasonal favorite that returns to menus around St. Patrick's Day,McDonald's(NYSE: MCD) has been testing multiple variants of the treat this year, including some hot ones. The fast-food chain, which has been pushing its beverage and coffee lines as a way to improve flagging sales in the United States has rolled out five Shamrock varieties in select markets including Southern California and Chicago.
These include the original Shamrock Shake, which blends vanilla soft serve and mint-flavored syrup with an added twist for 2017 of a sprinkle of green sugar crystals to go along with the traditional whipped topping and maraschino cherry. New for 2017, at least in some locations, are a chocolate version of the treat that includes both chocolate shake and Shamrock shake, a chocolate chip frappe variant that includes mocha and caramel, a hot chocolate with Shamrock Shake syrup, and a hot Shamrock mocha, the Orange County Registerreported. These products have been spotted in other markets as well and the company did not immediately respond to a request from The Motley Fool to confirm whether there are plans for a national launch.
The company does not list the seasonal items under the Desserts & Shakes section of its website nor did they appear in the McCafe section as of the afternoon of Feb. 9. St. Patrick's Day takes place March 17, which leaves the company time for a wider launch.
The new items have so far only been tested in certain locations. Image source: McDonald's.
Why is this a smart play?
In recent years, McDonad's rivals including Yum! Brands' (NYSE: YUM) Taco Bell, and Restaurant Brands International's (NYSE: QSR) Burger King have gotten a lot of attention for product innovation. Some of these ideas have been ridiculous, like Taco Bell's Naked Chicken Chalupa, which has a fried chicken shell, or Burger King's various Cheetos tie-ins, but these efforts have brought the fast-food chains traffic and sales.
McDonald's has been largely devoid of new products, instead focusing on promoting and expanding its all-day breakfast efforts. That promotion has been a success, but interest in it seems to have topped out and the company has been looking to innovate to punch up U.S. sales.
In recent months, this has included a major promotion around launching two new sizes of the iconic Big Mac sandwich. And while the larger "Grand Mac," and smaller "Mac Jr." are not overly innovative ideas, they offer a fresh spin on a well-known product.
The new variations on the Shamrock Shake do the same thing. They take an anticipated seasonal product and expand the brand. That should lead devoted fans of the minty drink to try the new variations and should also translate into more visits (where you have to assume many people buy more than shakes).
This is a smart play for McDonald's
Assuming the company expands the test on a national level -- whether that be this year or next -- growing a known brand across multiple categories (dessert and cafe beverages) makes sense. It's easier to promote a variation on something consumers already know and the Shamrock Shake has been around since 1970 (though the name came later).
And while few McDonald's patrons under a certain age even remember Grimace, let alone his Shamrock Shake-loving Uncle O'Grimacey, the actual beverage has a loyal following. Expanding the brand is innovation without risk for the company. These are simple, but clever variants that could either find their own followings or at least spur a one-time increase in sales and foot traffic. Creating more seasonal and limited-time offerings in this style could help the company push its U.S. sales higher by winning back some of the audience lost to its innovative rivals.
10 stocks we like better than McDonald'sWhen investing geniuses David and Tom Gardner have a stock tip, it can pay to listen. After all, the newsletter they have run for over a decade, Motley Fool Stock Advisor, has tripled the market.*
David and Tom just revealed what they believe are the 10 best stocks for investors to buy right now... and McDonald's wasn't one of them! That's right -- they think these 10 stocks are even better buys.
Click here to learn about these picks!
*Stock Advisor returns as of February 6, 2017
Daniel Kline has no position in any stocks mentioned. The Motley Fool has no position in any of the stocks mentioned. The Motley Fool has a disclosure policy.