McDonald's Is Unlikely to Continue Its Torrid Growth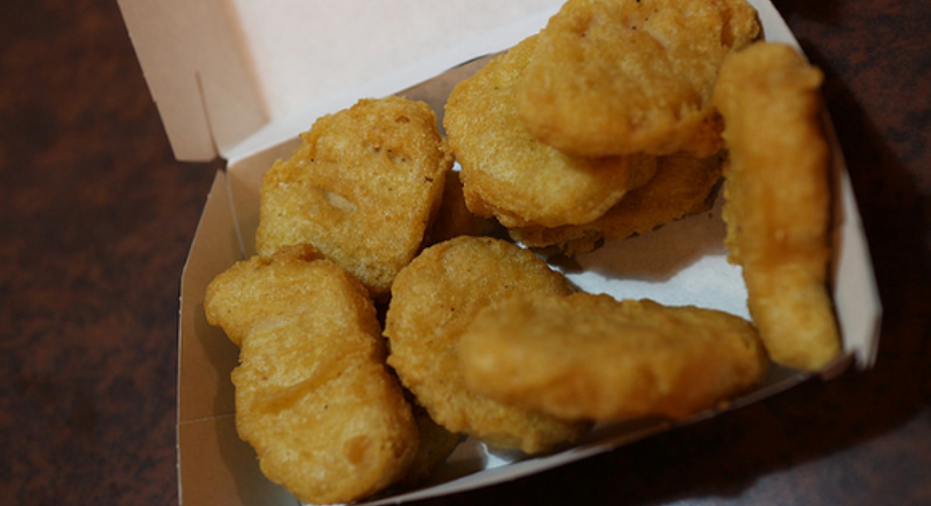 McDonald's stock is surging under new CEO Steve Easterbrook. Since he took the reins from former CEO Don Thompson, shares of the fast-food restaurant are up 28% versus the greater S&P 500's loss of 1%.
Last quarter, Easterbrook reported U.S. comparable-restaurant sales of 5.4% on the back of All-Day Breakfast and its new McPick 2 menu. This follows a fourth-quarter result that saw U.S. comps increase 5.7% on a year-on-year basis.
Easterbrook is leading the company back from its zombie-like existence by trying new ideas. McDonald's is currently testing things like all-you-can-eat fries, preservative-free Chicken McNuggets, and a bigger Big Mac dubbed the Grand Mac. Even with these great ideas, it's unlikely McDonald's will continue to grow U.S. comparable sales at that same clip in the long run.
Outside influences provided tailwinds this quarterWhile McDonald's should be commended for the quarter, there was a huge positive tailwind for sales. Fast-casual restaurant Chipotle reported a same-store sales decrease of nearly 30% in the face of the burrito-maker's food-safety scandal. A percentage of this demand, especially in the lunchtime daypart, presumably went to competitors. It stands to reason that, as the largest restaurant, McDonald's benefited in some manner from Chipotle's struggles.
In an interview with Mad Money's Jim Cramer, Chipotle's CFO John Hartung refuted this narrative. According to Hartung, customers who visited less often did not go to a direct competitor, and instead chose to spend that money elsewhere.
In a poll from Bank of America/Merrill Lynch, however, when consumers were asked which restaurant would replace Chipotle visits,and listed publicly traded companies,Panera, Yum! Brands' Taco Bell, and McDonald's were among the most-popular replacements. Of these three competitors, both Panera and McDonald's reported stronger-than-expected systemwide same-store sales growth of 4.7%, with McDonald's' aforementioned 5.4% U.S. same-store sales increase. Both companies credited increased market share as the reason for strong growth.
Can McDonald's continue to post 5%-plus growth?Steve Easterbrook should be commended for this leadership. During the last two quarters, the CEO has increased global comparable sales 5% and 6.2%, respectively. Matching these figures going forward will be much-more difficult in both the front end of the year and the back end. In the upcoming second quarter, Chipotle should continue to win back market share as concerns about its food safety abate.
Chicken McNuggets. Image Source: Flickr/Elsie Hul.
The fourth quarter of the year should present a tougher comparable. Last October, McDonald's introduced its All-Day breakfast menu, and it's been a listed reason for the torrid comparable-sales figure. This quarter will be more reflective of organic growth, as the base quarter on the year-on-year comparison will include All-Day breakfast.
CEO Steve Easterbrook has been a breath of fresh air after years of flat returns. There are headwinds to the company's 5% comparable-sales growth rate, but Easterbrook has shown he's able to introduce and execute new ideas.
McDonald's now has a CEO willing to embrace change. Investors should be pleased, and competitors should be terrified.
The article McDonald's Is Unlikely to Continue Its Torrid Growth originally appeared on Fool.com.
Jamal Carnette has no position in any stocks mentioned. The Motley Fool owns shares of and recommends Chipotle Mexican Grill and Panera Bread. Try any of our Foolish newsletter services free for 30 days. We Fools may not all hold the same opinions, but we all believe that considering a diverse range of insights makes us better investors. The Motley Fool has a disclosure policy.
Copyright 1995 - 2016 The Motley Fool, LLC. All rights reserved. The Motley Fool has a disclosure policy.