McDonald's Is Dumping Japan: Smart Move or Hasty Decision?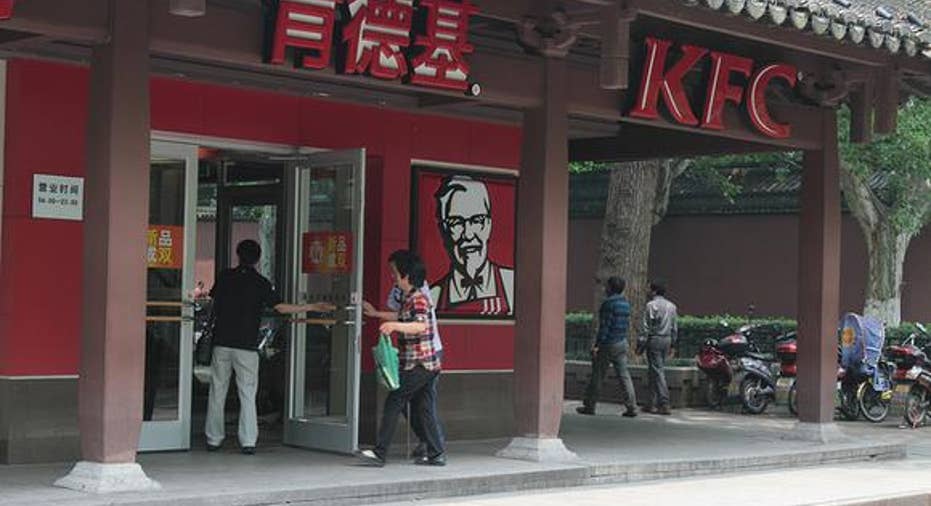 McDonald's wants to limit the risk associated with its investment in Japan by selling as much as half its interest in its subsidiary there. Image source: Gwydion M Williams.
Now that McDonald's is reportedly putting up for sale as much as a third of its 50% ownership stake in its Japanese unit, a move that follows Yum! Brands' decision to spin off its China division, investors are wondering: Are these really sound business decisions, or are they instead rash reactions to temporary problems?
Customers flying the coopThe Asian businesses of the two fast-food chains were hit hard after a major supplier was caught by the local media selling the chains tainted meat. The cascading effects of customers abandoning the restaurants in response to the revelations led to plummeting sales and vanishing profits
The collapse caused Yum! Brands to say it would no longer be able to meet its 10% earnings growth target, but would instead see them only growin the low single digits now. McDonald's, on the other hand, had its Japanese unit record its first loss in 11 yearslast year and is reportedly on track to post its second consecutive loss this year.
While Yum! Brands was hit harder because this was the second such scandal in as many years, both chains have seemingly reacted in similar fashion by trying to cut their losses in the region by limiting their exposure.
Seeds of dissensionYum! Brands' spin-off move came at the urging of hedge fund operator Keith Meister of Corvex Management, who just days prior to the announcement had been appointed to the board of directors. He previously indicated a spinoff could create an additional $16 per share of value for Yum! Brands investors (Corvex had a stake in the company valued at about $1.5 billion at the time), and could trade between $40 and $70 per share on its own.
According to Nikkei Asian Review, McDonald's has been in talks with a number of trading houses and investment funds looking for someone interested in taking anywhere from 15% to 33% of its stake in McDonald's Holdings Japan, which operates over 3,050 restaurants. While it didn't mention a source, it said the buyer could end up becoming the biggest shareholder in the division, which would represent a different path for the restaurant operator that has always been led by its parent.
While the results over the past year have been worrisome for both chains, it still seems as though the fast-food restaurants are throwing the baby out with the bath water.
Yum! Brands is also looking to protect its downside by spinning off its China business.
The sun is still rising over AsiaMcDonald's has operated in Japan since 1971, and while it's had a variety of problems over the years, it has always bounced back. That its performance in 2014 was the first loss for the chain in more than a decade indicates the segment's level of resilience.
Similarly, Yum! Brands has also been beset by problems here and there, and even though the latest tainted food scandal was the second it had to deal with in a short period of time, consumers are returning to the chain, even if it's more slowly than management originally forecast. After all, there are only so many times a company can go to the well of goodwill before it runs dry.
Still, McDonald's decline in same-store sales improved from a drop of 32% in the second quarter to 20% in the third.Yum! Brands notched 2% comps growth in the period, 3% of which was actually at KFC (its Pizza Hut chain was down 1%). Comparable sales is an important retail metric because it strips out the impact opening more restaurants has on revenues, indicating growth that is more organic.
Already in the rearview mirrorThe results show the crisis may be easing. Yet investors have been clamoring for the chains to reduce their "exposure" to the Asian markets, but that's not necessarily a wise decision considering they've operated for decades largely without incident.
China accounts for 53% of Yum! Brands' total revenue and 45% of operating profits. It operates almost 6,900 restaurants in China, comprised mostly of KFCs, but also a good number of Pizza Huts.
McDonald's Asia-Pacific market, which includes Japan, China, and Australia, accounted for 52% of the segment's 2014 revenue, which in turn represents almost a quarter of the burger joint's full-year consolidated revenues.The company's departure from Asia seems like a short-term decision with long-term implications.
It's true McDonald's and Yum! Brands aren't truly exiting the Asian market, just limiting their exposure to it. While that certainly protects their downside, particularly if future scandals disrupt operations as the latest episode has, it will also limit the beneficial contributions the divisions have made, which over the course of their existence have far outweighed the risks they pose.
Both chains and their investors may regret saying sayonara to their investments in Asia.
The article McDonald's Is Dumping Japan: Smart Move or Hasty Decision? originally appeared on Fool.com.
Rich Duprey has no position in any stocks mentioned. The Motley Fool has no position in any of the stocks mentioned. Try any of our Foolish newsletter services free for 30 days. We Fools may not all hold the same opinions, but we all believe that considering a diverse range of insights makes us better investors. The Motley Fool has a disclosure policy.
Copyright 1995 - 2016 The Motley Fool, LLC. All rights reserved. The Motley Fool has a disclosure policy.