McDonald's delivery, new store formats could have sizable impact: Wells Fargo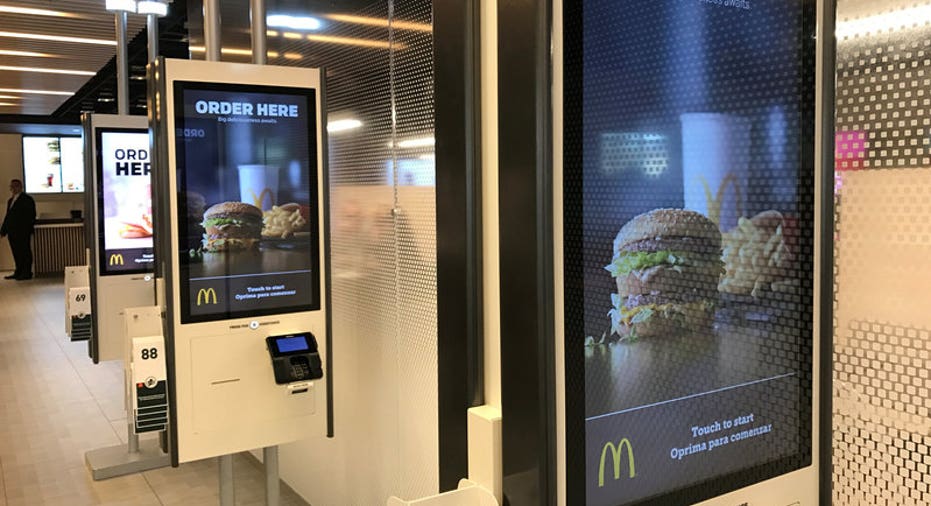 McDonald's (NYSE:MCD) efforts to streamline and update its business model will likely have a swift and sizable payoff, said Wells Fargo restaurant and foodservice analysts Monday.
Since taking the helm of the company in 2015, CEO Steve Easterbrook has worked to usher the Golden Arches further into the 21st Century, rolling out initiatives including all-day breakfast, a slimmed-down menu, fresh-beef trials, touch-screen ordering kiosks, mobile ordering and pay, and food-delivery options.
Such efforts have helped feed both the company's stock price and sales growth at its restaurants. Over the last year, McDonald's shares have surged nearly 30% as investors bet hungry customers will continue to crave the world's biggest burger chain's renewed focus on customizable food options and convenience.
In the first quarter, McDonald's reported a 4% jump in global same-store sales with a 1.7% bump in U.S. sales and a 2.8% boost in the UK, as adjusted earnings surged 19% and revenues contracted amid refranchising efforts.
The Oakbrook, Illinois-based company's Experience of the Future initiative – which includes all the elements of its growth playbook – could drive sales growth of 1% at stores open at least 12 months as early as next year  considering the mid-single digit bump in same-store sales McDonalds' Experience of the Future rollout has provided restaurants in Canada and the United Kingdom, while delivery could represent a 2% to 3% increase in per-share profit growth by 2018, a team of Wells Fargo analysts led by senior analyst Jeff Farmer said.
In January, McDonald's partnered with UberEATS to pilot a food-delivery service at 200 of its Florida restaurants. The early success of the program prompted the company to scale it to a wider audience. It rolled out delivery to 2,500 U.S. stores with the expectation it will reach 3,500 by the end of June.
"It's still early days, but [McDonald's] delivery performance has impressed, including 60% of sales after 4 p.m. and a delivery check that is two times larger than average," the analysts said in a research note, adding they anticipate delivery additions peaking at 12,000 units, which could provide a 1.1% bump in same-store sales by the final quarter of 2019.
Because of the growth potential, the team of Wells Fargo analysts increased their earnings per share target to $7.01 from $6.95, above the Wall Street average, and bumped up its price target on the stock to $175 from $165. McDonald's shares notched a new all-time high of $155.46 at the opening bell Monday as they rose 0.5%.