Mayday! Analyst Downgrades American Airlines -- and Everybody Else, Too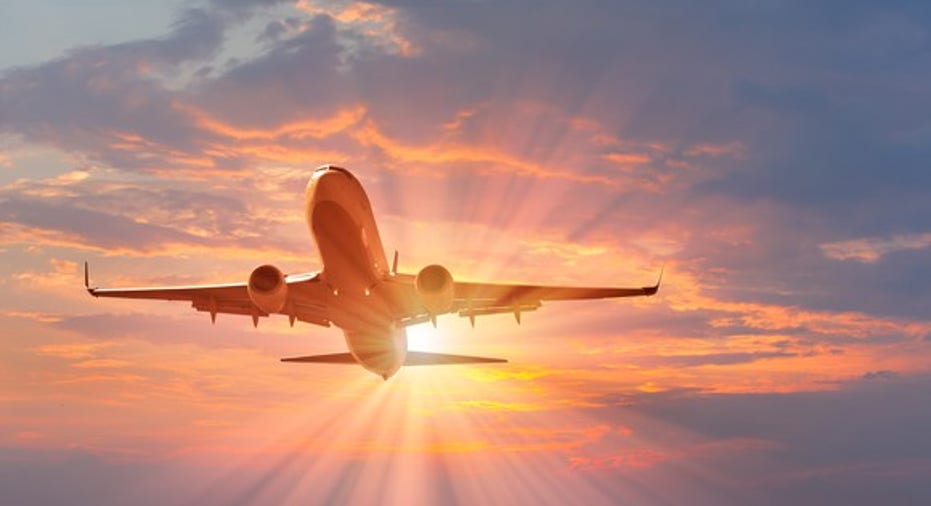 2017 is starting off as a bad year for airline investors, as analysts at Cowen & Co. announce downgrades on five of the biggest names in the industry.
Complaining that the shares have come too far, too fast, Cowen announced this morning that it is downgrading five airlines -- American Airlines (NASDAQ: AAL), United Continental (NYSE: UAL), JetBlue (NASDAQ: JBLU), Alaska Air (NYSE: ALK), and Spirit Airlines (NASDAQ: SAVE) -- to market perform.
Now, the good news is that despite downgrading all five stocks, Cowen isn't yet convinced it's necessary to sell any of them. So far, all the downgrades are from outperform to market perform.
Here's a quick rundown of the ratings, and what they mean to investors.
Is the sun setting on airline stocks? Image source: Getty Images.
United Airlines: First to fall?
Cowen takes the dimmest view of United Continental stock. Alone among the five airlines reviewed in this morning's reports, United Continentalsuffered a cut to its target price -- down from $77 a share to $75, according to data from StreetInsider.com. Granted, with the stock trading for just $73 and change today, the analyst thinks there's some hope for United Continental stock to rise this year, but only about 2.5% -- not enough to justify a buy rating, in the analyst's estimation.
American Airlines
In contrast, despite downgrading American Airlinesstock, Cowen left American's price target unchanged at $50. Granted, American Airlines stock costs less than $47 today. This means that, if Cowen is right, there's still room for the stock to grow nearly 7% in 2017. What's more, unlike United Airlines, American pays a small dividend. Between the dividend and the anticipated price appreciation, the stock could return close to 8% in 2017 -- despite the downgrade.
Alaska Air
Cowen actually raised Alaska Air'sprice target -- up $3 to $95, despite downgrading the stock. With Alaska stock currently costing less than $89, this likewise appears to leave room for 7% growth in share price this year. And when you factor in the stock's 1.2% dividend yield, Alaska Air could also return roughly an 8% profit this year -- according to Cowen.
JetBlue
Cowen left JetBlue'sprice target unchanged at $23. The stock currently sells for less than this -- about $22.50 -- but that implies only 2% growth in share price this year. And with JetBlue paying no dividend, that 2% is about all investors can hope for.
Back of the pack: Spirit Airlines
But at least that's a better return than Cowen sees for Spirit Airlines stock. Dividend-less and overpriced, up until today, Cowen had thought Spirit Airlineswas worth only $53 a share. It costs more than $57 today, though, so to match its new rating of market perform, the analyst grudgingly bumped its price target up $5 to $58. Still, even at the higher target, Cowen sees Spirit stock growing less than 2% this year -- the worst potential profit of the bunch.
Beyond Cowen: What other analysts think
So far, we've talked only about what Cowen thinks about these airline stocks, but Cowen isn't the only analyst with a negative opinion of these companies' prospects -- and with good reason. Over the past five years, profits in the airline industry have compounded strongly, with American and United Airlines in particular growing profits at close to a 60% annualized rate, and even Spirit averaging 10% growth. Going forward, however, the prospects don't look so bright.
With the tailwinds from mergers, decreased capacity/more efficient flying, and falling oil prices all behind them, analysts quoted by S&P Global Market Intelligence see profits falling steadily at both American and United, and Alaska Air as well, over the next five years. Discount carriers are expected to fare better, with Spirit growing profits as much as 8% annually over the next five years, and JetBlue 5%.
Still, with JetBlue's trailing price-to-earnings ratio of 9.9, and Spirit standing at 13.9, both stocks appear richly priced for mere single-digit profits growth -- with no dividend to support them. Long story short: I broadly agree with Cowen that the prospects for airline stocks look significantly less rosy in 2017 than they did in 2016.
10 stocks we like better than American Airlines Group When investing geniuses David and Tom Gardner have a stock tip, it can pay to listen. After all, the newsletter they have run for over a decade, Motley Fool Stock Advisor, has tripled the market.*
David and Tom just revealed what they believe are the 10 best stocks for investors to buy right now... and American Airlines Group wasn't one of them! That's right -- they think these 10 stocks are even better buys.
Click here to learn about these picks!
*Stock Advisor returns as of January 4, 2017
Rich Smith has no position in any stocks mentioned. The Motley Fool recommends JetBlue Airways and Spirit Airlines. The Motley Fool has a disclosure policy.