Maybe This Regional Gambling Company Should Buy More Las Vegas Casinos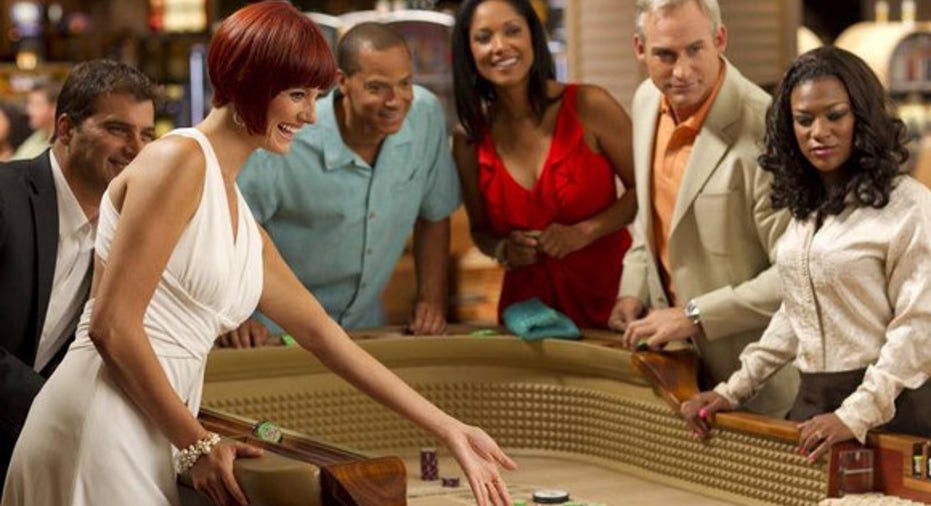 The Tropicana Las Vegas could be the model that drives Penn National Gaming's (NASDAQ: PENN) future growth. The southern Strip resort was only acquired a year ago, but with Las Vegas itself looking to be rebounding and given the strong showing the casino itself put in this quarter -- a time when the regional casino operator seemed to have more bad news than good -- it could make a case for acquiring additional area properties.
Penn National Gaming's results have pretty much been a roll of the dice, but the strong performance by its Tropicana casino and resort hints at future big bets it might want to take. Image source. Tropicana Las Vegas.
The odds haven't been in PennNational's favor
Penn National said revenue rose a modest 3.5% in the third quarter to $765 million, compared with $739 million last year, while profits rose to $46.5 million, or $0.51 a share, versus $4.9 million, or $0.05 a share, and well ahead of Wall Street's expectations of $0.27-per-share gain.
The results were driven mainly by Penn's south/west division, which saw revenues rise 14% year over year to $135 million, thanks mainly to the inclusion of the Tropicana, which was acquired in September 2015. Both it and the M Resort in Henderson put in a decent performance this quarter, though it wasn't nearly enough to offset the downturn Penn saw at properties in Mississippi and New Mexico, where new competition and macroeconomic factors caused a shortfall.
The Tropicana added almost $29 million to the region's revenues, or 21% of the total. Subtract out its contribution, and we're looking at a 10% decline in revenues for the region.
Mississippi is facing new competition, not only from surrounding states but within its borders as well. Connecticut's Mashantucket Pequot Tribal Nation, which owns Foxwoods, the largest casino in the country in terms of square footage, will be building a new venue on Biloxi's Back Bay, where Penn's Boomtown Biloxi is situated.
New Mexico is suffering from low oil prices that are depressing the economy and causing unemployment to run as high as 10% in some parts of the state. Even with September's improved jobs picture, the state had the second worst level of unemployment overall at 6.7%, exceeded onlyby Alaska at 6.9%.
Penn's Midwest properties did see revenues rise more than 5%, but with its biggest region, the Northeast, suffering a nearly 3% downdraft, it was difficult for the gaming company to overcome the drop-off. That's why it might want to invest in more Las Vegas properties, even if they're not on the Strip.
Image source: DoubleTree Tropicana Las Vegas.
A good deal on a great name
Penn National Gaming bought the Tropicana for $360 million last year and has set about upgrading the facility. It's looking to spend some $200 million over three years to expand further out onto the property both the casino and its non-gambling amenities. It hopes that by pushing its own property closer to MGM Resorts' (NYSE: MGM) MGM Grand across the street, it will attract more people to its resort.
Additionally, it wants to boost participation in its member loyalty program, Marquee Rewards. Having acquired Tropicana's own database of customers, it wants to migrate them to its system that will allow them to use the points they earn at Tropicana at any of Penn's other properties.
Right now, the Tropicana is booking rooms at the hotel at about a 20% rate between Marquee members and the casino's legacy program. Other operators, such as MGM and Caesars Entertainment (NASDAQ: CZR), are much closer to near 50%, and that's where Penn would eventually like to get.
Viva Las Vegas
And the timing can't be better. Nevada reported a 3.6% increase in gambling revenues in September, particularlyon the Strip, where the Nevada Gaming Control Board says revenues rose7.5% from last year, to almost $543 million. Downtown also grew, with earnings rising to $49 million, up 4%.It was a nice rebound from August, whenNevada gambling revenue fell 5% overall, while Strip casino revenue tumbled 15%.
Image source: Getty Images.
While we need to see if this rebound can hold, expanding in Las Vegas has laid the groundwork for Penn to grow. It's got a marquee name on the Strip, a major hotel, and new opportunities for growth that it can parlay into benefits at this traditional regional player's other properties.
The possibility that Las Vegas might see the Oakland Raiders pro football team come to the city at a new stadium to be built not far from the Tropicana, and with a pro hockey team already set to begin playing, Penn's luck may be turning.
Considering the price it paid for the Tropicana and the return it's already earning on it, Penn National Gaming may just want to think about buying additional such properties in Las Vegas and cash in its chips on the rebound to come.
10 stocks we like better than MGM Resorts International When investing geniuses David and Tom Gardner have a stock tip, it can pay to listen. After all, the newsletter they have run for over a decade, Motley Fool Stock Advisor, has tripled the market.*
David and Tom just revealed what they believe are the ten best stocks for investors to buy right now and MGM Resorts International wasn't one of them! That's right -- they think these 10 stocks are even better buys.
Click here to learn about these picks!
*Stock Advisor returns as of November 7, 2016
Rich Duprey has no position in any stocks mentioned. The Motley Fool is short Caesars Entertainment. Try any of our Foolish newsletter services free for 30 days. We Fools may not all hold the same opinions, but we all believe that considering a diverse range of insights makes us better investors. The Motley Fool has a disclosure policy.