Maybe Taser International Won't Get This Big Body Camera Contract After All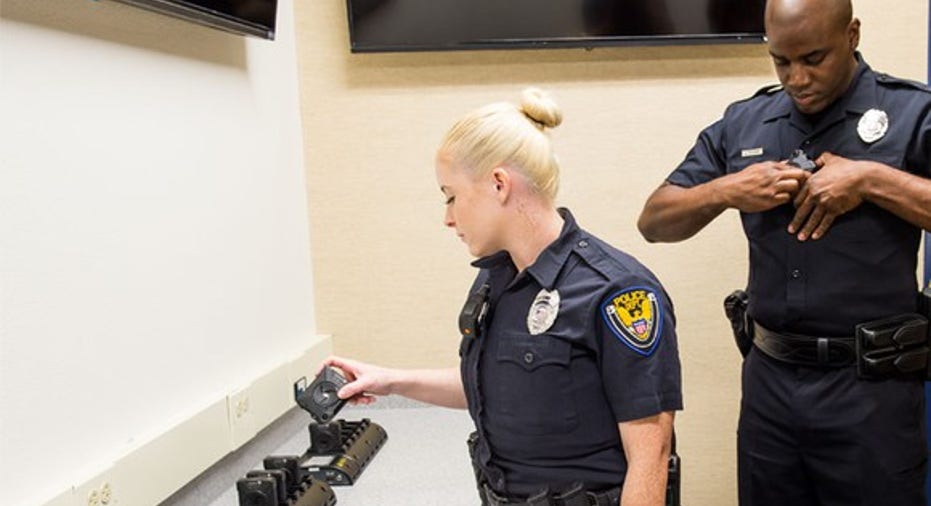 After New York City's comptroller refused to sign off on a $6.4 million contract for the NYPD to buy body cameras because the contract with supplier VieVu is being investigated, there was some hope TASER International (NASDAQ: TASR) might win the contract. But now the police department says it's going through with the purchase anyway, which minimizes the chance TASERwill emerge victorious.
The crux of the debate is whether TASER is suffering from a case of sour grapes over having lost a potentially lucrative deal, or whether its rival lowballed its bid to steal the contract away.
Image source: Taser International.
All the better to see you
TASERInternational says the NYPD sent out a solicitation looking for 15,000 body cameras for its officers plus unlimited data storage. While it acknowledges the initial phase of the contract is for just 1,000 cameras, it charges VieVu with offering its cameras and storage systems for cost, or below cost. It says the police department ultimately selected its rival based simply on the price.
There may be some truth to that. The Wall Street Journal quotes anonymous department officials as being surprised at the price tag VieVu offered because it was about one-third of the next closest bid. Police brass reportedly had to meet with company officials to make sure it wasn't a typo.
TASERcontends there's no comparison between its cameras and data storage systems and those offered by other companies. Some departments that have awarded TASERcontracts for body cameras would agree. Cincinnati police, for example, critiqued the VieVu system, saying the cameras' narrow field of view, low resolution, and sound quality, as well as taking too long to upload the video or crashing the system when reviewing, made it inferior to TASER's.
An inquiry was launched last year by the New York Department of Investigation on how the contract award was determined, and the city's comptroller was informed of its existence last week. He subsequently refused to sign the order allowing the contract to go forward, requesting more information from the police about the status of the probe. Apparently police officials are sticking to their guns, stating that since there was no statutory reason given for not signing the contract, they would be purchasing the VieVu cameras anyway.
Image source: Safariland.
Magnifying the growth opportunity
Body cameras are an increasingly important tool for police departments to protect their officers and the public. TASERis virtually synonymous with the stun gun market, which accounted for 78% of its revenue over the first three quarters of 2016. But body cameras, evidence collection, and maintenance is growing faster than its weapons.
In TASER's third quarter, its Axon division, which houses both the cameras and its Evidence.com digital evidence management systems, saw revenue explode 75% higher from the year-ago period while its weapons systems rose 34% year over year.
Moreover, future growth is going to come from its body cameras. According to TASER's own figures, almost 98% of the 18,250 or so police departments in the country have purchased its stun guns. Certainly there will be need for upgrades and replacements over time, but it has pretty much tapped out that market. Body cameras are not nearly as ubiquitous, so it is focusing its attention on grabbing as many departments as it can, and TASERhas almost 35 major cities on its Axon network. But as the NYPD contract tussle shows, it's a much more competitive market than stun guns.
New York also shows why TASERlosing the contract was such a big blow -- its stock tumbled 14% the day the news it lost came out. If the published reports are correct that VieVu's $6.4 million bid was about a third of the next lowest one, then it suggests the contract would be worth around $20 million to TASER. That's more than what TASER's Axon division generated for the entire third quarter, though the total value wouldn't be realized all at once, but rather over the life of the contract.
Still, it would have been an immensely lucrative contract to win, and a bit prestigious, too. It shows why TASERInternational took the hard-line stance it did, but it may have been for naught if the NYPD ends up being allowed to complete the purchase.
10 stocks we like better than Taser InternationalWhen investing geniuses David and Tom Gardner have a stock tip, it can pay to listen. After all, the newsletter they have run for over a decade, Motley Fool Stock Advisor, has tripled the market.*
David and Tom just revealed what they believe are the 10 best stocks for investors to buy right now... and Taser International wasn't one of them! That's right -- they think these 10 stocks are even better buys.
Click here to learn about these picks!
*Stock Advisor returns as of February 6, 2017
Rich Duprey has no position in any stocks mentioned. The Motley Fool recommends Taser International. The Motley Fool has a disclosure policy.