Mattress Firm Bounces When Things Get Lumpy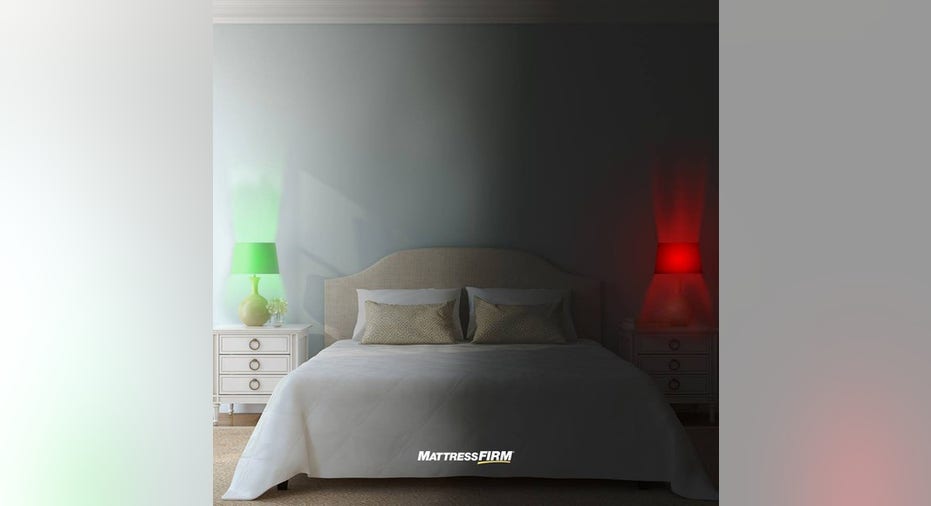 Image source: Mattress Firm.
Last week would seem to be a pretty dreadful one forMattress Firm investors. The retailer of bedding products experienced analyst downgrades and the initiation of class action lawsuits stemming from a rough quarterly report the week before.
Mr. Market usually spits out underachievers like Mattress Firm, but the stock thrived. It soared 10.4% last week. This week is off to another hot start after a 5.5% pop on Monday.
The buoyant stock action may seem like a good dream when bed bugs should be biting. The stock took a 12.4% hit on June 10, following its disappointing financial report. However, the stock is now trading higher than it was before the crummy quarterly results, analyst downgrades, and legal swings.
A bad night's sleep
Mattress Firm fell flat on its face with its financial report earlier this month. Net sales soared 49% to hit $839.4 million. That's a big step up, but it was entirely the handiwork of acquisitions and new store openings. Comps actually declined 1.1% for the period.
Mattress Firm operates in a highly fragmented industry, and it's been spending its first few years as a publicly traded entity acquiring regional bedding specialists. This is definitely a niche where sector consolidation is creating economies of scale for Mattress Firm, but that's not much of a silver lining if comparable-store sales are going the wrong way.
Mattress Firm sees comps turning slightly positive for the balance of the fiscal year, but it still went ahead and lowered its guidance. That's usually a death sentence for those long a stock, and it certainly didn't help that Mattress Firm posted a larger-than-expected adjusted deficit for the period. It has now fallen short of Wall Street's expectations in three of the past four quarters. However, we've now seen the stock soar 16.5% in the six trading days following the 12.4% earnings-related plunge.
Spring action
Last week wasn't pretty. Mattress Firm stock was addedto the Zacks Rank No. 5 (Strong Sell) List on Tuesday, following concerns that analysts had lowered their profit targets for the current fiscal year by a little more than 10% over the past 30 days. KeyBanc Capital Markets downgraded the stock a day later, taking its rating down a notch from overweight to sector weight.
Between the analyst downgrades -- including Raymond James knocking down the stock the morning of its earnings-related drop -- law firms have been initiating investigational claims. The attorneys are exploring potential financial misrepresentations at Mattress Firm dating back to its previous quarter. Class-action lawsuits are sometimes little more than mere nuisances, but they can be distracting.
Mattress Firm will keep doing what it's doing. It will continue to gobble up smaller mattress retailers. In April it announced that it would be consolidating its growing collection of brands under a single Mattress Firm banner. It did point out that comps had turned slightly positive following the Memorial Day holiday, but investors may want to wait until guidance actually starts moving higher again and the profit misses stop happening before trusting this six-day rally. This mattress still doesn't feel firm enough to justify the recent wave of optimism.
The article Mattress Firm Bounces When Things Get Lumpy originally appeared on Fool.com.
Rick Munarriz has no position in any stocks mentioned. The Motley Fool has no position in any of the stocks mentioned. Try any of our Foolish newsletter services free for 30 days. We Fools may not all hold the same opinions, but we all believe that considering a diverse range of insights makes us better investors. The Motley Fool has a disclosure policy.
Copyright 1995 - 2016 The Motley Fool, LLC. All rights reserved. The Motley Fool has a disclosure policy.