Match Group Inc Earnings Surge as Tinder Doubles Member Base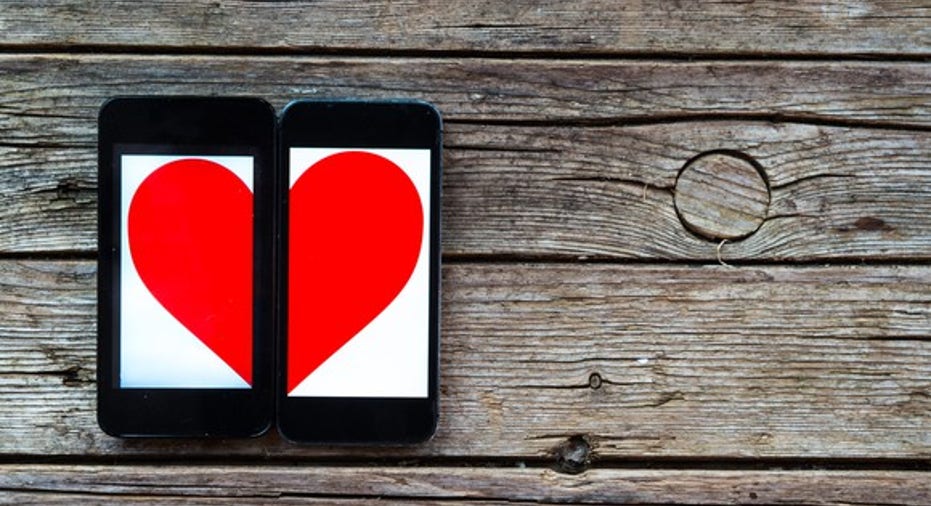 Image source: Getty Images.
Match Group (NASDAQ: MTCH) reported fourth-quarter results on Jan. 31. The parent company of Tinder and other online dating apps and sites delivered solid gains in sales and profits. Match Group also announced a sale of its Princeton Review business in a move to strengthen its focus on its core properties in the year ahead.
Match Group results: The raw numbers
| Metric | Q4 2016 | Q4 2015 | Year-Over-Year Change |
| --- | --- | --- | --- |
| Revenue | $319.677 million | $267.574 million | 19% |
| Operating income | $111.298 million | $67.638 million | 65% |
| Net income | $73.811 million | $35.593 million | 107% |
Data Source: Match Group Q4 2016 earnings press release [requires PDF].
What happened with Match Group this quarter?
Dating revenue jumped 22% year over year to $295 million, driven mainly by the continued strong growth of Tinder.
Average paid member count (PMC) rose 23% to 5.7 million, as Tinder ended the quarter with more than 1.7 million paying members -- more than double the amount of members it had at the end of 2015.
Average revenue per paying user (ARPPU) remained flat year over year at $0.53, as a 1% increase in ARPPU in Match Group's North America segment was offset by a 1% decline in international ARPPU.
Dating EBITDA (earnings before interest, taxes, depreciation, and amortization) -- adjusted to exclude stock-based compensation expense, acquisition-related costs, and other special items -- leapt 28% to$128 million.
Adjusted EBITDA margin improved to 43%, up from 41% in the year-ago quarter, as an increasing proportion of Match's revenue continues to shift toward brands with lower marketing requirements.
All told, adjusted net income surged 45% to $78 million, or $0.29 per share.
Princeton Review divestiture
Match Group also announced that it reached an agreement to sell its struggling Princeton Review business and other non-dating assets to education technology company ST Unitas. The deal is expected to close in the first half of 2017. The company press release did not give a price for the sale.
"The Princeton Review is a great company," said Chairman and CEO Greg Blatt in the press release, "but it has become increasingly clear to us that its differences from our core dating businesses meaningfully exceed its similarities. Accordingly, this transaction allows us to focus on businesses closer to home, while placing TPR in an environment where we expect to see our vision of an integrated, digital one-stop shop for students realized soon, albeit in different hands."
Looking forward
Match Group expects first-quarter revenue of $287 million to $297 million, with adjusted EBITDA of $75 million to $80 million.
For the full year, Match Group forecasts revenue of $1,260 million to $1,305 million and adjusted EBITDA of $450 million to $470 million.
"Match Group executed well in our first full year as a public company," said Blatt. "We had strong double digit revenue, operating income, adjusted EBITDA and PMC growth, generally on track with our expectations at the time we went public. As we roll into 2017, we're confident we can maintain that momentum."
10 stocks we like better than Match Group When investing geniuses David and Tom Gardner have a stock tip, it can pay to listen. After all, the newsletter they have run for over a decade, Motley Fool Stock Advisor, has tripled the market.*
David and Tom just revealed what they believe are the 10 best stocks for investors to buy right now... and Match Group wasn't one of them! That's right -- they think these 10 stocks are even better buys.
Click here to learn about these picks!
*Stock Advisor returns as of January 4, 2017
Joe Tenebruso has no position in any stocks mentioned. The Motley Fool recommends Match Group. The Motley Fool has a disclosure policy.