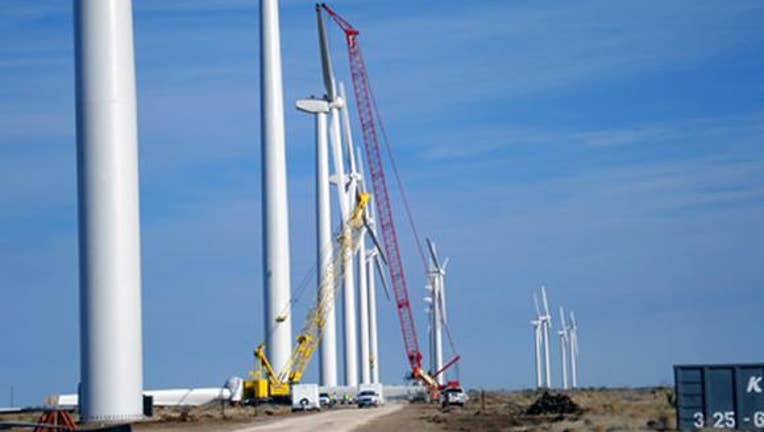 Renewable energyconstructionprojects are a big part of MasTec's backlog. Image source: MasTec.
What: Shares of energy and communications infrastructure construction companyMasTec were up 12.5% at 12:45 p.m. ET on Feb. 26 following release of fourth-quarter and full-year 2015 earnings results after market close yesterday.
So what: MasTec reported a net loss of $76.9 million in the fourth quarter, which led to a $79 million loss for the year. Revenue fell 17% in the quarter and 9% for the year. But that's about all the bad news there is, with the company having generally good things to report to the market.
It did report that big net loss on a GAAP basis, but that was mainly due to an accounting adjustment, as it took $78.6 million in asset impairments related to the company's western Canadian oil and gas operations. That impairment alone -- which is a non-cash charge that reduces the carrying value of those assets on the balance sheet -- was nearly all of the company's full-year and quarterly net loss. The bad there is the loss of value of the assets. The "not so bad" is that it wasn't a cash loss and that there's the potential for that asset to recover value once oil and gas prices do.
From an operating perspective. MasTec reported $367 million in operating cash flow in 2015, the most ever for the company. It also announced strong guidance for 2016., which calls for revenue growth between 9% and 14% and adjusted EBITDA growth between 35% and 40%, on the back of a very robust backlog. It had an 18-month backlog of $5.7 billion at year-end. That's up 31% year over year and an impressive 24% since the end of the third quarter.
Management also announced that the board of directors had approved a new $100 million share buyback program. That's good for more than 9% of shares outstanding at recent prices.
Now what: MasTec's stock is likely to remain volatile throughout 2016, with so much of its business related to the energy sector, which remains beaten down. The good news, though, is much of its work is tied to vital infrastructure projects and the company's backlog is relatively strong.
2015 was an ugly year, and 2016 could be challenging at times. But MasTec's business looks ready to take a step forward in 2016, after taking maybe two steps back in 2015.
The article MasTec, Inc. Stock up 13% on Earnings Results, Strong Backlog originally appeared on Fool.com.
Jason Hall has no position in any stocks mentioned. The Motley Fool recommends MasTec. Try any of our Foolish newsletter services free for 30 days. We Fools may not all hold the same opinions, but we all believe that considering a diverse range of insights makes us better investors. The Motley Fool has a disclosure policy.
Copyright 1995 - 2016 The Motley Fool, LLC. All rights reserved. The Motley Fool has a disclosure policy.