Massive graft probe in Brazil powers electronic bracelets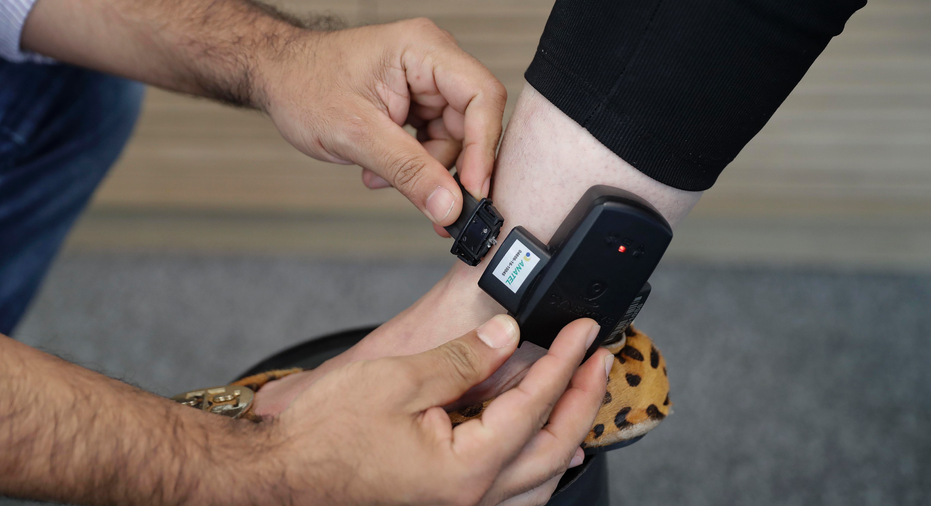 Brazil's mega-corruption scandal that has ensnared much of its political and economic elite has one sector of its struggling economy booming: the sale of electronic monitoring bracelets.
Wealthy businessmen or politicians caught up in the massive "Car Wash" investigation are often serving time at home, either by reaching plea bargains or appealing. That has made the use of bracelets much more common, not only by requiring them for high-profile convicts but by raising awareness about them with judges who are increasingly using them in other cases to ease dangerous overcrowding in Brazil's prisons.
"Thanks to the investigation, there are now more judges who know of the bracelets and require them in their decisions," said Marcelo Ribeiro de Almeida, director of Sao Paulo-based Synergy, one of the leading bracelet companies. "Our overcrowded and ineffective prison system has created that opportunity for business."
Launched in March 2014, the "Car Wash" probe has brought down scores of the country's elite. Top executives at state oil company Petrobras and construction companies like Odebrecht formed a cartel that would decide on the granting of inflated contracts, and which politicians and other officials would receive kickbacks. Over the course of a decade, more than $3 billion in bribes were doled out, according to authorities.
Over the last three years, federal judge Sergio Moro, the lead magistrate in the corruption probe, has sent nearly 30 top politicians and business leaders to house arrest, often after reaching plea bargains that helped dismantle the scheme. The small number of big fish prisoners has had a booming effect nationwide.
When the probe began, fewer than 10,000 inmates were under house surveillance in a handful of the country's most affluent states, according to the companies that provide the bracelets. Today there are more than 24,000 prisoners using devices in 22 out of 27 states. That number is expected to balloon to more than 120,000 in five years. One of the driving reasons is cost: monitoring an inmate with a bracelet costs about $200 a month, about ¼ of the cost of prison.
The bracelets themselves cost between $30 and $120, and weigh less than a 1 pound. Sensitive bands go around the ankle, alerting monitors if removed.
At a Synergye call center in Sao Paulo, about 20 workers recently followed prisoners on computer screens.
"Ms. Adriana. How are you?" said a call-center worker. "Why did you leave the restricted area?"
But the bracelets are raising the question of fairness: Why should the rich or powerful get the chance to serve their sentences at comfortable homes while the poor have to endure prison?
Brazil has the fourth biggest inmate population in the world, with more than 600,000 prisoners in a system that often places white-collar and other non-violent offenders in the same penitentiaries as drug lords and leaders of violent gangs. Prisons are often way over capacity, infested with rats and unable to provide basic health services or even toilet paper. Riots in several prisons earlier this year left at least 125 dead.
"Some inmates go to huge mansions where they can do whatever they want," said former National Security Secretary Jose Vicente da Silva. "Where is the punishment in those cases?"
Others question the effectiveness of the bracelets.
"Private vendors are convinced that electronic monitoring devices can reduce crime, reoffending and recidivism. But the evidence for electronic bracelets from North America and Western Europe is still evolving," said Robert Muggah, research director for the Brazil-based think tank Igarape Institute.
Despite the criticism, the market for the bracelets will likely continue to grow as the "Car Wash" probe shows no signs of letting up.
Among those using the bracelets under house arrest are former Sen. Delcidio do Amaral, whose testimony implicated politicians across the board. Others have been sent home while they await trial, like deputy Rodrigo Rocha Loures, who was accused of carrying bribes for President Michel Temer, or Jose Dirceu, a chief of staff under former President Luiz Inacio Lula da Silva.
The four major Brazilian companies offering the service have been so successful that some are expanding to other Latin American countries.
One of the reasons is their technology: Brazilian bracelets have two SIM cards, which helps overcome notoriously faulty cellphone connections. Police also regularly visit inmates at their homes, which is when flaws in the system become more noticeable.
In August, a video of a police raid near the northeastern city of Maceio showed an inmate who had broken his electronic bracelet getting arrested again for drug trafficking.
"Police arrest us and the judges will let us go again," the man told a local television station as he was handcuffed. "I steal. I use drugs. I unleash hell and the judge will let me go. I even get a ride home with the police. This is Brazil."