Marriott-Starwood Deal: Winners and Potential Losers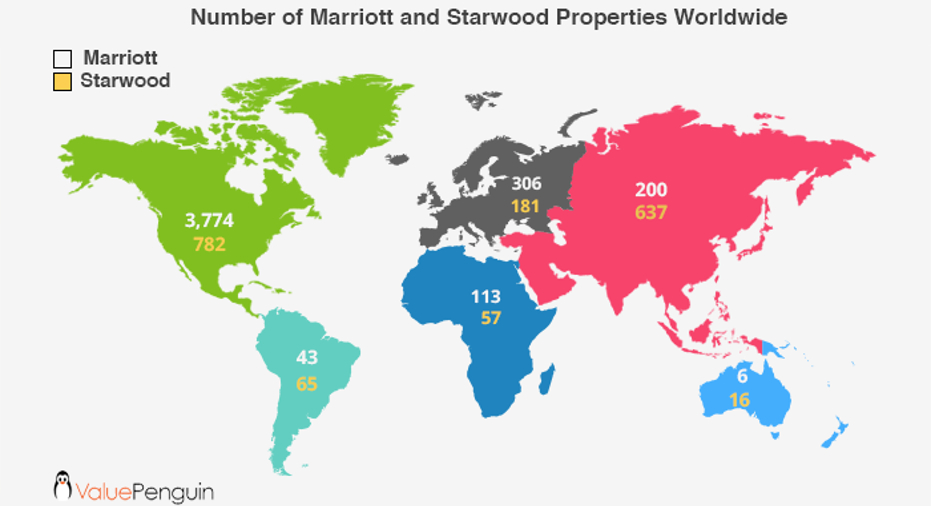 Marriott International, announcedthat it will acquire Starwood Hotels & Resorts Worldwide, in a $12.2B deal. With this merger, the two will form one of the world's largest hotel companies, with over 5,500 properties worldwide.The acquisition seems to be a good move for both Marriott and Starwood. For Marriott, this is a long-term investment and an overall strengthening of their portfolio of hotels in the Asia Pacific region. The potential party at risk in this scenario may be American Express , which may lose its co-branded card partnership with Starwood, as a result of Marriott's pre-existing deal with JPMorgan Chase.
The merger will allow Marriott to leverage Starwood's brand to attract more business from corporate clients. Over the years, Starwood's loyalty program -- Starwood Preferred Guest -- has gained favor with business travelers, through a combination of high per-point value, luxury properties, and a partnership with American Express. Starwood customers are far more likely to be repeat customers, who demonstrate more affinity to the brand. Marriott has struggled with this in the past, which can be seen by looking at each company's flagship rewards program liabilities.Starwood has a significant amount of liabilities resulting from their SPG program -- $721 million at year-end 2014. Despite having more than doubled the number of loyalty program members, Marriott holds 6% less in their rewards program liabilities than Starwood does.
Source: Marriott & Starwood 10-K Filings
The discrepancy between the two is likely a product of several factors. One is that Starwood's business customers are likely to spend higher amounts and generate more transactions, as they travel frequently. Also, Starwood points (Starpoints) are significantly more valuable in comparison to Marriott rewards points. A single Starpoint point translates to $0.022 in hotel stays, whereas one Marriott point is valued at $0.008.
One of the ways that Starwood has been able to build such customer loyalty is through a strong co-branded credit card offering with American Express. The Starwood Preferred Guest Credit Card has been consistently ranked as a toptravel credit cardand business credit card. However, the status of this partnership may be called into question in light of the merger.Marriott has an existing relationship with JPMorgan Chase, the exclusive issuers of their affiliated credit cards. Going forward, Starwood may, as a result, be forced to terminate their partnership with Amex.
In the past, we've seen these credit card deals dissolve as a result of mergers. In early 2015, Barclaycard stopped issuing its US Airways credit card, after the airline completed its merger with American Airlines, which in turn had an exclusivity contract with Citigroup. American Express has been on a decline since it dissolved its exclusivity deal with Costco, earlier this year. If it were to lose another key partnership and product, the outlook for the company would dim.
How Does the Merger Impact Marriott's Market Share?As far as market share is concerned, this merger will not be enough to make Marriot/Starwood the largest hotel company in the world by number of properties.Wyndham Hotel Group and Choice Hotels Internationalremain the top brands, as far as the number of hotels is considered 600,000 and 500,000, respectively. Conversely, after the merger, the combined Marriott/Starwood will have the largest number of available hotel rooms -- 1.1 million worldwide.
Starwood has had a far stronger presence in the Eastern Hemisphere (Middle East, Asia, Oceania) than Marriott -- 653 hotels vs. 206 hotels. This acquisition should allow Marriott to strengthen its presence in Asia, positioning them as the dominant brand in that region. Starwood has been investing in this region over the last several years, which is something Marriott will be able to capitalize on. Just last year, Starwood opened 30 new hotels, and signed 71 in Asia Pacific. Upon the merger, 15% of Marriott's hotels will be located here-a jump up from 9%, in its current state.
Sheraton will represent a large portion of Marriott's new hotels -- they account for 44% of Starwood's portfolio. Domestically, this brand has been underperforming in terms of their RevPar Index -- how much a hotel chain is collecting in revenue per room -- as compared to its competitors. This will be an issue Marriott will need to address early on, considering that these hotels represent a major portion of their acquisition.
What does all this mean to consumers?From a consumer standpoint, this news is great for Marriott customers. Their rewards points will now unlock access to many more hotels -- most importantly luxury brands, such as the St. Regis. Current Starwood loyalty members may be disappointed if a point devaluation is to occur as a result, though these details are unlikely to hit before mid-to-late 2016. Arne Sorenson, the CEO of Marriott International, has made it clear the company is aware of the fact that value has been a major draw for Starwood customers. As both programs reshape, confidence in both the Starwood and Marriott brands may fluctuate.
This article originally appeared on www.ValuePenguin.com.
The article Marriott-Starwood Deal: Winners and Potential Losers originally appeared on Fool.com.
Value Penguin has no position in any stocks mentioned. The Motley Fool owns shares of and recommends Costco Wholesale. The Motley Fool has the following options: long January 2017 $35 calls on American Airlines Group. The Motley Fool recommends American Express and Marriott International. Try any of our Foolish newsletter services free for 30 days. We Fools may not all hold the same opinions, but we all believe that considering a diverse range of insights makes us better investors. The Motley Fool has a disclosure policy.
Copyright 1995 - 2015 The Motley Fool, LLC. All rights reserved. The Motley Fool has a disclosure policy.