Markets Head Higher in Choppy Trading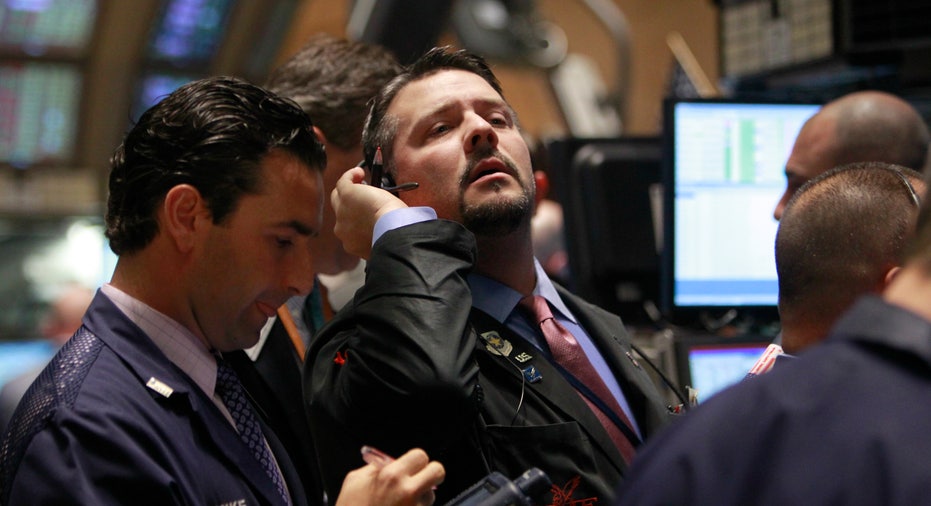 FOX Business: The Power to Prosper
The markets moved modestly into the green as traders mulled corporate and euro zone developments.
Today's Markets
As of 2:50 p.m. ET, the Dow Jones Industrial Average gained 65.4 points, or 0.57%, to 11,498, the S&P 500 rose 3.9 points, or 0.32%, to 1,213, and the Nasdaq Composite climbed 8.8 points, or 0.34%, to 2,616.
The Dow has soared 441 points, or 4%, in the past four sessions, coming within 200 points of erasing steep losses from earlier in the month.  Much of this week's charge higher has been driven by hopes Europe will be able to stem its deepening sovereign debt crisis before it poses a risk to the global financial system.
A joint action by the European Central Bank and several other global central banks to provide the euro zone banking system with much-needed dollar liquidity in a time when banks have become more averse to lending was a crucial component in the blue chips' 186 point rally on Thursday.
Two major French Banks, BNP Paribas and Credit Agricole, saw their shares tumble amid ongoing concerns over Greek debt, of which they have a particularly high exposure, and fears Moody's may act to downgrade Italian sovereign debt, according to a trading source.
Traders were also parsing through a slew of corporate headlines. Research in Motion (NASDAQ:RIMM) posted abysmal quarterly results after the closing bell on Thursday, missing profit and sales expectations by a wide margin as it struggled to find its way in an increasingly competitive smartphone market.  Shares of the BlackBerry maker nose dived 20% in earl trading.
Bank of America (NYSE:BAC) is also considering options for its Countrywide mortgage unit that it acquired in 2008 that is facing heavy losses and legal battles, according to a report by Bloomberg citing sources. One such option may be bankrupting the division to shield the country's biggest bank by assets from the losses, the report said, however, those plans were only in the early stages.  
United Technologies (NYSE:UTX), another Dow component, is preparing for a major buy, according to a report by Reuters.
The Reuters/University of Michigan's preliminary gauge of consumer sentiment increased to 57.8 in September from 55.7 in late-August, topping expectations of 56.5.  Consumers' make buying decisions partly based on their view of current conditions and speculation on what the future may hold, so consumer-driven shares like Tiffany (NYSE:TIF) tend to be the most directly affected by these data.
In recent months, sentiment has been pushed lower by the political gridlock in Washington and turmoil on Wall Street, reports have shown.
In currencies, the euro tumbled 0.63% against the U.S. dollar, while the greenback climbed 0.33% against a basket of world currencies.
Energy markets were mixed.  Light, sweet crude fell $1.44, or 1.6%, to $87.96 a barrel.  Wholesale RBOB gasoline gained less than a penny to $2.78 a gallon.
Gold was under selling pressure in prior two sessions, shedding $48.30 a troy ounce, or 2.6%.  The precious metal settled higher by $33.30, or 1.9%, to $1,815 a troy ounce.
The yield on the benchmark 10-year Treasury note has risen considerably as traders have moved from safe havens back into equities.  The bond presently yields 2.085% from 2.079%.
Prices at the pump were downs slightly overnight.  A gallon of regular costs $3.61 on average nationwide down from $3.66 last month, but higher than the $2.73 drivers paid last year.
Foreign Markets
The English FTSE 100 rose 0.17% to 2,159 and the German DAX climbed 1.2% to 5,574.
In Asia, the Japanese Nikkei 225 soared 2.3% to 8,864 and the Chinese Hang Seng gained 1.4% to 19,455.