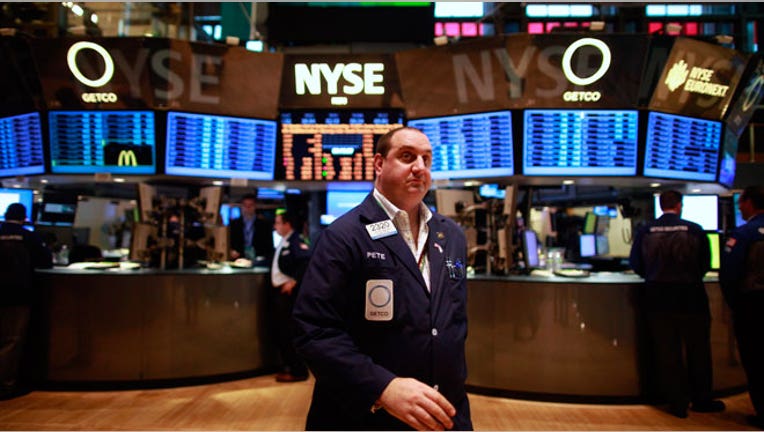 FOX Business: The Power to Prosper
Wall Street ended with a mixed picture for the second straight session on Tuesday as questions about the timing of a likely bailout request from Spain and looming economic data continue to give traders reason to pause.
Today's Markets
The Dow Jones Industrial Average fell 32.75 points, or 0.24%, to 13482.36, the S&P 500 gained 1.26 points, or 0.09%, to 1445.75 and the Nasdaq Composite rose 6.51 points, or 0.21%, to 3120.04. The FOX 50 declined 0.59 points, or 0.05%, to 1091.21.
U.S. markets once again proved unable to hold onto early gains, dragged down by slumping basic materials stocks and signs Spain may not be ready to pull the bailout trigger just yet. At the same time, the blue chips managed to close off their worst levels of the day, erasing the majority of a 90-point drop.
"It seems that whatever happens in Europe trumps almost everything else that happens in the market," said Ted Weisberg, a veteran New York Stock Exchange floor trader at Seaport Securities. "Yes, the averages are down but I think the underlying tone is not as bad as the averages are indicating."
This week's back-and-forth trading action underscores how enthusiasm for the Federal Reserve's latest quantitative easing policies has faded some in recent sessions.
Investors' "risk parameters are a lot shorter than they were just two weeks ago," said Jonathan Corpina, senior managing partner at Meridian Equity Partners.
Wall Street hit session lows after Spanish Prime Minister Mariano Rajoy said in a press conference that a bailout request is not imminent. The comments came a day after Reuters reported Spain is ready to apply for a rescue but is facing resistance from Germany.
The latest developments, coupled with declines in European markets, weighed on market sentiment as traders remain jittery about the never-ending sovereign debt crisis still gripping the eurozone. The Euro Stoxx 50 gave up early gains to close down 0.21%, although Spain's IBEX jumped just over 1%.
Basic materials stocks felt the heaviest selling on Wall Street, sinking 0.70% as fertilizer company Mosaic (NYSE:MOS) disclosed weaker-than-expected top and bottom line results. The earnings miss seemed to weigh on the likes of Potash (NYSE:POT) and DuPont (NYSE:DD).
Market participants are also anxiously awaiting key reports on the state of the U.S. labor market later this week. Economists expect ADP's private-sector labor report on Wednesday will show the U.S. gained about 155,000 jobs in September. On Friday the government's more closely watched jobs report is on tap and is projected to reveal a 115,000 job increase to nonfarm payrolls.
U.S. stocks weren't helped on Tuesday by disappointing September sales figures from General Motors (NYSE:GM) and Ford (NYSE:F). However, Chrysler's September sales beat estimates by jumping 12% year-over-year and total U.S. auto sales climbed to levels unseen since early 2008.
In the commodities complex, crude oil fell 59 cents a barrel, or 0.64%, to $91.89. Gold slid $7.80 a troy ounce, or 0.44%, to $1,772.70.
Corporate Movers
MetroPCS (NYSE:PCS) shot up close to 20% to 13-month highs as Deutsche Telekom said it is in talks to combine the wireless provider with its own T-Mobile USA. The news also boosted Leap Wireless (NASDAQ:LEAP) by 8% and weighed on Sprint (NYSE:S).
J.P. Morgan Chase (NYSE:JPM) was hit with a civil fraud lawsuit by New York's Attorney General tied to mortgage-backed securities sold by Bear Stearns leading up to the financial crisis. The suit alleges Bear, which was acquired by J.P. Morgan in 2008, failed to ensure the quality of loans at the heart of these complex securities.
Express (NASDAQ:EXPR) plunged 22% after slashing its third-quarter earnings targets well below Wall Street's already-lowered hopes due to an "abrupt change in traffic" last month. The apparel retailer now sees EPS of 16 cents to 20 cents, compared with estimates of 29 cents.
Mosaic (NYSE:MOS) disclosed a steeper-than-expected 18% slide in fiscal first-quarter earnings. Due to slumping phosphate sales, revenue shrank by 19% to $2.51 billion, trailing the Street's view of $2.68 billion.
Global Markets
The Euro Stoxx 50 slipped 0.21% to 2493.59, London's FTSE 100 fell 0.19% to 5809.45 and the German DAX lost 0.28% to 7305.86.
In Asia, Japan's Nikkei 225 slipped 0.12% to 8786.05.