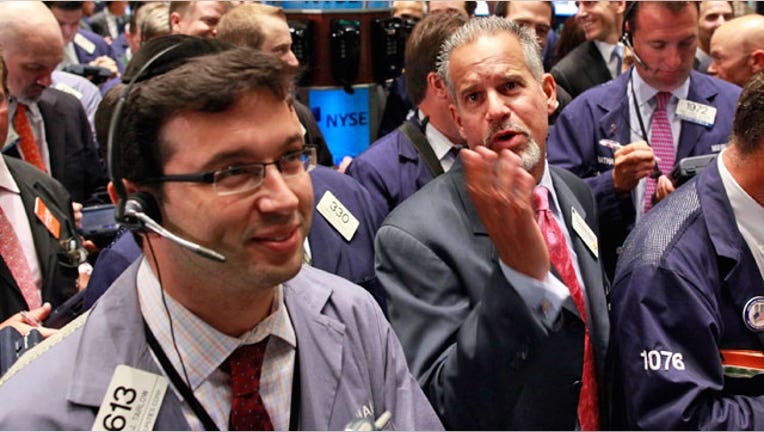 FOX Business: The Power to Prosper
The blue chips edged higher, although were well off session highs, as traders digested better-than-expected results from JPMorgan and largely upbeat economic data.
Today's Markets
As of 3:22 p.m. ET, the Dow Jones Industrial Average was up 22.1 points, or 0.18%, to 12,286, the S&P 500 gained 2.6 points, or 0.2%, to 1,317 and the Nasdaq Composite climbed 19.7 points, or 0.71%, to 2,764. The FOX 50 edged higher by 0.58 point to 927.
JPMorgan Chase (NYSE:JPM) unveiled first-quarter profits of $1.28 a share, or $5.56 billion, on revenues of $25.8 billion, sending shares higher in early trading.  Wall Street forecast the second largest U.S. bank to earn $1.16 for the quarter.
The bank benefited from strength in its credit card division, but "extraordinarily high losses" in its mortgage business somewhat offset the results, Jamie Dimon, JPMorgan Chase chief executive officer, said in a release.
Many bank issues, such as Bank of America (NYSE:BAC), Citigroup (NYSE:C) and Wells Fargo (NYSE:WFC) initially traded sharply higher on hopes JPMorgan's earnings would bode well for the industry, but then pulled back considerably.
On the economic front, U.S. retail sales were up 0.4% in March, according to the Commerce Department, narrowly missing Wall Street's forecast for a rise of 0.5%. Excluding auto sales, retail sales gained 0.8% for the month.
Analysts have raised concern that high gasoline prices could dampen consumer spending, but those fears have not yet come to fruition.
"Gasoline prices rose [24 cents] in March and in just the [first] two weeks of April have risen another [19 cents], thus keeping all eyes on whether the recent health in consumer spending is sustainable," wrote Peter Boockvar, managing director at Miller Tabak + Co., in a research note.
The Federal Reserve released its beige book Wednesday, saying the jobs market improved in most of its districts, and inflation remained subdued despite soaring food and energy costs.
Oil plummeted by more than $6.00 in the prior two sessions after closing at 2-1/2 year highs last week.  Concerns that high prices would crimp worldwide demand, paired with a bearish note from Goldman Sachs, sparked the sell off.
Light, sweet crude traded higher by 86 cents, or 0.81%, to $107.11.  Prices at the pump continue ticking higher.  A gallon of gasoline costs $3.81 on average nationwide, up from $3.56 last month and $2.86 last year.
Oil inventories jumped 1.63 million barrels to 359.3 million barrels in the prior week, according to the Energy Department -- greater than the 1 million build analysts forecast.  Stocks at a key oil hub in Cushing, Oklahoma hit an all-time high of 41.9 million barrels.
However, gasoline stocks plunged 7 million barrels, nearly 10 times what analysts were expecting, ahead of the summer driving season where gasoline demand generally ramps up.
The impact of the report has been fairly dulled in recent weeks as traders have focused on potential supply disruptions from the Middle East and North Africa.
The dollar recently gained 0.03% against a group of world currencies, and the euro lost 0.15% on the greenback.
In metals, gold was higher by $2.00, or 0.14%, to $1,456 a troy once after dropping nearly 1% in the prior session.
Corporate News
American Airlines, a subsidiary of AMR (NYSE:AMR), filed an antitrust lawsuit against Travelport and Orbitz (NYSE:OWW), alleging the companies engaged in "exclusionary and anticompetitive business practices."
Schneider Electric denied a report by The Wall Street Journal that it had made a $30 billion preliminary bid for Tyco (NYSE:TYC).
Zoom Technologies (NASDAQ:ZOOM) revealed plans to develop mobile phones to sell in the global market after chip maker Qualcomm (NADAQ:QCOM) granted the Chinese-based company new wireless patent licenses. Zoom shares surged more than 60% after the announcement.
Toyota (NYSE:TM) will halt production at five plants in Europe from late April to early May as it grapples with part shortages after the disaster in Japan.
Riverbed Technology (NASDAQ:RVBD) said it sees its first-quarter 2011 in the range of 7 cents and 8 cents a share, up from 1 cent in the same period last year. Shares were sharply higher as a result.
Solitario Exploration & Royalty (NYSE:XPL) plans on making a public offering of 3.4 million common stock, sending shares lower amid concerns the move would dilute current shareholders. The exploration company plans to use the proceeds from the sale to finance futures studies and exploration in Mexico and Peru.
Foreign Markets
Global shares were mostly higher after falling on Tuesday.
The English FTSE 100 was up 0.77% to 6,010, the French CAC 40 gained 0.75% to 4,006 and the German DAX jumped 1.1% to 7,178.
In Asia, the Japanese Nikkei 225 climbed 0.9% to 9,641 and the Chinese Hang Seng traded higher by 0.66% to 24,135.