Markets Drift Higher, Oil Sinks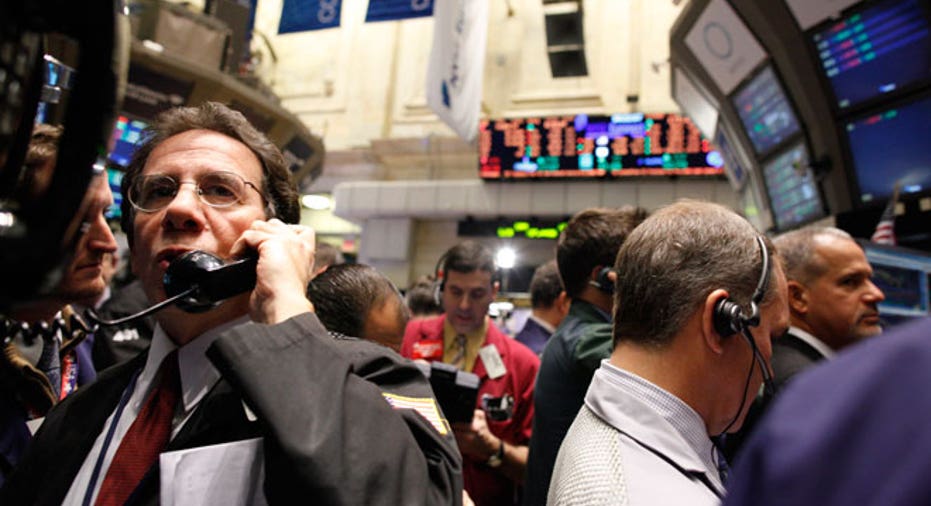 FOX Business: The Power to Prosper
The blue chips inched higher, paring earlier gains, as traders mulled sliding oil prices and continued turmoil across the world.
Today's Markets
As of 3:30 p.m. ET, the Dow Jones Industrial Average was up 25.6 points, or 0.21%, to 12,247, the S&P 500 climbed 1.6 points, or 0.13%, to 1,316 and the Nasdaq Composite lost 1.4 points, or 0.06%, to 2,741. The FOX 50 traded higher by 1.1 points to 925.
A combination of encouraging corporate earnings and upbeat economic data sent the markets considerably higher last week.  The blue chips soared 3.1%, the best weekly performance on a percentage basis since July 2010.
Transportation shares like United Parcel Service (NYSE:UPS) and AMR (NYSE:AMR), the owner of American Airlines, led the way higher. Energy players such as BP (NYSE:BP) and Peabody Energy (NYSE:BTU) lagged behind.
Online auction house eBay (NASDAQ:EBAY) agreed to acquire GSI Commerce (NASDAQ:GSIC), an e-commerce marketing firm, for $2.4 billion in cash -- a 51% premium.
Several major economic reports are on tap for this week, which could potentially sway stocks.  Traders will pay particularly close attention to the Labor Department's report on the U.S. employment situation, slated for release Friday, which is seen as a major indicator of the strength of the economic recovery.
Personal spending climbed 0.7% in February, and personal income increased 0.3%, according to a report by the Commerce Department. However, much of the increase in spending was due to higher spending on food and energy that have jumped in the two months.  Indeed, real consumer spending, which excludes inflation, only edged higher by 0.3% in February, according to the report.
Consumer discretionary issues such as Tiffany & Co. (NYSE:TIF) and Best Buy (NYSE:BBY) could be affected by these data.
Also on the economic front, the number of contracts for existing homes jumped 2.1% in February, from January, according the the National Association of Realtors. Oftentimes, the effect pending home sales have on the markets is fairly muted since it lags behind two months.
Traders will also keep a close eye on energy prices that have been particularly volatile in recent sessions due to tumult across the world. Combat operations that are now led by NATO and backed by the U.S. and several other countries continue in oil-producing Libya. U.S. President Barack Obama is expected to make a speech on the military campaign on Libya Monday evening.
Violent clashes between security forces and anti-government protesters continued in Syria and Jordan over the weekend as well.
Light, sweet crude traded lower by $1.42, or 1.4%, to $103.98. The price of a gallon of regular gas at the pump nationwide was $3.58, up from $3.33 last month and $2.80 last year.
The potential for volatility spreading from small oil producers, like Libya, to larger ones such as Saudi Arabia has sent crude prices spiking 8.9% so far this month.
In currencies, the U.S. dollar traded lower by 0.34% against a basket of world currencies and the euro gained about 0.33% against the greenback.
Gold sunk $6.30, or 0.44%, to $1,421.
Corporate News
Wal-Mart (NYSE:WMT) is expected to defend itself in a U.S Supreme Court case Tuesday that will determine if a gender discrimination lawsuit levied against the company will gain class-action status. The suit alleges women received less pay and chances for advancement as did their male counterparts.  If the lawsuit makes class-action status it could become one of the largest discrimination cases in history, because of the number of possible plantiffs, analysts say.
Anadarko Petroleum (NYSE:APC) struck oil at one of its exploratory wells off the coast of Ghana.
Harry & David, the maker of gourmet gifts, filed for Chapter 11 bankruptcy protection to restructure its heavy debt-load.
Eastman Kodak (NYSE:EK) soared for a second day after a the International Trade Commission agreed to hear its patent-infringement case against Apple (NASDAQ:AAPL) and Research in Motion (NASDAQ:RIMM) that, if won, could provide millions in royalties for the company.
Foreign Markets
European markets traded in a tight range much of the day.  The English FTSE 100 was up 0.06% to 5,904, the French CAC 40 was up 0.12% to 3,976 and the German DAX lost 0.11% to 6,938.
Asian markets were mostly lower on renewed concern about radiation seeping from Japan's stricken nuclear reactors. The Japanese Nikkei 225 was lower by 0.6% to 9,478 and the Chinese Hang Seng was off 0.39% to 23,068.