Marijuana Could Be Stealing Sales From This $200 Billion Industry, New Report Shows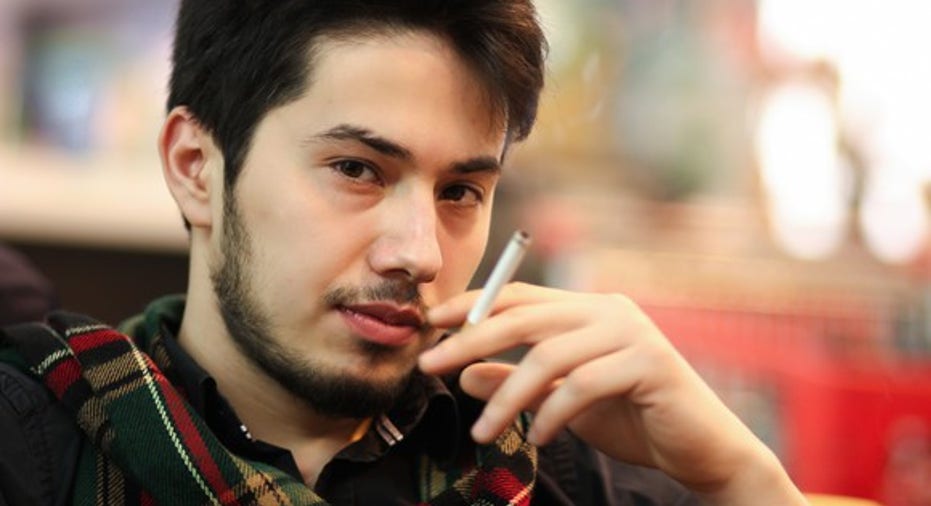 Image source: Getty Images.
You'd struggle to find an industry with faster growth potential than marijuana, which generated an estimated $5.4 billion in legal sales during 2015. Cannabis research firm ArcView projects the industry could grow at approximately 30% per year through 2020. If this were to happen, legal marijuana sales would be knocking on the door of $22 billion in annual sales by 2020.
It's not hard to see why marijuana is expanding so quickly, either, with public opinion on the drug rapidly shifting over the past two decades. Following California's medical marijuana approval in 1996, Gallup found that just a quarter of the American population approved the idea of legalizing marijuana nationally. By 2015, the number of respondents who want to see cannabis legalized nationally has jumped to an all-time high of 58%.
Of course, the marijuana industry is still disadvantaged in a variety of ways. For starters, cannabis remains a schedule 1 drug, meaning it's considered illegal at the federal level and has no perceived medical benefits. A recent ruling from the U.S. Drug Enforcement Agency backed up that finding.
Because of its scheduling, marijuana businesses have minimal access to basic banking services since many financial institutions fear federal prosecution at a later date. Most marijuana businessesare paying tax on their gross profits instead of net profits since normal business deductions are disallowed in instances where the primary product being sold is federally illicit.
Yet in spite of its many challenges, marijuana's expansion continues. Half of all U.S. states have legalized medical marijuana, four (along with Washington, D.C.) have legalized recreational marijuana, and residents in nine states will be going to the polls next month to decide if marijuana initiatives or amendments in their state will become law.
This is great news if you support the expansion of marijuana, but it's not such great news if you're an employee or investor in the $200 billion alcohol industry.
Image source: Getty Images.
Should the alcohol industry be worried about cannabis?
According to a 110-page report released by Cowen and Co. senior analyst Vivien Azer earlier this month, entitled "The Cannabis Compendium: Cross-Sector Views on a Budding Industry," cannabis could begin chipping away at alcohol sales in the United States.
For the time being, the marijuana industry is still in its infancy. For instance, tax revenue generated from legal marijuana sales totaled just $2 million in Washington state in 2014, but jumped to $65 million in 2015. Comparatively, alcohol tax revenue in Washington rose from just $30 million in 2014 to $31 million in 2015. Admittedly, two completely different tax structures and rates are being compared here, but the point is that alcohol sales growth could be slowing or suffering as a direct result of marijuana's rapid growth.
Azer notes in the report, "Over the last decade, while we have seen a rise in drinkers who use cannabis, we have also seen declines in cannabis users who drink." In other words, we could continue to see this trade-off of consumers putting down the bottle in favor of picking up pot.
Just how much could the legal marijuana industry be worth? According to Cowen & Co.'s report, the legal marijuana market is currently generating about $6 billion in legal sales with 8 million daily users and 32 million adults who've admitted to using cannabis. Cowen analysts believe there's another $25 billion in annual sales from the underground black market. Once black market sales transition into legal sales, and as more states legalize marijuana, Cowen anticipates the legal marijuana market could grow to $50 billion by 2026. That's a compound annual growth rate of nearly 24% over the next decade.
Image source: Getty Images.
Big Tobacco could play a key role
Azer also believes that Big Tobacco companies could benefit from the rapid ascension of the cannabis industry, which is contrary to popular opinion that tobacco sales could suffer if marijuana were to become legal nationally.
It's no secret that Big Tobacco is struggling, especially in the United States. Tougher smoking laws and an ongoing campaign by the Centers for Disease Control and Prevention to get adults off of smoking tobacco has pushed U.S. smoking rates from more than 40% in the mid-1960s to just 16.8% of adults in 2014. The only solace for Big Tobacco companies like Altria (NYSE: MO) and Reynolds American (NYSE: RAI) has been the addictive nature of nicotine, which has allowed for big price increases to make up for declining cigarette volume.
Big Tobacco has been looking for alternatives to supplement its growth, and marijuana could be the answer. Azer notes that vaping has become quite popular for both nicotine and cannabis, which could provide Big Tobacco a way to infiltrate the marijuana industry, assuming an eventual federal legalization of the drug. By 2036, Azer and her team of analysts believe Big Tobacco (i.e., Altria and Reynolds American) could have 20% market share in the U.S. cannabis industry.
It's worth noting that in Colorado, arguably the best example of the successes of legalized marijuana in its early stages, a few big cannabis players purchased a majority of the business licenses available. Combined with an extended moratorium on new license issuances, this has allowed the industry to be concentrated in the hands of a much smaller group of marijuana businesses than initially expected. It would appear that cannabis is already leaning in favor of big business, making it seem even more plausible that Big Tobacco could enter the picture.
Image source: Getty Images.
Marijuana still isn't investment-worthy
Despite Azer's rosy forecast, betting your hard-earned money on marijuana stocks is probably not the smartest move at this point.
A lot of Azer's figures count on the federal government's legalizing marijuana, which the DEA profoundly rejected in August. It takes a considerable amount of time for petitions to make their way to the DEA for reconsideration, so you can pretty much count on the DEA standing firm on its ruling for at least the next couple of years. This should keep those aforementioned industry disadvantages for cannabis businesses firmly in place for the foreseeable future.
Another big issue for investors is transparency. The vast majority of marijuana stocks aren't listed on reputable exchanges, meaning obtaining accurate financial information can be difficult. Furthermore, most cannabis companies are losing money and will likely continue to do so until federal laws change. This creates an ongoing funding concern for a number of these businesses.
Until the federal government changes its tune and transparency improves at the investor level, marijuana looks to be an off-limits investment -- despite its rapid growth.
A secret billion-dollar stock opportunity The world's biggest tech company forgot to show you something, but a few Wall Street analysts and the Fool didn't miss a beat: There's a small company that's powering their brand-new gadgets and the coming revolution in technology. And we think its stock price has nearly unlimited room to run for early in-the-know investors! To be one of them, just click here.
Sean Williamshas no material interest in any companies mentioned in this article. You can follow him on CAPS under the screen nameTMFUltraLong, and check him out on Twitter, where he goes by the handle@TMFUltraLong.
The Motley Fool has no position in any of the stocks mentioned. Try any of our Foolish newsletter servicesfree for 30 days. We Fools may not all hold the same opinions, but we all believe thatconsidering a diverse range of insightsmakes us better investors. The Motley Fool has adisclosure policy.