Marathon Oil Corporation Spikes on STACK Acquisition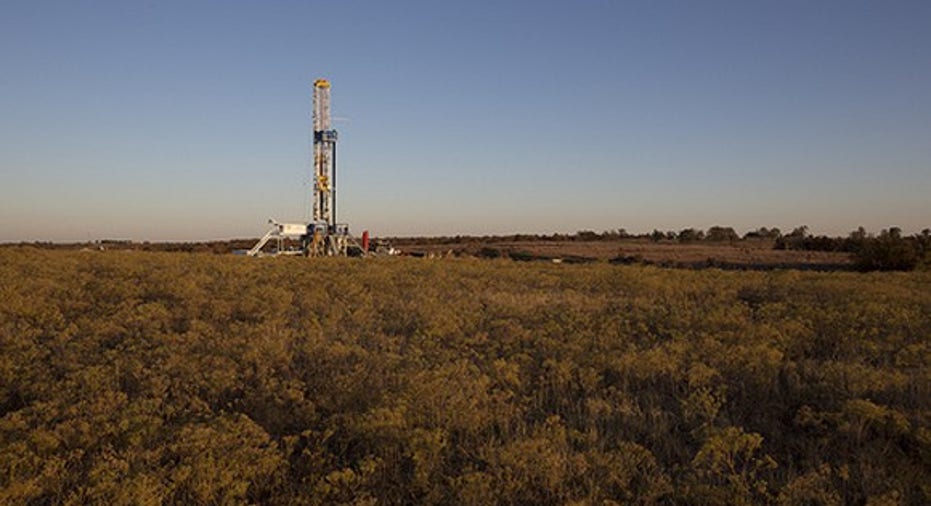 Image source: Marathon Oil.
What: Marathon Oil surged on Monday, up 11% at 2:30 p.m. EDT.
So what: Fueling Marathon Oil's rally was the announcement that it is buying out private equity-backed PayRock Energy for $888 million. The reason this is fueling investor enthusiasm stems from the fact that PayRock controls 61,000 acres in the emerging STACK play of Oklahoma. The STACK is a critical area for the industry because drilling returns are very lucrative in the current environment. For perspective, Marathon Oil expects internal rates of return on newly drilled wells within the acquired acreage to be 60% to 80% at $50 oil, which is remarkable given that some oil plays aren't even marginally profitable at that oil price.
Those lucrative drilling returns are fueling a lot of mergers and acquisitions activity in the STACK. Late last year Devon Energy paid a whopping $1.9 billion to bolster its position in the STACK, acquiring 80,000 acres in a similar buyout of a private company. That transaction strengthened Devon Energy's position in the region to peer-leading 430,000 acres. With the PayRock buyout, Marathon Oil now controls 200,000 acres in the STACK, which is the third largest total and just behind Newfield Exploration's 275,000 acres. Newfield Exploration, like its rivals, just boosted its position, paying $470 million to acquire 42,000 acres from a rival that needed cash.
Now what: The STACK's lucrative drilling returns make it one of the hottest oil plays in America right now. The booming M&A market has been a boon to sellers, which can capture huge premiums by unloading their acreage. That said, buyers like Marathon Oil, Devon Energy, and Newfield Exploration see the potential to create a lot more value by developing the STACK, which is why all three have no problem paying a premium to lock up additional acreage in the play while they still can.
The article Marathon Oil Corporation Spikes on STACK Acquisition originally appeared on Fool.com.
Matt DiLallo has no position in any stocks mentioned. The Motley Fool owns shares of Devon Energy. Try any of our Foolish newsletter services free for 30 days. We Fools may not all hold the same opinions, but we all believe that considering a diverse range of insights makes us better investors. The Motley Fool has a disclosure policy.
Copyright 1995 - 2016 The Motley Fool, LLC. All rights reserved. The Motley Fool has a disclosure policy.