Malaysian finance minister comments on graft scandal, China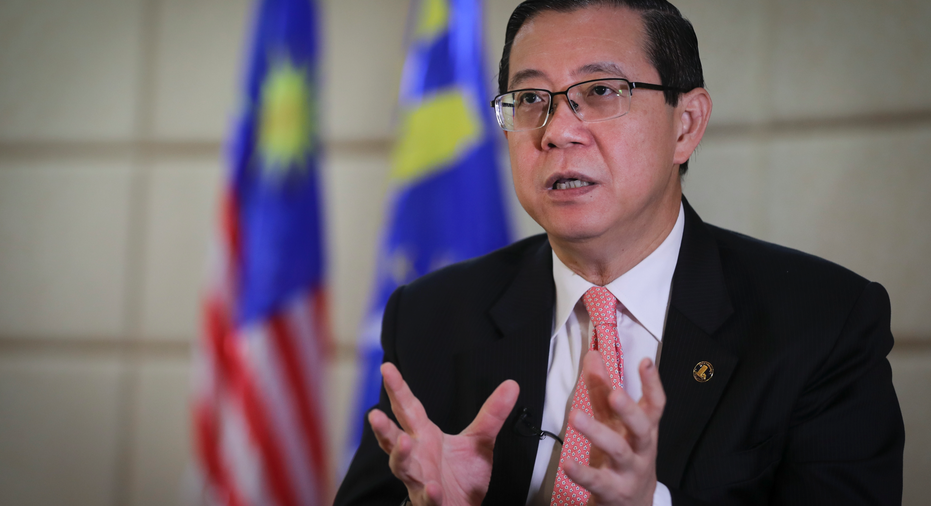 Malaysian Finance Minister Lim Guan Eng commented on the massive corruption scandal surrounding the 1MDB state investment fund, ties with China and the country's political future in an interview Friday with The Associated Press. Here are excerpts:
'KLEPTOCRACY AT ITS WORST'
Lim said fixing Malaysia's finances will be an "enormous task," with debts and liabilities exceeding 1 trillion ringgit ($247 billion).
"We were faced with the magnitude of not just deceit but also outright corruption. I mean this is a different ballgame. We are dealing with global kleptocracy at its worst," he said about alleged theft and money laundering at the 1MDB state fund set up by former Prime Minister Najib Razak.
Lim said losses at the now defunct fund, plus interest on loans, amounts to about 50 billion ringgit ($12.4 billion), including $4.5 billion that U.S. investigators say was stolen and laundered by Najib associates.
He said most corruption scandals under Najib's government have been unearthed, but "there are a lot of mini 1MDBs" that will be revealed over time.
Lim acknowledged the nation's dire fiscal situation has rattled investors.
"I believe in speaking the truth ... what you see is what you get," he said. "I think I will end up being the most unpopular finance minister because I am focused on fixing up the debt predicament."
SUING GOLDMAN SACHS
Lim said the government plans to sue Goldman Sachs Group Inc. to recoup about $600 million in commissions paid by 1MDB for arranging three bond sales.
"We are very unhappy with Goldman Sachs because they advised 1MDB and principally that got us into this mess. They got 600 million ringgit as a fee. We are going to claim from Goldman Sachs, probably (through) a court action. A civil suit will be filed," he said.
RENEGOTIATING CHINA DEALS
Lim says Najib's government made unfavorable infrastructure deals with China, and he will travel there soon to renegotiate them. But he said the lopsided deals shouldn't tarnish Malaysia's ties with its largest trading partner.
"One bad egg shouldn't destroy the entire basket," he said.
Lim said he hopes China "can also lend a helping hand" in providing low-interest loans to help cut Malaysia's debts, but declined to give details.
MONETIZING NAJIB'S VALUABLES
Lim said the government will "try to monetize whatever we can" from the large amounts of jewelry and other valuables seized by police from properties linked to Najib. But he said the amount will be insignificant compared to 1MDB's losses.
Police this week said 12,000 pieces of jewelry including tiaras and diamond necklaces, 567 handbags, 423 watches and 234 sunglasses were confiscated in the largest such seizure in Malaysia's history. They estimated the haul to be worth over $273 million.
Lim said he was stunned by the seizure.
ELECTION EUPHORIA AND MAHATHIR
Lim said the May 9 elections that forced out Najib's long-ruling coalition, "without a single shot being fired, without a single loss of life," were "almost like a miracle."
The victory, he said, wouldn't have been possible without new Prime Minister Mahathir Mohamad, and that working with his former foe was "fascinating." Mahathir, 92, jailed Lim and many other current politicians during his first stint as prime minister for 22 years until 2003.
Plans for reformist leader Anwar Ibrahim to take over after a few years are firm, Lim said.
"I think it generates a certainty and confidence. We know who is the next prime minister," he said.