Making Mobile Search Simple Is Incredibly Complex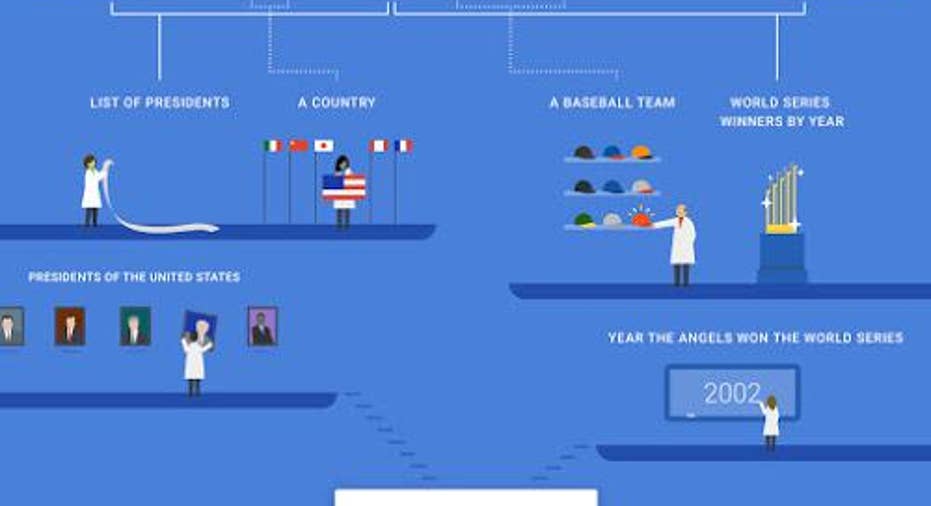 Searching on mobile devices is typically different than searching on desktop computers. On mobile, users are generally looking for answers, while desktop users are often looking for information. That's one reason why, three years ago, Google started including results from its Knowledge Graph at the top and to the side of search results. These results provided pertinent information related to key search terms, and they have evolved to be able to answer natural language questions typed into the query box like "Who won the World Series?"
Image source: Google.
These Knowledge Graph results are particularly useful on mobile, but Alphabet isn't the only company working to solve the problems related to mobile search. Facebook notably is working on a project called M, which acts as both a search engine and a personal concierge. M is designed to understand natural language, and when it doesn't, there's a team of humans that can teach it what users mean.
Getting the user experience for search right is an incredibly complex task involving lots of artificial intelligence algorithms. The company that figures it out best -- not necessarily first -- could benefit greatly.
The user experience is paramountThe ideal search engine for mobile (at least from my perspective) is a system that takes a question from a user (asked however he or she wants) and provides the answer -- the right answer. In that regard, Facebook is much closer to the ideal already than Google, but it, of course, relies on humans to make sure the AI is working. Humans are also often better at answering subjective questions like, "Where should I eat dinner tonight?"
The real task will be for Facebook to scale M globally. Currently, Facebook only operates M with select users near its Menlo Park headquarters. The idea is that the AI will learn how to handle complex queries by watching humans answer them. Eventually, the AI will offload a smaller percentage of queries, allowing Facebook to scale to more users.
Comparatively, when Google makes an update to its Knowledge Graph, or to how its AI handles queries, it rolls out globally (or at least in all English-speaking countries) practically immediately. This ability for Google to scale quickly may allow it to catch up quickly should it fall behind a competitor.
Google recently rolled out an update that allows its search engine to understand more complex queries like, "What was the U.S. population when Bernie Sanders was born?" (Google's answer: 133.4 million, the population in 1941.) It breaks down each part of a query to find the exact answer the user is looking for in the Knowledge Graph. It immediately rolled out globally.
Making money off of simple answersWhile it's one thing to provide a better user experience than the competition, investors want to know how the improved user experience will translate into revenue. Google makes most of its revenue from search ads, but Knowledge Graph results supersede advertisements. Google recently announced that searches on smartphones overtook desktop search queries, which means fewer opportunities for advertisements if Google continues to show more knowledge graph results.
Google may benefit from additional data it can collect on users from continual use of its search engine. It still runs a display ad business on the mobile web and in mobile apps, and those ads still make a relatively small percentage of Google's total revenue.
Meanwhile, Facebook's plan with M seems to be to connect users with businesses more easily on mobile. This kind of strategy naturally lends itself to revenue-generating possibilities, but it must be handled properly in order to retain the quality of search results. Nobody wants to second-guess whether their restaurant recommendation was an ad or not.
Facebook has the luxury of taking its time monetizing M (and Messenger) since its flagship product is throwing off cash. Google, meanwhile, is seeing mobile eat desktop searches, so figuring out how to improve user experience while improving monetization is key. At the same time, it must stay ahead of Facebook's growing search ambitions -- not an easy task.
The article Making Mobile Search Simple Is Incredibly Complex originally appeared on Fool.com.
Adam Levy has no position in any stocks mentioned. The Motley Fool owns shares of and recommends Alphabet (A and C shares) and Facebook. Try any of our Foolish newsletter services free for 30 days. We Fools may not all hold the same opinions, but we all believe that considering a diverse range of insights makes us better investors. The Motley Fool has a disclosure policy.
Copyright 1995 - 2015 The Motley Fool, LLC. All rights reserved. The Motley Fool has a disclosure policy.