Main Street Capital's "Big Six" Investments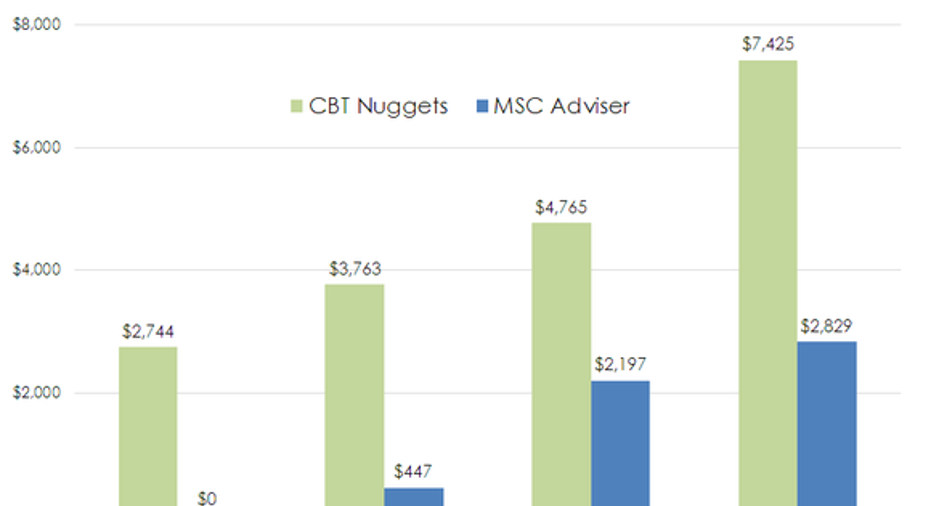 Main Street Capital (NYSE: MAIN) has investments in nearly 200 businesses. Most of its investments have rather ordinary, binary outcomes: Either the borrower repays a loan or it doesn't.
But some investments have a wider range of potential outcomes. An outlier in the business development company (BDC) industry, Main Street Capital also makes equity investments in companies, some of which have grown to be very important to the BDC's earnings.
Image source: Getty Images.
Meet the "Big Six"
Over the last two years, a select group of investments that I call Main Street's "Big Six" have produced roughly half of its dividend income, or about 13% of its net investment income. (You can think of these six being responsible for one of the two special dividends Main Street Capital pays its own shareholders each year.)
Here are Main Street's Big Six, listed in alphabetical order, with dividend payments shown in thousands of dollars.
| Company | Dividends in 2016 (in thousands) | Dividends in 2015 (in thousands) |
| --- | --- | --- |
| | $429 | $1,070 |
| | $7,425 | $4,765 |
| | $1,631 | $2,207 |
| | $209 | $1,036 |
| | $2,829 | $2,197 |
| | $2,812 | $0 |
| Total | $15,335 | $11,275 |
| Percentage of dividend income | 47.7% | 46.5% |
Data source: SEC filings. Calculations by author.
Naturally, some are more important than others. Main Street Capital's "Big Six" is headlined by CBT Nuggets, a longtime winner that has consistently been a major source of dividend income and unrealized capital gains. In 2016, this company generated 23% of Main Street Capital's dividend income from its portfolio investments.
MSC Adviser is also a consistent producer of dividend income. This business is Main Street Capital's asset management arm, which manages a non-traded BDC named HMS Income Fund. MSC Adviser collects a fee based on the fund's assets and returns, and thus generates a relatively consistent amount of fee income that is used to defray some of Main Street Capital's payroll expenses, and pay dividends back to Main Street Capital each year.
Data source: Main Street Capital. Chart by author.
Not all investments have been as consistently good as CBT Nuggets or MSC Adviser for so long. Portfolio company Travis Acquisition paid a large dividend back to Main Street Capital this year, but only when it was sold to a strategic acquirer. A big contributor to 2016's results, Travis Acquisition won't be around to produce any more big paydays, and it wasn't a major player in Main Street Capital's results up until the 2016 sale.
Some stars burn out
Like people, all companies have an expiration date; some are just further out in the future than others.
For years, a portfolio company by the name of Gulf Manufacturing was a perennial producer in Main Street Capital's portfolio, delivering bigger dividends and fueling unrealized gains year after year. But then came disaster for the oil industry. Oil prices dropped just as the company expanded its capacity, and demand for its core products (pipes, fittings, and flanges) likely declined as a result of reduced energy industry spending.
Dividends have declined over the last few years, and in the surest sign of a declining outlook, Main Street Capital marked down the equity from $16.5 million at the end of 2014 to just $8.8 million as of Dec. 31, 2016.
Data source: Main Street Capital. Chart by author.
Other stars emerge
Which one of Main Street Capital's businesses could emerge as another CBT Nuggets or MSC Adviser?
My money is on Gamber-Johnson Holdings,which joined the portfolio when Main Street Capital invested in June 2016.
Gamber-Johnson produces rugged computer mounts like those that you'd find inside police cruisers or in fleet and utility vehicles. Main Street Capital participated in a deal in which Gamber-Johnson was merged with a Canadian peer after the end of the most recent quarter.
Main Street Capital has already recorded about $404,000 in dividend income from its investment, an interesting development since its portfolio companies do not typically start paying dividends until years after Main Street takes a stake. Most importantly, the BDC carried the whole investment at a 10% premium to cost at the end of December, which is an obvious sign of Main Street Capital's optimistic view of the company's prospects.
There are no guarantees, of course, but given the premium mark and the trickle of dividends in 2016, this company could be a very promising investment in Main Street Capital's portfolio.
10 stocks we like better than Main Street CapitalWhen investing geniuses David and Tom Gardner have a stock tip, it can pay to listen. After all, the newsletter they have run for over a decade, Motley Fool Stock Advisor, has tripled the market.*
David and Tom just revealed what they believe are the 10 best stocks for investors to buy right now... and Main Street Capital wasn't one of them! That's right -- they think these 10 stocks are even better buys.
Click here to learn about these picks!
*Stock Advisor returns as of February 6, 2017
Jordan Wathen has no position in any stocks mentioned. The Motley Fool has no position in any of the stocks mentioned. The Motley Fool has a disclosure policy.