Macy's Earnings Wipeout Is a Terrible Sign for Dillard's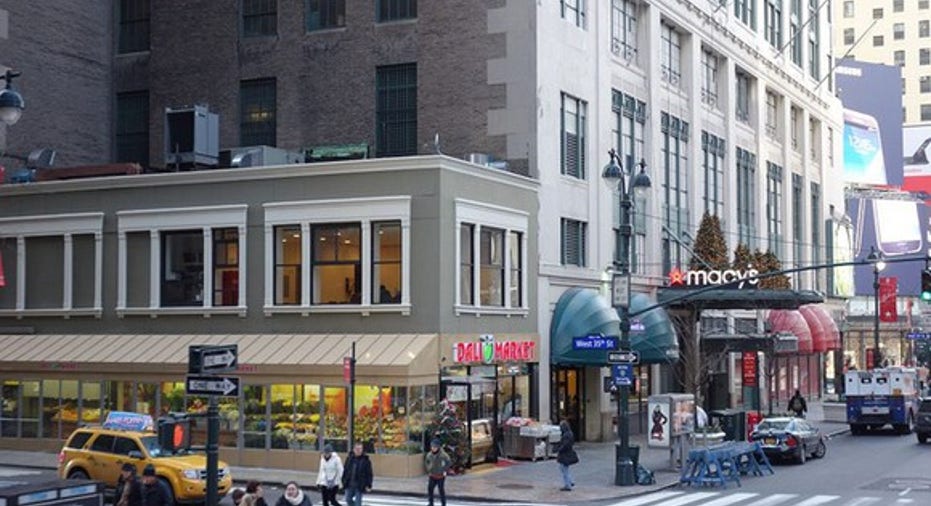 On Wednesday, department store giant Macy's reported terrible sales results for its first fiscal quarter. The company also slashed its already-weak sales and earnings guidance for the full year.
Macy's poor results are a testament to the upheaval occurring in today's retail industry. Predictably, investors dumped Macy's stock on Wednesday, sending it down 15% to a new multi-year low.
Macy's Stock Performance, data by YCharts
However, Macy's bad earnings report is even worse news for some of its fellow department stores. Chief among them is Southern department store chain Dillard's .
Macy's slashes targets again
In 2015, Macy's comparable store sales fell 2.5% year over year, including licensed departments within its stores. As a result, operating income plunged by more than half a billion dollars.
Theoretically, this weak performance should have set up easy comparisons, allowing Macy's to report a rebound in sales and earnings this year. However, Macy's didn't have high hopes -- its initial 2016 guidance called for another 1% comp sales drop and roughly flat adjusted EPS.
Even that wasn't attainable. In the middle of Q1, Macy's sales declines accelerated. For the full quarter, comp sales fell 5.6% year over year (including licensed departments), and adjusted EPS plunged nearly 30%.
Macy's sales trajectory took a turn for the worse last quarter. Image source: The Motley Fool.
As a result, Macy's further reduced its full-year targets. The company now expects a comp sales decline of 3%-4%, and it reduced its 2016 EPS guidance by 15% at the midpoint.
Dillard's faces similar pressures
Dillard's 2015 performance more or less mirrored the trends at Macy's. Comparable store sales declined about 2% for the full year. Dillard's saw a big erosion in gross margin during Q4 in particular as it slashed prices to sell excess inventory. As a result, pre-tax income declined nearly 20% for the full year, while EPS fell more than 10% despite big share buybacks.
Dillard's placed part of the blame for its poor Q4 2015 results on weak demand in energy-producing regions. This makes sense, given that energy firms have slashed jobs to cope with low oil and gas prices.
Unfortunately, this could continue to be a problem in 2016. Macy's CFO Karen Hoguet stated that Texas was a particular weak spot during Q1. Dillard's is far more exposed to that market, with 20% of its store base in Texas.
Macy's has a parachute
From an investment perspective, the key thing that differentiates Macy's from Dillard's right now is real estate. In the past year or so, Macy's has gotten serious about extracting value from its vast property portfolio -- particularly for space that is under-utilized.
Macy's is currently working with several different investment banking and real estate companies to identify potential sale or joint venture transactions for the company's prime real estate assets. Last month, it hired a new top real estate executive to oversee these efforts.
Starboard Value -- a hedge fund that has invested in Macy's -- has estimated the value of Macy's real estate at $21 billion. That's about 20% more than the whole company's enterprise value.
Macy's has valuable real estate: highlighted by its Manhattan flagship. Image source: The Motley Fool.
Obviously, Macy's isn't planning to sell all of its real estate and go out of business. However, over the next couple of years, it has an opportunity to generate billions of dollars in real estate proceeds -- which can be used for debt reduction or share buybacks -- without compromising its earnings potential.
The massive value of Macy's real estate -- starting with its flagship stores in New York, Chicago, Minneapolis, and San Francisco -- provides very real downside protection for Macy's investors, despite the company's unsatisfactory sales and earnings trends.
By contrast, Dillard's faces all the same negative trends as Macy's with a much less valuable real estate portfolio. The company will report its Q1 earnings on Thursday afternoon. Investors have to hope that it somehow managed to stabilize its sales last quarter. Unfortunately, it's hard to be very confident in light of Macy's dreadful earnings report.
The article Macy's Earnings Wipeout Is a Terrible Sign for Dillard's originally appeared on Fool.com.
Adam Levine-Weinberg owns shares of Macy's, The Motley Fool has no position in any of the stocks mentioned. Try any of our Foolish newsletter services free for 30 days. We Fools may not all hold the same opinions, but we all believe that considering a diverse range of insights makes us better investors. The Motley Fool has a disclosure policy.
Copyright 1995 - 2016 The Motley Fool, LLC. All rights reserved. The Motley Fool has a disclosure policy.