'Macron effect' fuels Paris bid for post-Brexit business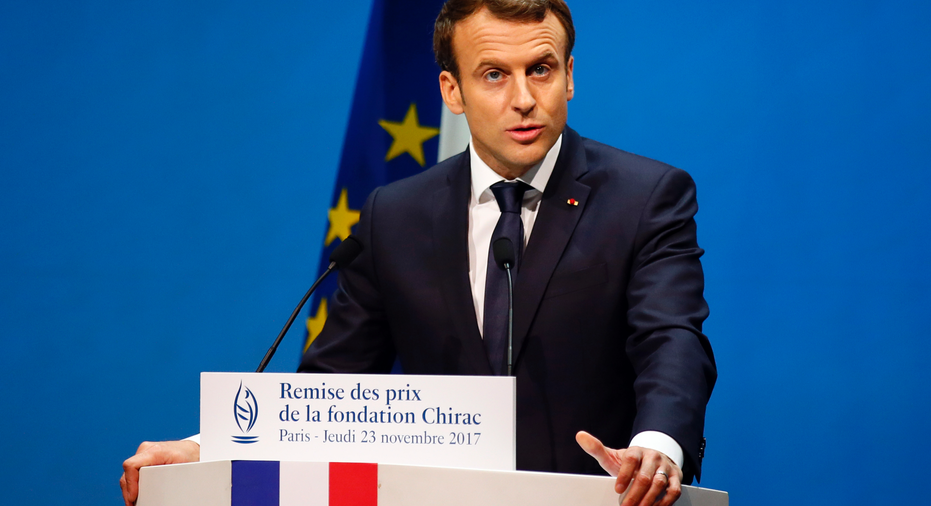 Banking giant Citigroup, fast food master KFC and elevator-maker Otis are planning to expand activities in France thanks in part to what they call the "Macron effect" - a surge in investor optimism driven by the French president's pro-business promises.
But will they move their European headquarters to Paris after Britain pulls out of the EU? Not so fast.
The French capital's campaign to pull in jobs from London - particularly in the prestigious finance world - clinched a victory this week when the EU chose Paris to take over the European Banking Authority from London post-Brexit.
President Emmanuel Macron, whose government has set aside quiet diplomacy and relentlessly lobbied for post-Brexit jobs, tweeted his joy. Goldman Sachs CEO Lloyd Blankfein tweeted his appreciation last week for the "positive energy" in Paris - and the world-famous food.
But the competition is fierce. From Dublin to Frankfurt, Luxembourg or Amsterdam, cities across the continent are vying to draw business away from the City of London, as financial companies look for a new hub allowing them easy access to markets in the 27 nations remaining in the open-border EU.
Instead of relocating wholesale, however, London's financial activities may instead splinter across all of them - or stay put.
Macron's six-month-old presidency has already had a remarkable impact on investor confidence, but "most investors do not plan to move their companies from Britain to France," said Marc-Andre Kamel of Bain and Company, which conducted a survey with the American Chamber of Commerce released Thursday on business confidence in France.
"There is a slight boost in sentiment that Brexit will help France ... but there are still a lot of uncertainties," he said.
Citigroup will make a "partial move" toward France as well as other cities, said its France director Mathieu Gelis, who called the choice of Paris for the EBA "a super-positive sign."
"There will certainly be recruitments in France post-Brexit," he said - but added, "London will remain very dominant."
Macron promises to reduce the high labor costs, rigid work rules and confusing taxes that have sent more and more companies fleeing France in recent years, and prevented new ones from settling in.
The American Chamber of Commerce reported shows a spike in confidence in the French economy among U.S. companies, across sectors from technology to finance and retail.
That's a big shift, partly thanks to "the Macron effect" and partly thanks to a cyclical bump in the French economy. A separate survey released Thursday showed the French economy is growing at its fastest pace since 2011 - faster even than neighboring Germany.
Yet the American Chamber of Commerce's report said businesses are waiting for progress on Macron's reforms before making big hires or investment. And executives surveyed still overwhelmingly said they wouldn't advise new companies to set up in France.
The executives say Macron's tax cuts don't slice deep enough, and his labor reforms don't aim high enough - even though unions and many French workers oppose them, fearing they will strip away hard-earned job protections by making it cheaper to fire workers and easier to extend working hours.
U.S. businesses also worry about the need for a more flexible French education system to prepare workers for a fast-automating economy.
And labor costs remain high. "You can't close the equation," said Pierre Dejoux, France-based president of new equipment at Otis Elevator Co.
"For now there is no massive movement" toward France in the context of Brexit, he said. But if Macron pushes ahead with his labor changes "there are a certain number of companies that will relocate here."
KFC France chief Frederic Levacher said he has struggled to convince his bosses in the U.S. to bring more business here. Yet now, with France's economy picking up and Macron's reforms under way, he's hoping to expand the company's 10,000-strong workforce in France to 25,000 over the next two or three years.
"The government is taking business concerns into account," he said. "Things are undeniably going in the right direction."
Meanwhile, having the EU banking regulator in Paris will bring thousands of bankers every year for conferences and meetings and expand the financial ecosystem of the French capital - even if it doesn't attract bank headquarters themselves.
France "has plenty of cards to play" to attract post-Brexit business, said Simon Tilford of the Center for European Reform. "Although living costs are higher than, say, Frankfurt, living costs don't bother those making the decisions" for high-paying financial companies in particular.
And while French labor laws are rigid and taxes high, "German ones aren't much better," he said.
Then there's the lifestyle question.
Paris is one of the few European cities that has a London-like global draw and energy. Goldman Sachs' Blankfein told French daily Le Figaro this week: "I can imagine that many Americans would prefer living in Paris than Frankfurt for various reasons."
The keeper of the French language, the Academie Francaise, might need to brace itself, however. If Paris attracts a wave of multinationals, Tilford said, "It's all going to have to be in English."
___
Danica Kirka in London contributed to this report.
___
This story corrects spelling of Pierre Dejoux.