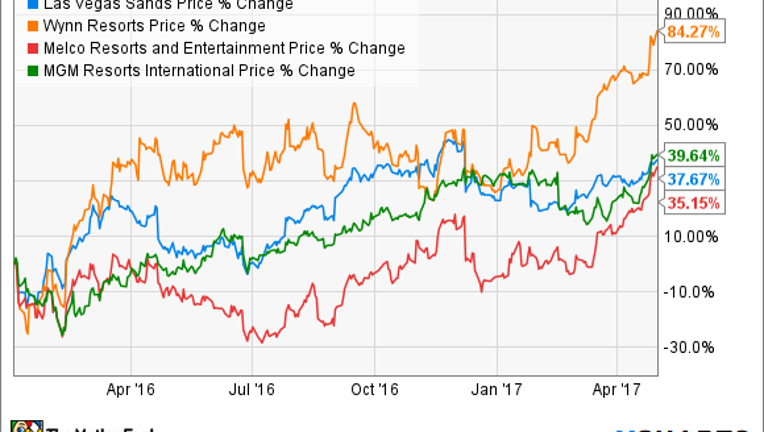 For the third straight month, Macau's overall gaming revenue has grown by double-digit percentages, climbing 16.3% from a year ago to $2.52 billion. This continues a recovery in Macau that's nearing a year in length, helping drive gaming stocks higher.
What's encouraging for investors is that this may only be the beginning of Macau's recovery. Infrastructure in the Chinese territory is improving, and there are more new resorts being built on the Cotai Strip. In two or three years, there will be a whole new way to visit Macau.
Image source: Getty Images.
Macau's gaming trend
The chart below provides a good look at the trend for Macau's gaming revenue. You can see that revenue bounced near its cycle lows from mid-2015 to mid-2016 before starting to rise sharply.
Data source: Macau Gaming Inspection and Coordination Bureau. Chart by the author.
There's no single driver pushing Macau's renewed growth, but the crackdown on corruption and conspicuous spending by China's government appears to be having less effect on gaming, and new resorts are starting to draw visitors. Melco Resorts (NASDAQ: MLCO), Las Vegas Sands (NYSE: LVS), and Wynn Resorts (NASDAQ: WYNN) have all opened new resorts in the Cotai region of Macau -- which Beijing has said should cater to a mass-market crowd -- and MGM Resorts (NYSE: MGM) will join the mix with MGM Cotai later this year.
Better infrastructure is bringing more people to Macau
New resorts are a big draw for Macau, but people also need a way to get there. To that end, a new ferry terminal is opening to Cotai, which will connect to the resort region via light-rail that's currently under construction. This will make it easier to get around Macau as infrastructure is completed.
High-speed rail lines within China are also putting Macau within a few hours of travel for tens of millions of people, making trips there more feasible.
Gaming revenue is the tide that lifts all gaming stocks
It's no coincidence that since the beginning of 2016, gaming stocks have been on a tear. Gaming revenue is what drives the entire business model, Macau is the biggest gambling destination in the world, and the return of growth there will help every company involved.
Beyond their impact on the gaming take, the new resorts on the Cotai Strip are adding a greater degree of non-gaming revenue. Older resorts in Macau were built almost entirely around the casinos, and focused on high rollers, with much less emphasis on hotels, shopping, restaurants, and entertainment. But the government in Beijing has urged the casino operators to put more emphasis onnon-gaming attractions in their new resorts, which they have done.
Gaming still provides nearly 90% of revenue in Macau, but that could change, and any non-gaming growth will be gravy for resorts. And keep in mind that non-gaming revenue now accounts for over half of the revenue in Las Vegas. If Macau can begin to move in that direction, it'll be a big win for the region. The rebounding in gaming is huge for Macau, but the casino floor may not be the only growth driver there going forward.
10 stocks we like better thanWal-MartWhen investing geniuses David and TomGardner have a stock tip, it can pay to listen. After all, the newsletter theyhave run for over a decade, the Motley Fool Stock Advisor, has tripled the market.*
David and Tomjust revealed what they believe are theten best stocksfor investors to buy right now... and Wal-Mart wasn't one of them! That's right -- theythink these 10 stocks are even better buys.
Click hereto learn about these picks!
*StockAdvisor returns as of May 1, 2017The author(s) may have a position in any stocks mentioned.
Travis Hoium owns shares of Wynn Resorts. The Motley Fool has no position in any of the stocks mentioned. The Motley Fool has a disclosure policy.