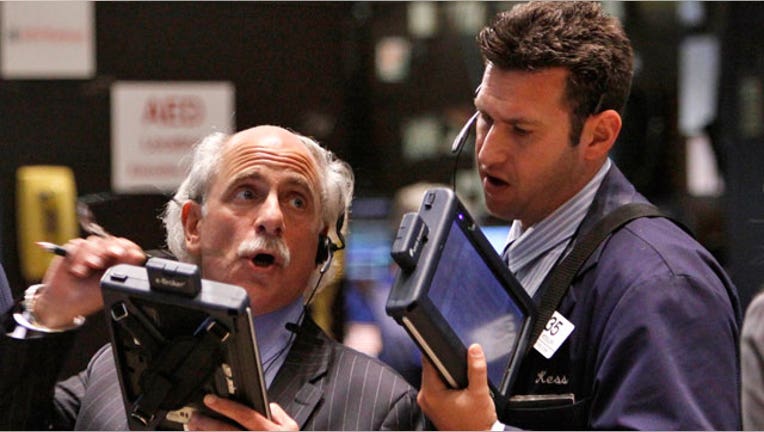 FOX Business: Capitalism Lives Here
A jolt of deal-making in the biotechnology sector, combined with generally upbeat earnings news, sent Wall Street climbing higher.
Today's Markets
According to preliminary calculations, the Dow Jones Industrial Average rose 64.9 points, or 0.39%, to 16514, the S&P 500 advanced 7.7 points, or 0.41%, to 1880 and the Nasdaq Composite rose 39.9 points, or 0.97%, to 4161.
The biotech sector stole Wall Street's spotlight on Tuesday as several big-name firms announced deals.
Novartis (NYSE:NVS) said it would buy GlaxoSmithKline's (NYSE:GSK) oncology products unit for $14.5 billion, while at the same time selling GSK its vaccines units, excluding flu, for $7.1 billion. The duo will also create a joint venture in the consumer health space. Meanwhile,  Novartis also said it would sell its animal health division to Eli Lilly (NYSE:LLY) for about $5.4 billion.
On Monday afternoon, Pershing Square Capital Management's Bill Ackman and Valeant Pharmaceutical (NYSE:VRX) said they would be joining forces in a bid to snatch up Allergan (NYSE:AGN), the maker of Botox. Valeant proposed Tuesday to pay $48.30 a share in cash, plus 0.83 shares of Valeant common stock for the firm.
Elsewhere on the corporate front, blue-chip industrial United Technologies (NYSE:UTX) revealed stronger-than-expected quarterly results. Travelers, the insurance giant, unveiled profits that topped Wall Street's estimates. Netflix (NASDAQ:NFLX) also posted better-than-expected results and an upbeat outlook, sending its shares zipping higher. Earnings from McDonald's (NYSE:MCD), however, missed views.
On the economic front, the National Association of Realtors reports sales of existing single-family homes fell 0.2% in March from the month prior to an annualized rate of 4.59 million units, the lowest since July 2012, but higher than Wall Street expectations for 4.55 million units.
"We expect that rising demand and limited inventory will continue to boost start and sale activity, as well as home prices, in 2014," Cooper Howes, an economist at Barclays, wrote in an email to clients.
In commodities, U.S. crude oil futures fell 38 cents, or 0.36%, to $103.99 a barrel. Wholesale New York Harbor gasoline dipped 0.46% to $3.073 a gallon. Gold rose $3.40, or 0.25%, to $1,292 a troy ounce.