lululemon athletica Stretches Higher on Strong Comps, Big Buyback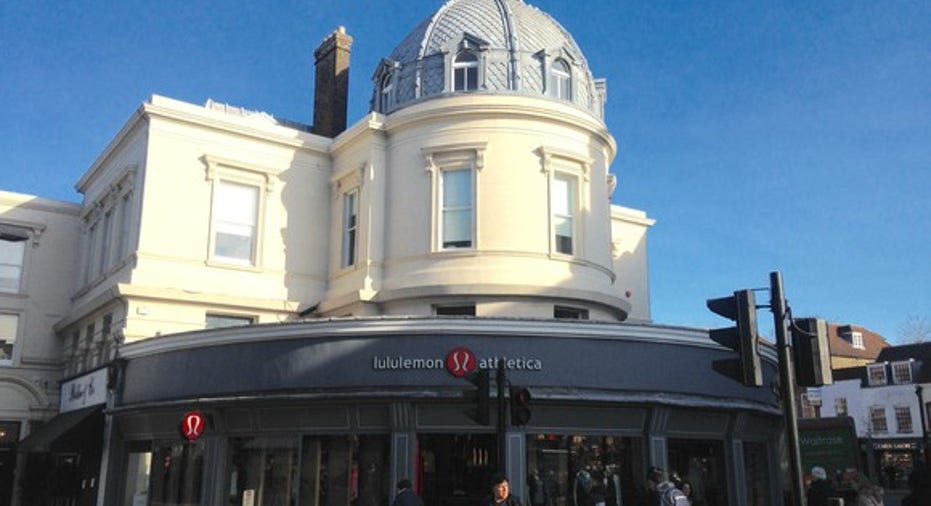 Health and fitness has become stylish in the apparel world, and yoga-product retailer lululemon athletica (NASDAQ: LULU) has taken full advantage of the popularity of athletic apparel. Having spent years regaining its reputation, Lululemon has recently given investors many signs of hope for steady improvement going forward. Coming into Wednesday's fiscal third-quarter financial report, Lululemon investors had high expectations that the yoga retailer would be able to post double-digit percentage growth in key business metrics. Lululemon largely exceeded expectations on those fronts. Let's take a closer look at Lululemon and what lies ahead for the retailer.
Image source: lululemon athletica.
A namaskar for Lululemon investors
Lululemon's fiscal second-quarter results were favorable. Revenue jumped 13% to $544.4 million, which was slightly higher than most investors were expecting to see. Net income soared 28% to $68.3 million, and after making allowances for some tax and interest items, adjusted earnings of $0.47 per share were $0.04 higher than the consensus forecast among those following the stock.
Taking a closer look at Lululemon's metrics, the retailer had some promising results. Total comparable sales growth accelerated to 7%, with comparable-store sales excluding the direct-to-consumer channel climbing by 4%. Direct-to-consumer net sales were up 16%, more than doubling the growth pace in the second quarter and bringing in almost a fifth of Lululemon's total revenue.
Lululemon also saw improvement on its margins. Gross margin jumped by more than four percentage points to 51.1%, and operating margin figures were up nearly three percentage points to 17.1%. A rise in tax rates ate into Lululemon's bottom line growth, but overall, the yoga retailer seemed to be more efficient than it had been in the past.
Finally, store growth was evident in Lululemon's strategy during the quarter. The retailer added 10 locations to its network, with 12 new stores and two closures. That put its store count at the end of the quarter at 389, and square footage gains of about 27 million also show Lululemon's growth trends.
CEO Laurent Potdevin was pleased with Lululemon's results. "Our third quarter results demonstrated strong execution across all areas of our business," Potdevin said, "as we delivered continued topline momentum, outperformed in gross margin, and inflected meaningfully in [earnings per share]."
What's ahead for lululemon athletica?
Lululemon is also enthusiastic about its future prospects. An early check on the current fourth quarter has become more promising as time goes by, with Potdevin noting that initial mixed sales results gradually improved. "I am confident that we will continue to deliver an unparalleled guest experience across all our channels and regions across the globe," the CEO said.
Lululemon's near-term guidance was more or less in line with what investors were already expecting. The retailer said that it expects revenue in the fiscal fourth quarter to come in between $765 million and $785 million, with the consensus forecast among investors at the high end of that range. Similarly, earnings of $0.96 to $1.01 per share put the top of Lululemon's guidance range squarely on expected profits.
Similarly, Lululemon's full-year guidance is also looking for performance roughly in line with existing expectations. The yoga specialist now expects $2.32 billion to $2.34 billion in sales, down $5 million to $10 million from its previous range. However, adjusted earnings guidance for $2.11 to $2.16 per share is higher than Lululemon was originally expecting even after accounting for the tax and interest charges in the third quarter.
Lululemon investors were quite pleased with the results, sending the stock soaring by 14% in after-hours trading following the announcement. If Lululemon can carry this momentum throughout the holiday season, then shareholders should finally be able to say that the retailer's comeback is complete.
10 stocks we like better than Lululemon Athletica When investing geniuses David and Tom Gardner have a stock tip, it can pay to listen. After all, the newsletter they have run for over a decade, Motley Fool Stock Advisor, has tripled the market.*
David and Tom just revealed what they believe are the 10 best stocks for investors to buy right now... and Lululemon Athletica wasn't one of them! That's right -- they think these 10 stocks are even better buys.
Click here to learn about these picks!
*Stock Advisor returns as of Nov. 7, 2016
Dan Caplinger has no position in any stocks mentioned. The Motley Fool owns shares of and recommends Lululemon Athletica. Try any of our Foolish newsletter services free for 30 days. We Fools may not all hold the same opinions, but we all believe that considering a diverse range of insights makes us better investors. The Motley Fool has a disclosure policy.