Lower Resales Dampen Cerner Corporation's Q1 Revenue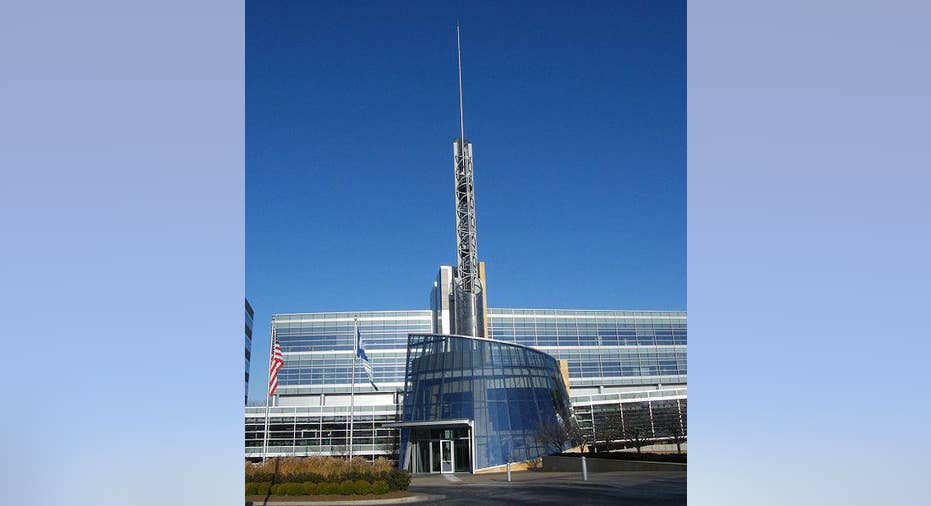 Cerner Headquarters. Image source: Cerner.
Cerner Corporation posted strong results in the fourth quarter to end 2015 with a bang. However, the healthcare technology provider raised concerns among investors about how it might perform in 2016 because of its business bookings guidance. Cerner announced its first-quarter results after the market closed on Thursday. Were the concerns put to rest? Here are the highlights from the quarterly results.
Cerner results: The raw numbers
| Metric | Q1 2016 Actuals | Q1 2015 Actuals | Growth (YOY) |
| --- | --- | --- | --- |
| Sales | $1.14 billion | $996.1 million | 14.3% |
| Net income from continuing operations | $150.4 million | $110.9 million | 35.6% |
| Diluted earnings per share | $0.43 | $0.32 | 34.4% |
YOY: Year over year. Data source: Yahoo! Finance.
What happened with Cerner this quarter?First-quarter revenue was around $10 million lower than what Cerner previously forecast. The company attributed the shortfall to lower resales of "low-margin technology." Earnings growth, though, remained quite healthy.
One key metric that many investors focus on with Cerner is bookings, whichreflect the value of new business won that hasn't yet been recognized as revenue. The company stated that first-quarter bookings were flat compared to the prior-year period. However, Cerner noted that long-term bookings hit an all-time high in the first quarter of 2015. Excluding these long-term bookings, bookings were up 18% year over year in the first quarter of 2016.
Other highlights from the first quarter included:
Operating cash flow of $327.1 million
Free cash flow of $152.4 million
Days sales outstanding of 76 days versus 79 days in first quarter of 2015
Total backlog of $14.6 billion, a 12% year-over-year increase
What management had to sayCerner PresidentZane Burke didn't seem too concerned about the lower-than-expected revenue. Burke stated:
Looking forwardCerner's guidance for full-year 2016 matched the outlook provided last quarter. Full-year revenue is still expected to be in the range of$4.9 billion to $5.1 billion. 2016adjusted diluted earnings per share (before share based compensation expense and acquisition related adjustments) is projected to come in between $2.30 and $2.40.For the second quarter, Cerner anticipates revenuebetween $1.175 billion and $1.25 billion. Adjusted diluted earnings per share is expected to bebetween $0.56 and $0.58.
The coming months will be critical for Cerner's part in rolling out U.S. Department of Defense's global Military Health System. Cerner, along with prime contractor Leidos and fellow subcontractors Accenture and Henry Schein, won one of the largest federal health information technology deals ever last year.
This team led by Leidos beat out one team including Cerner's archrival Epic Systems Corp. for the $4.3 billion contract. Some observers think that Cerner's interoperability capabilities gave it the edge over Epic. An initial site is scheduled for implementation later in 2016. If all goes well, Leidos, Cerner, and the other team members could be in good position to win the next two contracts associated with the new system.
Cerner's future success will depend in large part on continuing to beat out privately-held Epic Systems. Several head-to-head battles went Cerner's way in 2015. Cerner is also aggressively moving ahead with its population health efforts, which will put Epic in its bull's-eye even more.
The article Lower Resales Dampen Cerner Corporation's Q1 Revenue originally appeared on Fool.com.
Keith Speights has no position in any stocks mentioned. The Motley Fool recommends Accenture and Cerner. Try any of our Foolish newsletter services free for 30 days. We Fools may not all hold the same opinions, but we all believe that considering a diverse range of insights makes us better investors. The Motley Fool has a disclosure policy.
Copyright 1995 - 2016 The Motley Fool, LLC. All rights reserved. The Motley Fool has a disclosure policy.