Lower Fuel Costs Help Air Methods Corp. Soar in Q1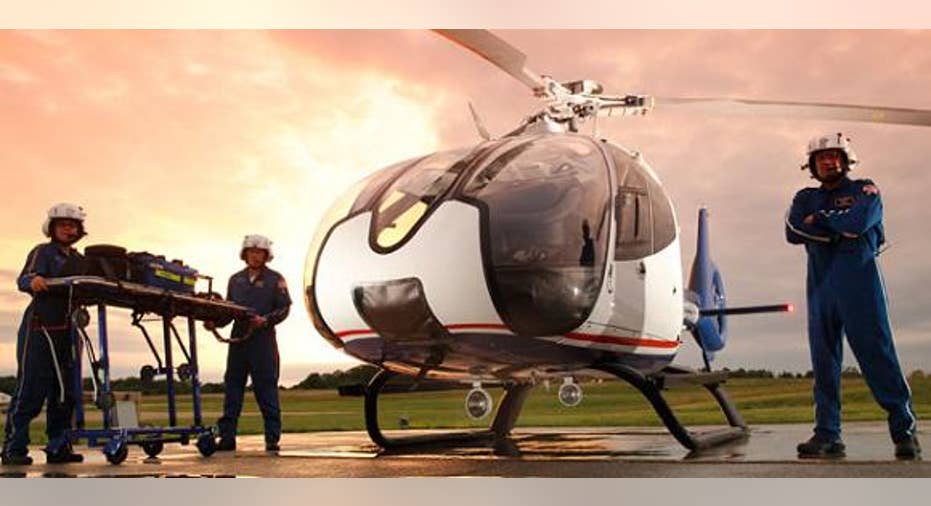 Image source: Air Methods.
Thanks to a sneak preview last week, investors already pretty much knew what to expect fromAir Methods' first-quarter performance.The air medical transport company announced its full first-quarter results after the market closed on Tuesday. Here are the highlights.
Air Methods results: The raw numbers
| Metric | Q1 2016 Actuals | Q1 2015 Actuals | Growth (YOY) |
| --- | --- | --- | --- |
| Sales | $269.4 million | $238.3 million | 13.1% |
| Net income from continuing operations | $20.5 million | $12.6 million | 62.7% |
| Earnings per share | $0.50 | $0.32 | 56.3% |
Data source: Yahoo! Finance.YOY = Year over year.
What happened with Air Methods this quarter?Air Methods turned in a solid performance in the first quarter. Lower fuel costs served as a major factor in the positive numbers. The company said that air medical services fuel costs dropped $1.2 million from the prior-year period, with fuel expense per flight hour down 35.9% year over year. For Air Methods' tourism segment, fuel expense per flight hour decreased 26.5%.
Other highlights from the first quarter included:
Air medical services revenue jumped 14.2% year over year, to $235.2 million.
Community-based patient transports in the company's air medical services segment increased 22.6% year over year, to13,852.
Net revenue per patient transport dropped slightly from $11,651 to $11,623 in the prior-year period.
Tourism segment revenue fell to $27.2 million -- a 3.5% decline from the first quarter of 2015.
United Rotorcraft external revenue increased 67.8% over the prior-year period, to $6.9 million.
What management had to sayAaron Todd, CEO of Air Methods, liked what he saw during the first quarter. Todd said:
Looking forwardAir Methods might face intensified competition if rivals look to lessen their dependence on revenue from oil and gas customers. PHIis one company that seems to already be making a shift in this direction.
The Louisiana-based helicopter-services company generated 39% of total revenue from its air medical segment in 2015, up from 32% just two years earlier.PHI's stock has outperformed Air Methods so far in 2016, at least in part because of weather issues hurting Air Methods' first-quarter results.
Air Methods stock might be in for good news in the second quarter, though. The company said that total community-based transports in April were 6,142 -- a 21.2% jump from the same quarter last year. Same-base transports during the month increased by 216 over the prior-year period. Weather cancellations were down by 280 compared to April 2015.
That's a good start. If fuel costs remain under control, Air Methods could have even bluer skies ahead.
The article Lower Fuel Costs Help Air Methods Corp. Soar in Q1 originally appeared on Fool.com.
Keith Speights has no position in any stocks mentioned. The Motley Fool recommends Air Methods. Try any of our Foolish newsletter services free for 30 days. We Fools may not all hold the same opinions, but we all believe that considering a diverse range of insights makes us better investors. The Motley Fool has a disclosure policy.
Copyright 1995 - 2016 The Motley Fool, LLC. All rights reserved. The Motley Fool has a disclosure policy.