Low-income residents losing homes as New Orleans rents soar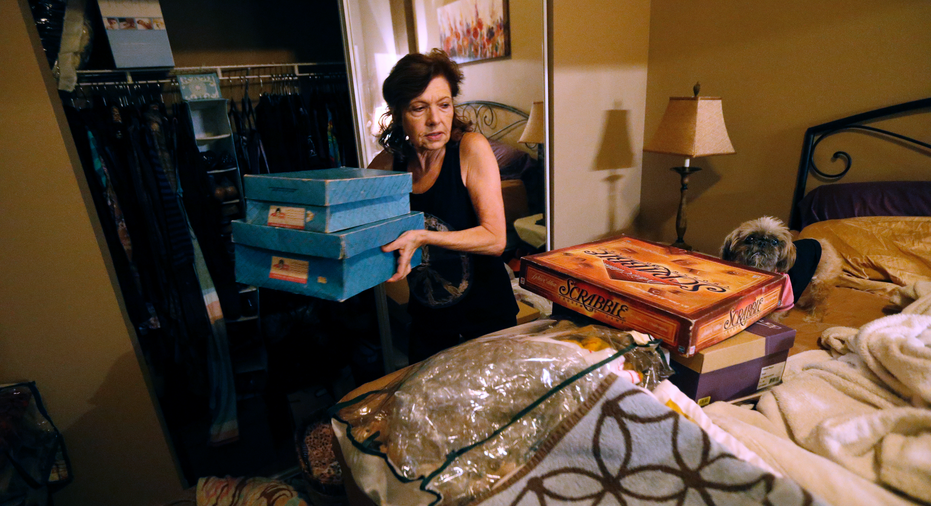 Lower-income renters in New Orleans are facing the loss of their homes and uncertain futures as affordable-housing subsidies start to expire in a city that already has experienced steep rent increases and stagnant wage growth.
Michael Esnault, a 69-year-old disabled veteran, says he searched for about three months before finding a new place after the management at his former complex, American Can Apartments, told him his rent would double to $1,400. He was one of dozens at the complex affected by the loss of the subsidies.
"We looked at a place not too far from here, a two-bedroom shotgun," he said, referring to a long, narrow home found in many New Orleans neighborhoods. "They were asking $1,900 a month. I can't afford that. I know many more who can't, either."
Carolyn Horton, 74, said she has yet to find a new place and plans to temporarily move into her grandson's home in New Orleans. She said she'll probably end up moving in with her son and his family in Denver.
"Getting old ain't fun," Horton said. "I'm an independent girl, still kind of healthy, but no one wants to hire someone my age. Everywhere I've looked has just been awful. My rent was $810, but they want to raise it to $1,100 or $1,200. Now I have to income-qualify for a new place and with just under $700 in Social Security, that's not easy."
For several weeks, she said, she's been packing up her 600-square-foot (55-square-meter) home of three years in order to be out by Saturday and get the larger of the buyout incentives negotiated with the apartment complex when the subsidies expire.
"I could live in an efficiency, but I haven't been able to find anything. It's just not good how they treat you. You pay your rent, cause no trouble. They should just let us stay."
Housing advocates say Horton's and Esnault's plight is indicative of a wider problem facing tenants across the city.
"American Can is just the tip of the iceberg," said Breonne DeDecker, a program manager for Jane Place Neighborhood Sustainability Initiative, a nonprofit that works to increase affordable housing options for low- and moderate-income residents.
Cashauna Hill, executive director of the Greater New Orleans Fair Housing Action Center, described the situation as a "very-large-scale problem" that will affect the city for years.
A former can manufacturing plant was transformed into the American Can Apartments in 2000 with the help of $39 million in public resources, including bonds and grants. In return, developer HRI Properties had to keep at least 20 percent of the 268 units at affordable rates when the property opened a year later.
In 2013, HRI Properties sold the complex to Georgia-based Audubon Communities Management. Attorneys for the complex didn't respond to a request for comment.
The lower rents expired in March, but the complex is allowing those affected to stay until the end of October at the reduced rates, said Hannah Adams, an attorney with Southeast Louisiana Legal Services who worked with Esnault.
The length of subsidies in New Orleans varies from development to development, ranging from as little as five years to 15 years or more, said Ellen Lee, director of housing policy and community development for Mayor Mitch Landrieu's administration.
Affordable-housing subsidies for about 1,200 units will expire in 2021 with another estimated 5,000 scheduled to expire 10 years later, she said.
Since Hurricane Katrina hit in 2005, rents in New Orleans have increased by about 50 percent, while wages have only risen by about 2 percent, Hill said. Three out of five renters spend more than 30 percent of their income on housing costs, she said.
Orleans Parish residents must earn at least $18.54 an hour to afford a two-bedroom home as of this year, according to a 2017 report by the National Low Income Housing Coalition. That's out of reach for many in a city driven by the hospitality industry. In the New Orleans area, more than three-quarters of all hotel jobs have median hourly earnings of less than $15, including tips, said Allison Plyer, chief demographer for The Data Center in New Orleans, which compiles such statistics.
"We know the city is in dire need of at least 33,000 affordable units just to deal with the current market conditions," DeDecker said.
Short-term rental programs, such as Airbnb.com and HomeAway.com, also have become increasingly popular in tourism-heavy New Orleans, and have pulled rental units off the market, DeDecker said. Short-term housing in some neighborhoods is commanding up to $300 a night.
"They make more money doing that than renting to an actual resident of New Orleans," she said.
Lee said city officials are trying to find ways to extend affordable rents while addressing the longer-term issue of affordable housing.
"We know this is a significant challenge for us," she said.
___
This story has been corrected to reflect that program manager's last name is DeDecker, not Deducker.