Low Energy Prices Continue to Be Drag for Balchem Corporation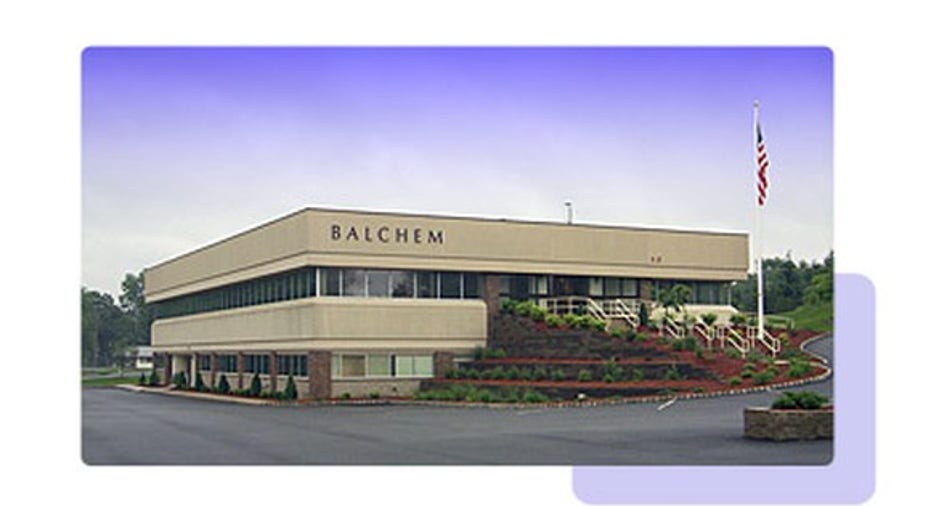 Image source: Balchem Corporation.
Specialty ingredients maker Balchem Corporation reported first-quarter 2016 earnings before the market opened on Tuesday, and while results were down, that wasn't terribly surprising to the market. Challenges in energy and the milk industry have been well known, and they're the biggest drags on results right now. But let's start with the raw numbers.
Balchem Corporation results: The raw numbers
| Metric | Q1 2016 Actuals | Q1 2015 Actuals | Growth (YOY) |
| --- | --- | --- | --- |
| Revenue | $135.1 million | $144.9 million | (6.7%) |
| Net income | $11.9 million | $15.2 million | (21.7%) |
| Adjusted EPS | $0.37 | $0.48 | (22.9%) |
Data source: Company earnings release.
What happened with Balchem Corporation this quarter?
Balchem's results are always very segment-based because its different businesses are driven by very different market factors. And the first quarter's negative results were driven by falling milk and energy prices. Here are the details to keep in mind:
Industrial products were the biggest driver of declining revenue as low oil and gas prices continued to hurt demand.
Adjusted EBITDA margin increased from 24.9% a year ago to 26.2% as management realized supply chain efficiencies.
Human nutrition and health segment revenue rose 5.6% to $71.6 million, and earnings from operations grew 8.6% to $8.4 million.
Animal nutrition and health segment sales fell 8.1% to $39.2 million, and earnings from operations fell 23.2% to $6.5 million. Lower milk and milk protein prices are what's hitting results in this segment.
Specialty products revenue increased 26.1% to $17.1 million, which was driven almost entirely by the Albion acquisition. Earnings from operations fell 7.2% to $5.3 million.
Industrial products revenue fell 65.2% to $13.6 million as lower oil and natural gas prices took a dent out of both volume and sale prices. Earnings from operations in the segment dropped from $3.1 million to just $0.2 million in the quarter.
What management had to say
It's no surprise that low energy prices are hurting industrial segment demand, and there's little that management can do to fix that. But the other segments appear to be operating well, and that's what's driving the increased EBITDA margin in the quarter.
What management is doing in the meantime is trying to maximize cash flow from operations, which hit a first-quarter record of $29.3 million. And net working capital of $98.8 million, including $39.2 million in cash, helps keep the balance sheet flexible even in the current environment.
Looking forward
Industrial products and animal nutrition and health will probably continue to be weak because of macro effects, but if management can control costs it will provide upside if commodity prices recover. What's key right now is that human nutrition and health continues to be strong, and Albion is contributing to results as well. For the remainder of the year, investors should keep an eye on management's ability to control costs, along with any potential commodity price recovery, because that's what will drive operating cash flow and an eventual recovery on the bottom line.
The article Low Energy Prices Continue to Be Drag for Balchem Corporation originally appeared on Fool.com.
Travis Hoium has no position in any stocks mentioned. The Motley Fool recommends Balchem. Try any of our Foolish newsletter services free for 30 days. We Fools may not all hold the same opinions, but we all believe that considering a diverse range of insights makes us better investors. The Motley Fool has a disclosure policy.
Copyright 1995 - 2016 The Motley Fool, LLC. All rights reserved. The Motley Fool has a disclosure policy.