Losses Narrow at XPO Logistics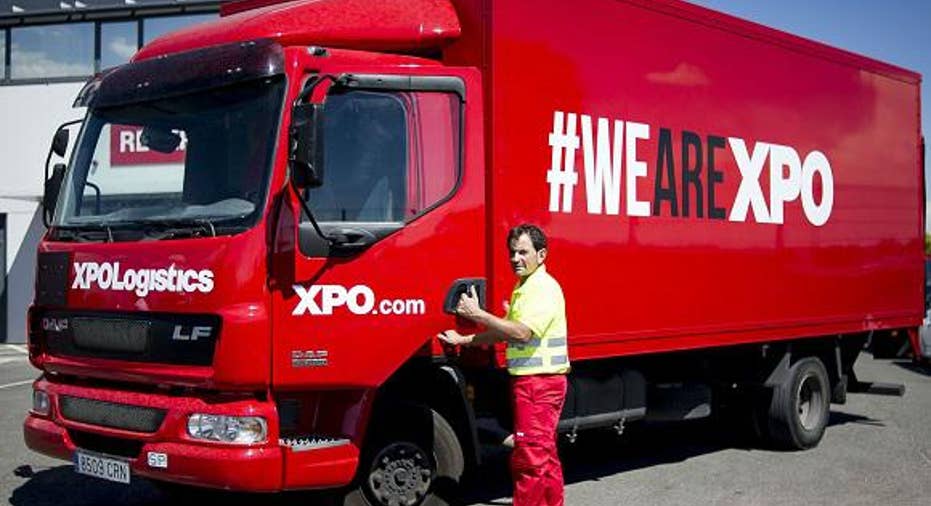 Image: XPO Logistics.
Handling the movement of goods is complicated, and XPO Logistics seeks to make it easier. By offering specialized combinations of transportation methods suited for a wide range of different types of goods, XPO can set up and handle deliveries for a broad set of customers. Yet the company has faced challenges lately, and coming into Tuesday's first-quarter financial report, XPO investors were prepared for a net loss. In the end, XPO lost more money than most had expected, but the long-term impact of its recent acquisition of Con-Way could produce solid prospects that will pan out in the future. Let's look more closely at how XPO Logistics did and what's ahead for the company.
XPO Logistics sees redXPO Logistics' first-quarter results weren't entirely satisfying. Revenue was up more than fivefold to $3.55 billion, almost exactly matching the consensus forecast among investors. However, the company posted a wider GAAP net loss, but after accounting for certain extraordinary items, adjusted losses of $9.3 million were about 6% less than in last year's quarter and were smaller than investor estimates by nearly a dime per share.
Looking more closely at segment results at XPO Logistics, the primary divisions for the company both saw immense growth. Revenue from the transportation segment more than quadrupled to $2.3 billion, with the last-mile and truck-brokerage businesses providing some organic revenue growth that added to acquisition-led gains. Adjusted EBITDA for the segment jumped more than eightfold to $196 million, and truck-brokerage profitability was the biggest contributor to the gains. Pricing improvements in the less than truckload business also helped XPO Logistics' results.
Meanwhile, in logistics, XPO saw gross revenue jump almost ninefold to $140.8 million, with similarly impressive gains in gross margin, adjusted EBITDA, and operating income. Higher shipment volumes from e-commerce and high-tech helped the business, as did stronger conditions in Europe.
CEO Brad Jacobs was pleased with the way that things have started in 2016. "The addition of less-than-truckload is proving to be a major win," Jacobs said, "despite a sluggish macro environment." Efficiency in the LTL area has helped improve profits, and service levels are still increasing despite already offering customers world-class service. In addition, the CEO noted that "we have a strong franchise in each of our service offerings, and we're also well diversified by geography and customer verticals." Cost savings from synergies are making XPO's acquisition strategy look smart.
What's down the road for XPO?XPO Logistics isn't planning to slow down. As Jacobs explained, "We're benefiting from our investments in technology, major procurement efficiencies, and global cross-selling initiatives," and those efforts should continue to pay off well into the future. Having put together such an impressive network, XPO can look at ways to use it better and in more ways.
Supporting that sense of accomplishment, a shipping survey in the 2015 LTL Carrier Customer Value and Loyalty Report picked XPO as the highest-ranked company among national less-than-truckload carriers in several categories. Among them were trustworthiness, shipments picked up and delivered as promised, meeting pick-up appointment times, deliveries with no shortages, competitive transit times, billing accuracy, and claims processing. With so many players in the industry, being able to claim top billing in so many key categories involved in the logistic service equation is extraordinary.
XPO investors were pleased with the company's performance, sending the stock up about 2% in the after-hours session on Tuesday afternoon following the announcement. Having done so well at maximizing its opportunities in a tough global macroeconomic environment, XPO Logistics has set the stage for truly stellar results if things continue to pick up across the globe in the industries that the logistics specialist serves.
The article Losses Narrow at XPO Logistics originally appeared on Fool.com.
Dan Caplinger has no position in any stocks mentioned. The Motley Fool recommends XPO Logistics. Try any of our Foolish newsletter services free for 30 days. We Fools may not all hold the same opinions, but we all believe that considering a diverse range of insights makes us better investors. The Motley Fool has a disclosure policy.
Copyright 1995 - 2016 The Motley Fool, LLC. All rights reserved. The Motley Fool has a disclosure policy.