Lockheed Martin Throws Its Hat in the Energy Storage Ring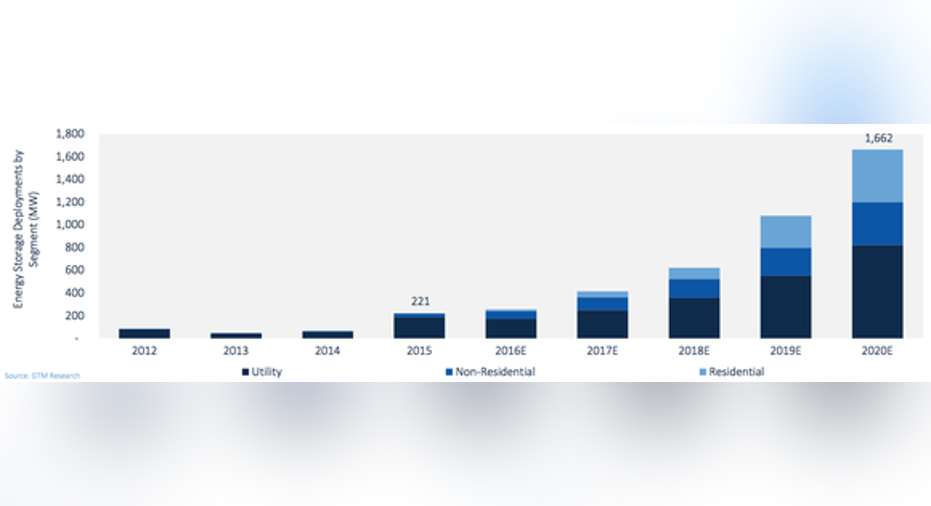 Energy storage has finally captured the imagination of the energy industry. It could be the industry's next growth segment and make a grid with more variable renewable energy operate efficiently.
GTM Research recently concluded that U.S. energy storage grew 243% in 2015 to 112 MW, more than doubling the amount of storage installed. By 2020, they predict the market will be 1.7 GW annually. And now there may be a new entrant into the market.
Image source: GTM Research.
Today's battery systems aren't fully developedLockheed Martin (NYSE: LMT) has revealed that it is pursuing energy storage in a bold move into the electricity business. The opportunity is too big to ignore and with smaller companies, with weaker balance sheets, dominating the business today it could have a place in the future. The company's first idea is to build a lithium ion battery system that aims to lower balance of system costs.
A lot of companies have entered the market buying commodity batteries from suppliers in Asia and building the brains behind charging and utilizing the system. Lockheed Martin says it wants to work on the entire balance of system design (everything beyond the battery itself), making installation, integration, and operations more efficient. That's where, the company argues, the opportunity lies.
Most energy storage systems today are big, bulky boxes, which Lockheed Martin is trying to change. Image source: SunEdison.
Right now, the company says it is launching a 250 KWh and 500 KWh system, which is larger than Tesla Motors' 100 kWH Powerpack. Now, Lockheed Martin just has to show that it can live up to its talk about lowering costs on the balance of systems.
The next level of energy storage The bigger move may be in long duration energy storage, which could be the big market long-term. Long duration wouldn't be used for storage hour to hour, as a lithium battery is, but rather allow for operation all night or even storage of energy from sunny summer to winter months. And it's those applications that could prove to ultimately disrupt energy even more than the fast-charging lithium ion battery.
Lockheed Martin thinks it has technology that will make flow batteries economical enough to work in grid applications. Product manager Brad Fiebig called the product a "fundamentally new flow-battery chemistry" that uses more common materials and will have lower costs than competitors. With a flow battery energy "flows" through a cell stack from one storage tank to another, leading to almost limitless amounts of storage capacity (limited by the tanks). And if someone can make the concept economical it could be nothing short of transformative for the energy industry.
Again, time will tell if these claims become industry leading products. There's a place in the industry for both fast charging and long-duration energy storage, so if Lockheed can make a compelling product it could be a large untapped market.
Why this exciting for energy storage I have no idea if Lockheed Martin is really serious about energy storage long-term or if this is a side project for the company. However, the fact that a company with billions in revenue in adjacent markets to energy is taking notice of energy storage is a big deal. It validates that this is an infant industry worth keeping an eye -- that's notable in and of itself. As more and more players begin taking an interest in energy storage, it becomes increasingly likely that a breakthrough is on the horizon.
The article Lockheed Martin Throws Its Hat in the Energy Storage Ring originally appeared on Fool.com.
Travis Hoium has no position in any stocks mentioned. The Motley Fool owns shares of and recommends Tesla Motors. Try any of our Foolish newsletter services free for 30 days. We Fools may not all hold the same opinions, but we all believe that considering a diverse range of insights makes us better investors. The Motley Fool has a disclosure policy.
Copyright 1995 - 2016 The Motley Fool, LLC. All rights reserved. The Motley Fool has a disclosure policy.