Lockheed Martin given $3.7 billion interim payment for 50 F-35s: Pentagon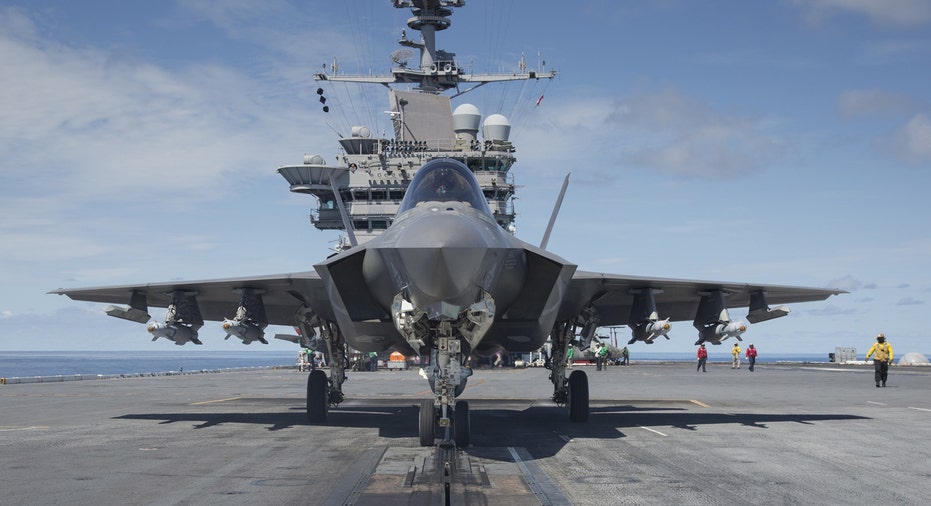 Lockheed Martin Corp <LMT.N> was awarded a $3.7 billion interim payment for fifty F-35 jet fighters that are earmarked for non-U.S. customers, the Pentagon said on Friday.
Lockheed and its partners have been producing the jets under a placeholder agreement known as an "undefinitized contract action."
The agreement announced on Friday allows Lockheed to continue production of the F-35 jets while it finalizes the terms of the 11th contract with the Pentagon. The contract provides funds for the procurement of 50 aircraft, comprised of one F-35B aircraft for Great Britain, one F-35A for Italy, eight F-35A aircraft for Australia, eight F-35A for the Netherlands, four F-35A for Turkey, six F-35A for Norway, and 22 F-35A aircraft for other foreign military sales customers, the Pentagon said in a statement.
The F-35 comes in three configurations: the A-model for the U.S. Air Force and U.S. allies; the B-model, which can handle short take-offs and vertical landings for the Marine Corps and British navy; and the carrier-variant F-35C jets.
Lockheed was awarded an interim payment on 7 July of $5.6 billion to help finance construction of the 11th batch of 141 F-35 jets for the U.S. military.
The F-35 Program office said the Department of Defense would continue to negotiate the 11th low rate initial production contract with Lockheed Martin and expected an agreement by the end of 2017.
The F-35 joint program office said it was "confident the final negotiated Lot 11 aircraft unit prices will be less than Lot 10."
In February, the Pentagon agreed to a deal for the tenth batch of the fighter aircraft and agreed to pay below $95 million per F-35A model jet for the first time, compared with $102 million in the previous purchase, which was the lowest price up until that point.
The Pentagon expects to buy 2,457 jets.
(Reporting by Mkie Stone and Eric Beech in Washington, D.C.; Editing by David Gregorio, Toni Reinhold)