Lobbyist tied to EPA chief's condo tried to influence agency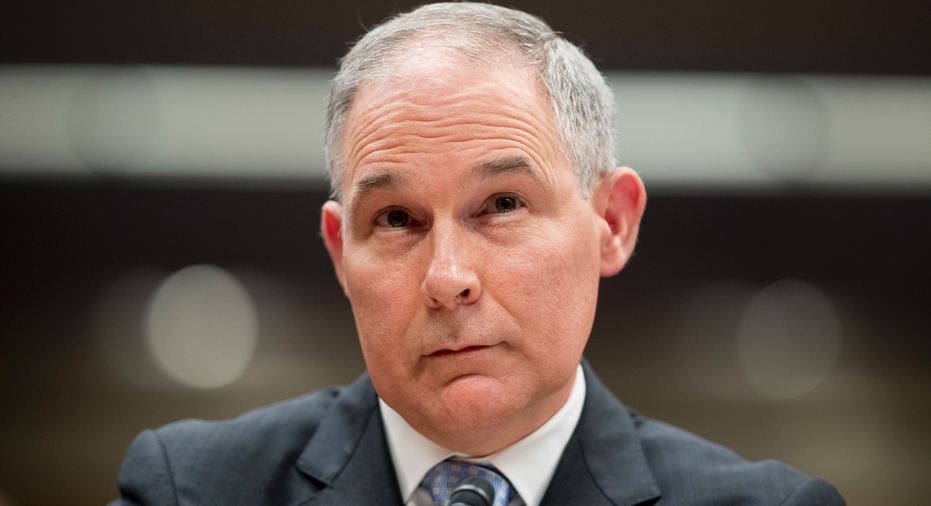 Newly filed reports show the Washington lobbyist whose wife rented a bargain-priced Capitol Hill condo to Environmental Protection Agency Administrator Scott Pruitt had far more contact with the agency than previously disclosed, despite repeated denials by both men.
Powerhouse lobbying firm Williams & Jensen amended its 2017 disclosure filings to show that former chairman J. Steven Hart contacted EPA on behalf of the Coca-Cola Company, pork producer Smithfield Foods and a board overseeing the finances of hurricane-ravaged Puerto Rico.
Pruitt has denied that Hart lobbied his agency in 2017, most recently during congressional testimony last month. The firm amended its required federal lobbying disclosures after an extensive review of Hart's emails, calendar entries and other materials.
Hart was forced to retire early as a result of the scandal that erupted following public disclosure of the EPA chief's unusual living arrangements. Pruitt has denied wrongdoing, describing Hart as a personal friend from his home state of Oklahoma.
In a statement, Williams & Jensen said Hart had failed to fully disclose his lobbying activities to his own firm, resulting in prior reports omitting information. Federal law requires lobbyists to file quarterly reports detailing their contacts with government officials, including the clients they were representing, what topics were discussed and how much they were paid.
"Following press reports of a former member of our firm engaging in lobbying activity that had not been disclosed, we engaged outside counsel to conduct a review of relevant filings," the firm's statement said. "Following the completion of that review and the advice of counsel, today the firm filed amendments to several disclosure reports that include information that was not previously disclosed to our firm and therefore not included in the original filings."
Both Pruitt and Hart have publicly denied the lobbyist had conducted any business with EPA in 2017. At a May 16 hearing before a Senate appropriations subcommittee, the embattled EPA chief erroneously insisted that Hart had not lobbied the government last year.
"Steve Hart is someone that was not registered as a lobbyist in 2017," Pruitt testified. "He's a longtime associate and friend."
Records showed that Hart was in fact a registered lobbyist in 2017, though at the time it had not yet been formally disclosed that he directly lobbied Pruitt's agency. Federal law makes it a crime to "knowingly and willfully" give materially false statements to Congress.
EPA spokesman Jahan Wilcox did not respond to requests for comment Friday night about whether Pruitt still stood by his testimony.
A spokesman for Hart did not respond to phone or email Friday.
Pruitt's connections to Hart have been under intense scrutiny since March, when media reports first revealed that the EPA chief had rented a luxury Capitol Hill condo from a corporation co-owned by Hart's wife for just $50 a night. Pruitt's daughter, then a White House summer intern, stayed in a second bedroom at the condo at no additional cost.
On Pruitt's 2017 condo lease, a copy of which was reviewed by The Associated Press, Steven Hart's name was originally typed in as "landlord" but was scratched out. The name of his wife, health care lobbyist Vicki Hart, was scribbled in.
The AP and other media outlets reported in April that Pruitt had met in his office last year with Hart on behalf of the philanthropic arm of Smithfield Foods to discuss efforts to preserve the Chesapeake Bay. The world's largest pork producer, Smithfield has been involved with efforts to clean up the bay since EPA fined the company $12.6 million in 1997 for illegally dumping hog waste into a tributary.
The amended disclosure report filed Friday by Williams & Jensen acknowledges the meeting between Hart and Pruitt constituted lobbying, as did additional communications by the lobbyist with Pruitt's staff to recommend potential candidates for a science advisory board and other positions appointed by the EPA administrator.
A spokeswoman for Smithfield did not respond to a request for comment Friday.
The new disclosure report says Hart also lobbied EPA in 2017 on behalf of the Financial Oversight and Management Board for Puerto Rico about water quality and infrastructure in the wake of Hurricane Maria. A spokesman for the oversight board did not immediately respond Friday to an email seeking comment.
The firm also disclosed for the first time that Hart had contact with EPA on behalf of Coca-Cola. According to the reports, Hart lobbied the agency about clean water supplies, water conservation and "environmental issues impacting the beverage industry, including hydrofluorocarbon replacement."
Hydrofluorocarbons are potent greenhouse gases commonly used for refrigeration. Under the Obama administration, EPA had sought to phase out the use of hydrofluorocarbons because they contribute to global warming, but the effort was stymied after industries challenged the proposed ban in court.
In a statement issued Friday, Coca-Cola said the company has severed ties with Williams & Jensen.
"The Coca-Cola Company is committed to the highest level of integrity in all aspects of our business, and we expect our lobbying firms to uphold that same commitment," the statement said.
___
Follow Associated Press investigative reporter Michael Biesecker at http://twitter.com/mbieseck