Lithium Stock Investors: FMC Corp. Kicked Off the Industry's Q3 Earnings Season With a Bang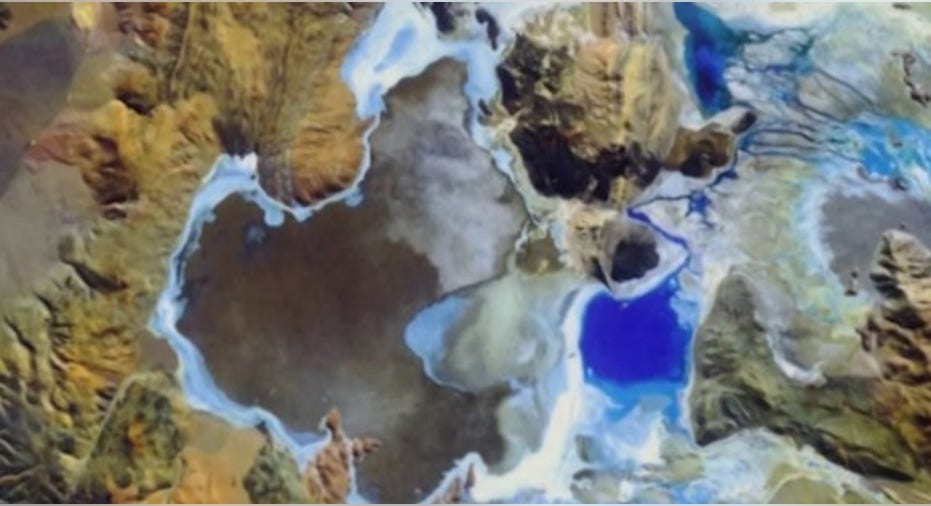 FMC Corp.(NYSE: FMC) kicked off the third-quarter earnings season for the big lithium players on Nov. 2 by posting strong adjusted earnings growth, driven in part by continued strength in its lithium business. Lithium companies have been benefiting from the sharp rise in the price of this commodity over the last year or so, thanks largely to increasing demand for lithium-ion batteries to power electric vehicles and various electronic gadgets.
FMC's Salar del Hombre Muerto inArgentina. Image source: FMC Corp.
The Philadelphia-based specialty chemical company'srevenue declined 2.8% year over year to $807.7 million topping the $795 million analysts were looking for -- while adjusted earnings per share jumped 60% to $0.67, beating Wall Street's estimates of $0.59. GAAP EPS came in at $0.59 compared to a $0.02 loss in the year-ago period. FMC also raised its full-year 2016 earnings guidance.
FMC's stock soared 10.5% on the day following the earnings release, and it's gained more ground through Tuesday, Nov. 8. The stock has returned 32% over the one-year period through Tuesday, significantly outpacing the S&P 500's 4.2% return. The lithium industry's other two big publicly traded players, Albemarle Corporation (NYSE: ALB)and Sociedad Quimica y Minera de Chile, or SQM, have performed even better, returning about 66% and 59%, respectively, over this period. This is largely because lithium makes up a bigger portion of these two companies' total revenue. FMC's lithium business accounted for 8.7% of its revenue in the quarter, while Albemarle's lithium products accounted for 25.4% of its revenue when it reported its Q3 results on Monday. SQM reports on Thanksgiving Eve, Nov. 23.
FMC's results by business
| Segment | Q3 2016 Revenue | Growth(YOY) | Q3 2016 Earnings | Growth (YOY) |
| --- | --- | --- | --- | --- |
| Agricultural solutions | $559 million | (3%) | $90 million | 52% |
| Health and nutrition | $179 million | (9%) | $45 million | (4%) |
| Lithium | $70 million | 22% | $18 million | 800% |
Data source: FMC Corp.YOY = year over year.
Agricultural solutions' revenue declined primarily because of lower sales volume from market weakness and product rationalization, offset partially by price increases. Earnings increased because of better pricing and positive foreign exchange, offset partially by lower sales volumes and higher costs.
Health and nutrition's revenue and earnings declined largely because of lower revenue in its omega-3 business and timing of sales to certain pharmaceutical customers in Asia and Europe. FMC's omega-3 business manufactures high-purity omega-3 fatty acid concentrates used in nutraceuticals, pharmaceuticals, and food.
CEO Pierre Brondeau said on the analyst conference call that the company does not see any notable improvement with respect to the oversupply of omega-3 in the market. He said the company is more in damage-control mode with this business, rather than expecting any growth. That said, the overall segment has been rebounding solidly from last year, as its 52% year-over-year earnings growth shows.
The lithium segment's revenue and earnings soared thanks to higher prices, improved product mix, and lower operating costs in part resulting from the devaluation of the Argentinean peso. (FMC's internal source for lithium is the Salar del Hombre Muerto in Argentina, which it owns. A "salar" is adried lakebed with an underground reservoir of mineral-containing brine.)
The size of the contribution from each of the drivers of the year-over-year earnings growth is shown in the chart below. For instance, higher prices for the company's lithium products combined with an improved product mix contributed $12 million to earnings as compared with the year-ago period.
Image source: FMC Corp.
FMC's lithium strategy is to focus on higher-value downstream specialty products. The company, which is very vertically integrated, produces lithium carbonate from the lithium chloride that it extracts from brine and then further refines the carbonate into various other lithium products, including lithium hydroxide and lithium metals.
What management had to say
Brondeau said in the press release:
Looking ahead
Based on the lithium segment's performance to date in 2016 and its expected Q4 performance,FMC Corp. increased its guidance for full-year 2016 adjusted EPS by $0.06 at the midpoint of the range to $2.76 to $2.86. At the midpoint, this represents year-over-year growth of 13.8%.
Here's the company's full outlook for Q4 and full-year 2016:
Image source: FMC Corp.
Ag Solution's operating margin outlook for 2016 of 17% to 18% is low compared to the expected operating margins of the other two segments. This is largely due to the 2015 acquisition of Cheminova, which is helping FMC create a more global business, providing it with a direct access to European markets, and helping it expand its global fungicide business. Prior to the acquisition, Ag Solutions consistently delivered operating margins between 20% and 25%. FMC is making solid progress on its goal of returning margins to that level, as it expanded the segment's operating margin by 600 basis points in the quarter.
10 stocks we like better than FMC When investing geniuses David and Tom Gardner have a stock tip, it can pay to listen. After all, the newsletter they have run for over a decade, Motley Fool Stock Advisor, has tripled the market.*
David and Tom just revealed what they believe are the ten best stocks for investors to buy right now and FMC wasn't one of them! That's right -- they think these 10 stocks are even better buys.
Click here to learn about these picks!
*Stock Advisor returns as of November 7, 2016
Beth McKenna has no position in any stocks mentioned. The Motley Fool owns shares of Albemarle. Try any of our Foolish newsletter services free for 30 days. We Fools may not all hold the same opinions, but we all believe that considering a diverse range of insights makes us better investors. The Motley Fool has a disclosure policy.