Lifeless Markets Remain in Holding Pattern, On Pace for Sixth Weekly Gain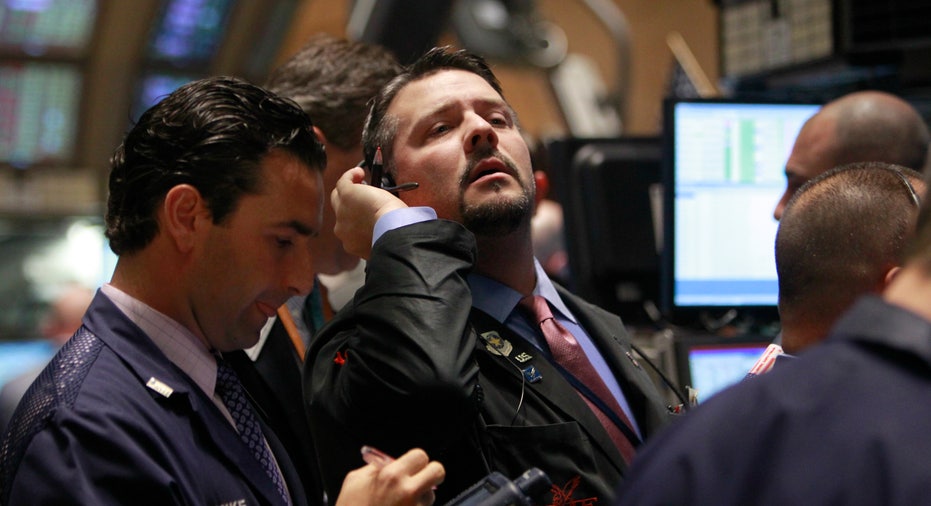 FOX Business: The Power to Prosper
U.S. stocks alternated between minor gains and losses Friday afternoon amid anemic trading volume and virtually no volatility as Wall Street looks to put the finishing touches on its first six-week win streak since January 2011.
Today's Markets
As of 2:27 p.m. ET, the Dow Jones Industrial Average rose 13.39 points, or 0.10%, to 13263.67, the S&P 500 gained 0.78 points, or 0.06%, to 1416.27 and the Nasdaq Composite added 7.51 points, or 0.25%, to 3069.96. The FOX 50 slipped 0.01 points, or 0.01%, to 1061.49.
Other than the surprise jump in consumer sentiment, there weren't major economic or earnings reports to move the markets, which have seen trading volumes dry up during the vacation-riddled month of August.
Underscoring the relative quiet that has descended upon Wall Street, the VIX volatility index retreated another 6.5% on Friday to as low as 13.36 -- its lowest level since June 2007.
Wall Street was able to break through a weeklong malaise on Thursday thanks a 10% surge for tech bellwether Cisco Systems (NASDAQ:CSCO) and improving sentiment about the tumultuous eurozone.
The rally left the S&P 500 at its best level since April 4 and just a few points away from making new four-year highs north of 1418.90
In fact, after double-dip fears ate into the markets late in the spring, Wall Street has bounced back and is on track for its first six-week win streak since January 2011.
On the economic front, U.S. stocks had little reaction to the Thomson Reuters/University of Michigan consumer sentiment index, which increased to 73.6 in its preliminary August reading. The new report beat expectations for a slight rise to 72.4 and marked the index's highest level since May.
The report could give traders guidance following a much better-than-expected report earlier this week that revealed July retail sales unexpectedly jumped. Consumer stocks like Macy's (NYSE:M) and Amazon.com (NASDAQ:AMZN) were trading flat after the report.
On the commodities front, crude oil gained 35 cents a barrel, or 0.37%, to $95.95. Gold declined $2.00 a troy ounce, or 0.12%, to $1,617.20.
Corporate Movers
Foot Locker (NYSE:FL) beat the Street with a 59% leap in second-quarter earnings, thanks largely to a 9.8% surge in same-store sales. Net revenue rose 7.8% to $1.38 billion, narrowly topping estimates.
Ann (NYSE:ANN), the parent of Ann Taylor, surged 18% after blowing away estimates with a 24% jump in second-quarter profits to 63 cents a share. The company also upped its 2012 sales targets above the Street's view.
Groupon (NASDAQ:GRPN) shares dropped another 9% to fresh all-time lows after the embattled daily deals company was downgraded to "underweight" from "equalweight" by analysts at Evercore Partners (NYSE:EVR). Citing concerns about a cash burn problem, Evercore also slashed its price target to $3 from $6.50.
Aeropostale (NYSE:ARO) retreated 10% a day after disclosing a 98% plunge in second-quarter earnings and issuing a tepid outlook for the third quarter. The teen apparel maker warned it experienced a "soft start" to the crucial back-to-school season.
Global Markets
The U.K.'s FTSE 100 gained 0.31% to 5852.42, Germany's DAX rose 0.64% to 7040.88 and France's CAC 40 advanced 0.23% to 3488.38.
In Asia, Japan's Nikkei 225 jumped 0.77% to 9162.50 and Hong Kong's Hang Seng rallied 0.77% to 20116.07.