Liberty Global PLC Sees Growth Picking Up in 2016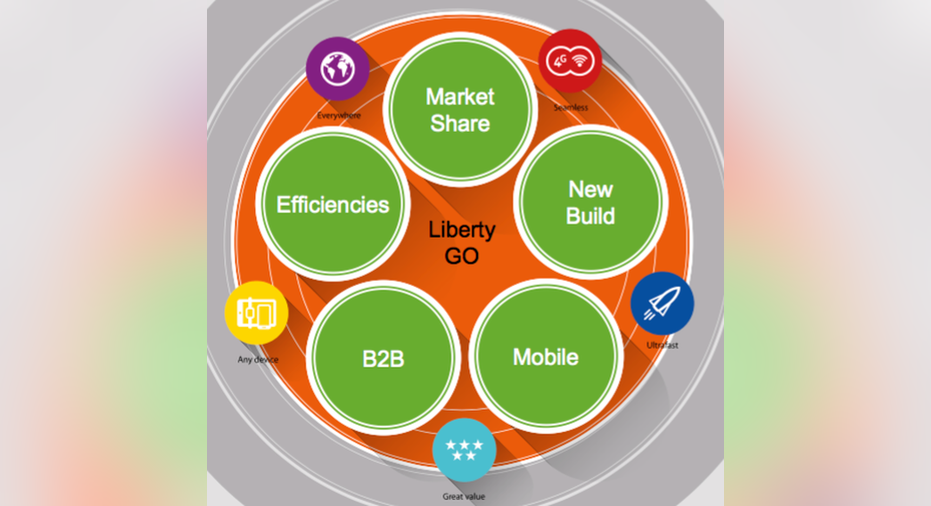 The vision for Liberty 3.0. Image source: Liberty Global.
Cable television may no longer be the main growth driver for Liberty Global PLC , but its broadband internet and telephony offerings are more than picking up the slack. First-quarter 2016 earnings released Tuesday show continued steady growth, and progress toward what should be a solid rest of the year.
Liberty Global results: The raw numbers
| Metric | Q1 2016 Actuals | Q1 2015 Actuals | Growth (YoY) |
| --- | --- | --- | --- |
| Revenue | $4.59 billion | $4.52 billion | 1.6% |
| Operating Cash Flow | $2.12 billion | $2.10 billion | 0.9% |
| Free Cash Flow | ($85.0 million) | $330.0 million | n/a |
Data source: Company earnings report.
What happened with Liberty Global this quarter?
Europe continues to be a slow and steady winner for Liberty Global, and the company is adapting well to the current market conditions. Here are a few highlights:
Revenue generating units, or RGUs, grew 156,000 in the quarter, as broadband, video, and fixed-line telephone customers increased. When combined with a price increase that has been implemented, management expects top-line and operating cash flow growth to be strong this year.
Video customers continue to decline overall, although cord-cutting is slow. Liberty Global Group saw a 1.5% decline in video customers, but broadband and telephony continue to grow: Both posted 4.2% increases year over year. This will be a long-term trend, and it's why Liberty Global is set up for growth as the industry evolves.
In every country where it does business except The Netherlands, it experienced an increase in revenue in the first quarter. Management hopes to bring its Dutch market into line with the rest of the company via the addition of Vodafone's mobile operations and the Ziggo broadband network.
Net cash flow from operating activities fell from $1.35 billion a year ago to $1.02 billion in Q1. Free cash flow was also hurt by $672.9 million in principal payments on amounts financed by vendors and intermediaries.
Management expects to buy back another $3.7 billion of its stock between now and the end of 2017.
What management had to say
Currencies headwinds associated with the strong dollar continue to be a challenge for every international company, and Liberty Global is no different. Adjusted for currency changes, management said revenue was actually up 3%, which isn't an eye-popping number, but it's steady growth. And with price increases kicking in, the rest of the year's growth should be even higher.
Image source: Liberty Global.
Management also expects $2 billion in free cash flow for 2016 as operations start to kick off more cash. Some of the payments made during the quarter are adjustments that won't happen continuously, so free cash flow should pick up significantly as the year goes on.
Looking forward
Expect price increases to start having a bigger impact on operations in the final three quarters of the year. Management still expects 5% to 7% operating cash flow growth for the year, so there's some work to be done.
If the double- or triple-play options Liberty Global is offering continue to be compelling to consumers, we should see steady growth in RGUs in 2016 as well. And that will help the stock drive higher long term.
The article Liberty Global PLC Sees Growth Picking Up in 2016 originally appeared on Fool.com.
Travis Hoium has no position in any stocks mentioned. The Motley Fool recommends Liberty Global. Try any of our Foolish newsletter services free for 30 days. We Fools may not all hold the same opinions, but we all believe that considering a diverse range of insights makes us better investors. The Motley Fool has a disclosure policy.
Copyright 1995 - 2016 The Motley Fool, LLC. All rights reserved. The Motley Fool has a disclosure policy.