LendingClub Says Ex-CEO Took Loans to Boost Volume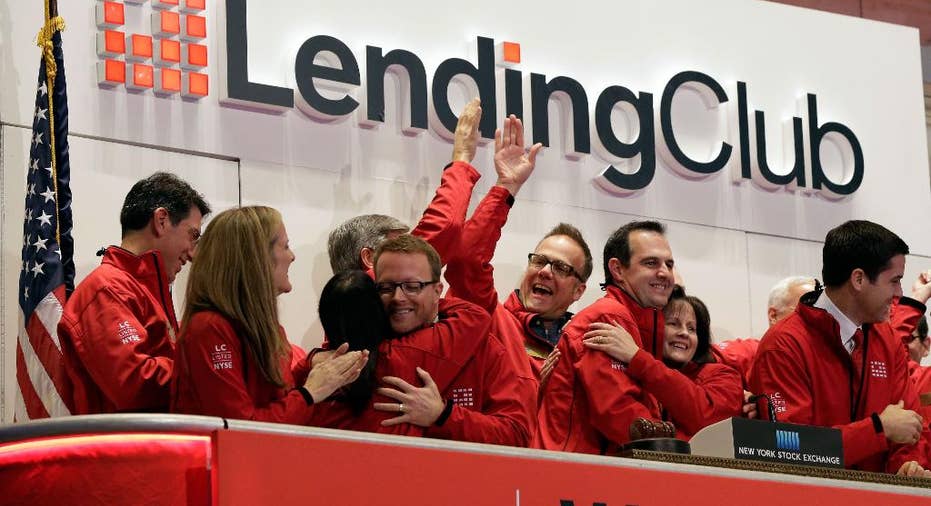 LendingClub Corp said on Tuesday that its founder and former chief executive, Renaud Laplanche, borrowed from the online lender to inflate the company's volumes, the latest revelation from an internal probe of the firm's business practices.
LendingClub launched the review earlier this year over unrelated loan irregularities that prompted the departure of Laplanche in May, sending shock waves through an industry already strained by faltering investor appetite for loans, increasing defaults and the possibility of heightened regulation.
The company said on Tuesday that it had uncovered new information, including that Laplanche and three of his family members took out loans from LendingClub in December 2009, just months before the company announced a major capital raising from outside investors. Loan volumes are a key metric for investors to determine online lenders' value.
A spokesman for Laplanche declined to comment.
The scandal has hammered investor demand for LendingClub's loans, with volumes in the second quarter down by roughly a third from the previous quarter. LendingClub announced it was cutting its workforce by 12 percent, or 179 jobs, on Tuesday.
The company also said that interim CEO Scott Sanborn would replace Laplanche at the helm. Hans Morris, who had been interim executive chairman, will take the role of chairman.
Sanborn, speaking at the company's annual shareholder meeting, said LendingClub has "been approached over the last several weeks by a variety of parties willing to invest significant capital on the platform," but has been reluctant to do any of the deals, which he said were not in the best interest of shareholders.
Shares of LendingClub, which are down more than 35 percent since Laplanche's departure, closed 7.2 percent higher at $4.61. The company's December 2014 IPO priced at $15. At its peak, it was valued at more than $9 billion compared with $1.64 billion currently.
"I think you can be pretty certain that the board has put in controls so nothing like this will happen again," said Todd Baker, managing principal at Broadmoor Consulting and senior fellow at the Mossavar-Rahmani Center for Business and Government at the Harvard Kennedy School.
Once known as peer-to-peer lenders because they were originally set up to connect borrowers with savers looking to invest their cash, online lenders are now largely funded by institutional and other large investors who buy the loans.
QUESTIONABLE PRACTICES
Before Laplanche's departure, LendingClub was considered by many investors and analysts the industry's standard bearer. But revelations of questionable practices have drawn scrutiny from investors and regulators.
LendingClub said on Tuesday that it had also uncovered that investment funds managed by a subsidiary of the company did not follow accounting standards when valuing loans. It will reimburse $800,000 to affected investors.
LendingClub has put restrictions on investors' ability to redeem money from one of the funds, according to a letter to investors seen by Reuters. Lending Club said in the letter that investors in the Broad Based Consumer Credit (Q) Fund have asked to redeem $442 million, or 58 percent of the fund, which buys the lender's consumer loans.
The same internal review had found that Laplanche and his family had taken out 32 loans on the platform in the second half of December 2009 to boost the company's reported volumes for the month.
The loans totaled around $722,800, nearly 1 percent of LendingClub's total volume in the fourth quarter of 2009. All the loans have been repaid, the company said.
LendingClub raised $24.5 million from investors including Foundation Capital, Morgenthaler Ventures, Norwest Venture Partners and Canaan Partners in April 2010.
Executives at Norwest and Canaan currently hold seats on LendingClub's board. Canaan, Foundation and Norwest are still among the company's largest shareholders.
Norwest and Canvas Ventures, which spun out of Morgenthaler, declined to comment. Representatives of Canaan and Foundation were not immediately available to comment.
LendingClub said in a filing it is confident there are no other situations where Laplanche inappropriately originated loans in his or his family's name after December 2009.
When it announced Laplanche had left in May, LendingClub said an internal probe had found that employees had falsified documentation when selling $22 million of loans to an investor.
LendingClub also said then that Laplanche had not disclosed his stake in a fund in which the company later made an investment.
While Laplanche did not comment on LendingClub's latest allegations, he has previously said that "events occurred on my watch where we failed to meet our high standards." He said he accepted that the board was acting in good faith in asking for his resignation.
The U.S. Justice Department has launched a probe into LendingClub and the events leading up to Laplanche's departure. Several shareholders are also suing the company.
(Additional reporting by Joy Wiltermuth in New York and Richa Naidu in Bengaluru; Editing by Nick Zieminski and Matthew Lewis)