Lebanon civil servants on strike amid wage hike crisis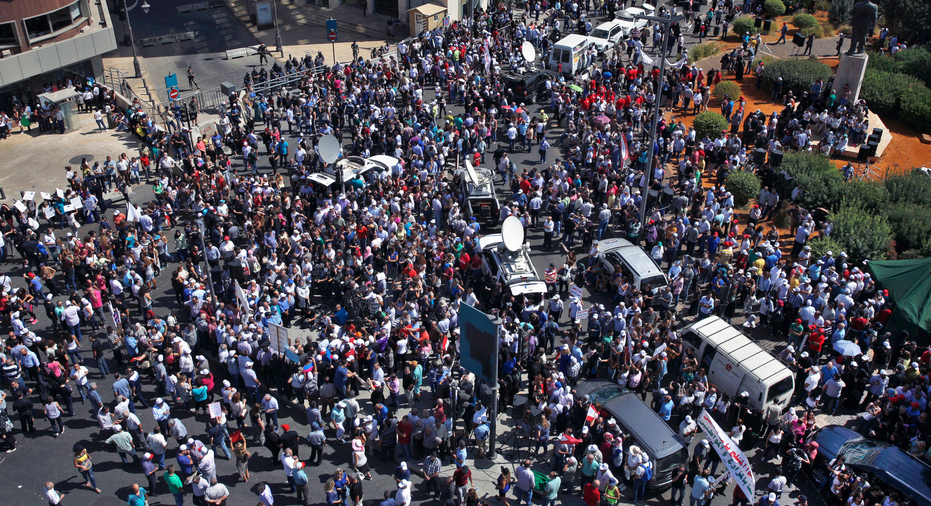 Hundreds of Lebanese civil servants protested in front of the government's capital building Tuesday, on the second day of strikes demanding pay in line with a stalled wage hike.
Prime Minister Saad Hariri's Cabinet, which approved the wage hike earlier this summer, put off any decrees until Thursday, when it will reconvene with President Michel Aoun to discuss the matter.
The Union Coordination Committee vowed to extend its strike through Thursday after forcing government offices and many schools to stay closed through the start of the week.
"We can't make a dignified living on our salaries," said Hoda Ghazi, a teacher at the protest outside the government's Grand Serail building. "We're not able to raise this generation properly."
Public school teachers have not seen a cost of living increase or salary hike since 2012, according to Mahmoud Haidar, a former board member of the UCC.
The wage hike was supposed to be financed by an unpopular tax bill passed this summer. Opposition parties and unions have demanded that politicians instead recover revenues by combatting corruption.
Lebanon's top court ruled the new tax law unconstitutional last week because it was passed without a budget. The decision left the government scrambling for ways to finance the wage bill, costing an estimated $800 million, as public servants expected to see raises this month.
Lebanon has been unable to agree on a state budget since 2005, financing itself instead through ad hoc budgetary measures. Its public debt stands near 150 percent of national income, according to the Ministry of Finance, making Lebanon one of the most indebted nations globally.
Poultry workers were also present at Tuesday's demonstration, demanding higher tariffs on imports of frozen chicken.